Austria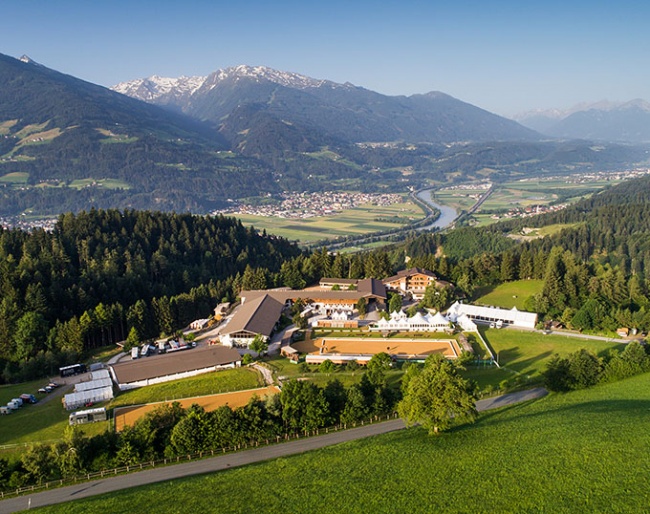 The Manfred & Hilde Swarovski Memorial Tournament is back after a two-year pandemic break! The 26th edition of the international four star dressage tournament will be an amazing comeback  with a lot of world class.  Once again, the Alpenarena at Schindlhof in Fritzens, Tyrol, will be transformed into a meeting place for Olympic, World and European champions.
Top Dressage Riders Return to Tyrol
"Finally we get to ride at Schindlhof again! It is a unique environment because it is so familiar and professional at the same time. Evelyn and Klaus as hosts and their team take perfect care of all four and two-legged friends. I am looking forward to the reunion," said team Olympic Champion, World and European Champion Dorothee Schneider in praise of the organizers Evelyn and Klaus Haim-Swarovski.
Dorothee Schneider will bring her horses First Romance and Dante's Hit OLD with her this weekend. Alongside the German champion - who also acts as Evelyn Haim-Swarovski's trainer - the German runner-up Frederic Wandres will be competing with Hot Hit OLD.
Wandres comes to Tyrol with a lot of confidence, due to two victories from the World Equestrian Festival at the CHIO Aachen and a lot of praise from the German national trainer Monica Theodorescu: "Freddy has not only done everything right with his horses in Aachen. He is very professional, he implements everything very well, this development is just very, very pleasing!"
50 Riders from 15 Nations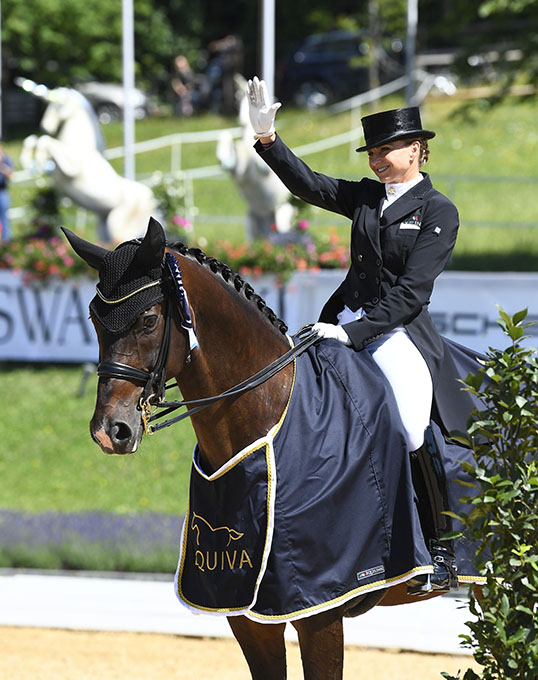 A total of 50 riders from 15 nations with 63 horses can be seen in three tours and seven competitions.
Many international teams like Spain or Switzerland use the CDI4* at Schindlhof as a qualification and preparation tournament for the upcoming World Championships in Herning (DEN, 6.-14.8.2022) in August.
For the Austrian team candidates the tournament is the last big World Championship test. Four-time Olympic competitor and four-time Schindlhof overall winner Victoria Max-Theurer will present her new top horse Topas, with whom she recently impressed at the CDI Achleiten with a record score in Grand Prix and Grand Prix Special. State Champion and Olympic participant Christian Schumach will come with Donna Karacho, Stefan Lehfellner with the impressive Roberto Carlos MT and Renate Voglsang with Fürst Ferdinand.
In addition, the Tyrolean Amanda Hartung, Timna Valenta-Zach, Astrid Neumayer, Katharina Haas, Diana Porsche, Anna Kleindienst-Jilly, Oliver Valenta and Lisa Wernitznig can be seen again in the Grand Tour.
Master Grand Prix Over60
The 26th Manfred & Hilde Swarovski Memorial Tournament can also boast a premiere: For the first time, the Schindlhof will host the Master Grand Prix Ü60, in which a Grand Prix and a Grand Prix Freestyle are to be ridden. An idea of Evelyn Haim-Swarovski, who will participate in this competition herself.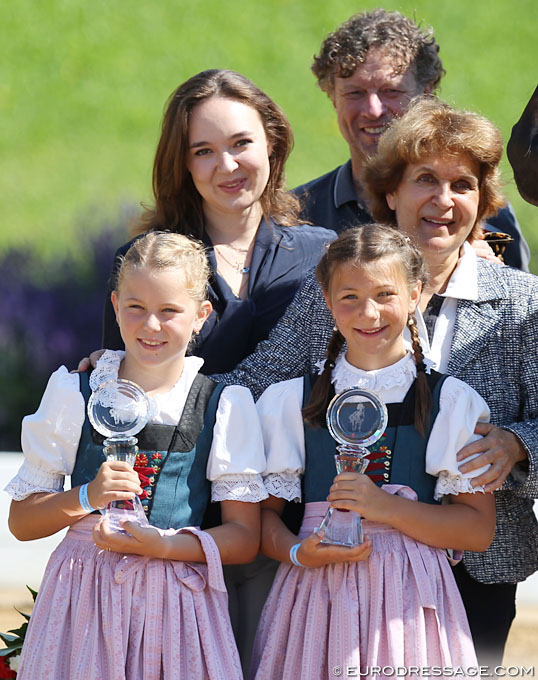 The intermission program on Sunday between the Grand Prix Special and the Grand Prix Music Freestyle is also world class: The most successful vaulter in the world, the five-time World Champion from Tyrol, Jasmin Lindner, gives her very last public performance with her pas-de-deux partner Lukas Wacha. Of course, the traditional hat competition, which every year spurs numerous participants to creative excellence, must not be missed.
The entrance fees and voluntary donations will go entirely to charitable causes, as they did before the pandemic: in equal parts to an association dedicated to therapeutic riding and riding for people with disabilities, and to the Tyrolean association "Tugende Together", which supports children and young people in Uganda on their educational path.
26th Manfred & Hilde Swarovski Memorial Tournament
Concours de Dressage International, CDI4* Schindlhof
Preliminary schedule:
Friday, July 8, 2022
8 o'clock, #1 FEI Prix St. Georges
12 o'clock, Special competition #1 Master Grand Prix over 60
13 o'clock, #2 FEI Grand Prix – Qualification for Grand Prix Special
Saturday, July 9, 2022
8 o'clock, #3 FEI Intermédiaire I
12 o'clock, Special competition #2 Master Grand Prix Musical freestyle over 60
13.30 o'clock, #4 FEI Grand Prix– Qualification for Musical freestyle
Sunday, July 10, 2022
7.30 o'clock, #5 FEI Grand Prix Consolation for non-qualified couples
9 o'clock, #6 FEI Grand Prix Special (with the Top-15 from #2)
12.30 o'clock Award "Who wears the most beautiful hat?" & Special award "Mistress/Master with hat and dog" moderated by Mirjam Weichselbraun - Honorary ride of the winners in historical carriage of the Fröschl family.
Followed by a show program with five-time vaulting world champion Jasmin Lindner and three-time world champion Lukas Wache and Klaus Haidacher on the longe14 Uhr, #7 FEI Grand Prix Musical freestyle (with the Top-15 from #4)
Information, pictures, videos, start and result lists at schindlhof.at and facebook.com/Schindlhof and instagram.com/schindlhof and youtube.com/user/SchindlhofPresse
Winners List Manfred & Hilde Swarovski Challenge Trophy:
1995 Bianca Kasselmann, GER
1996 Österreichische Staatsmeisterschaft Dressur – kein CDI
1997 Bianca Kasselmann, GER
1998 Christilot Boylen, CAN
1999 Markus Gribbe, GER
2000 Thorsten Dietz, GER
2001 Günther Seidel, USA
2002 Austrian Dressage Championships - no CDI
2003 Anja Plönzke, GER
2004 Rafael Soto Andrade, ESP
2005 Silvia Iklé, SUI
2006 Victoria Max-Theurer, AUT
2007 Victoria Max-Theurer, AUT
2008 no winner due to bad weather
2009 Austrian Dressage Championships - no CDI
2010 Ulla Salzgeber, GER
2011 Carl Hester, GBR
2012 Carl Hester, GBR
2013 Valentina Truppa, ITA
2014 Victoria Max-Theurer, AUT
2015 Victoria Max-Theurer, AUT
2016 Isabell Werth, GER
2017 Isabell Werth, GER
2018 Isabell Werth, GER
2019 Isabell Werth, GER
The Manfred & Hilde Swarovski Challenge Trophy is presented to the most successful pair (percentages from GP and GP Special or GP and GP Freestyle are added together, the highest point score from the Special Tour or Freestyle Tour wins) of the CDI4* Schindlhof. For one year the winner may take this valuable Swarovski crystal trophy home. The beautiful piece will only pass into his possession after winning 3 times. In 2014, Austria's now 13-time national champion Victoria Max-Theurer succeeded in doing so for the first time, and in 2018 the world's number 1 Isabell Werth.
Related Link
Eurodressage Coverage of the 2022 CDI Fritzens