Prinsjesdag Foal Auction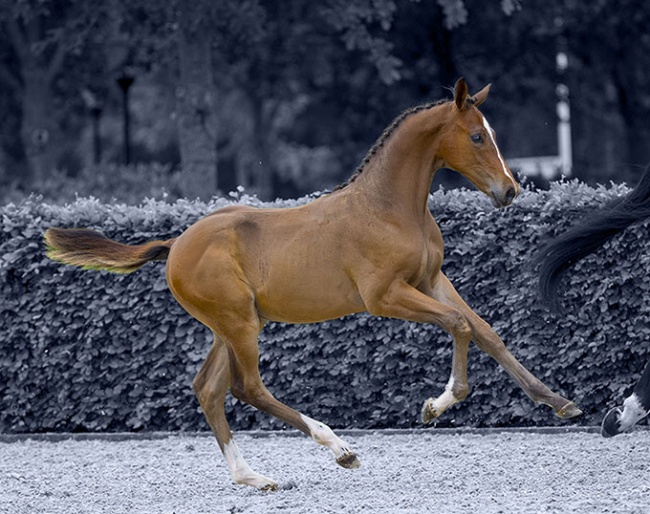 With a spectacular collection of showjumping foals and ridden sporthorses, Foal Auction Prinsjesdag aims for a strong comeback at CSI Ommen after two years of absence due to the corona pandemic.
This fantastic event of family Schuttert has built up an enormous reputation and international recognition and Foal Auction Prinsjesdag is proud to organize an auction at this CSI3* show for the third time. This year, in addition to eight excellent jumping foals, the collection includes four extremely talented sporthorses, carefully selected by co-organizer Hendrik-Jan Schuttert.
The Schuttert family and Foal Auction Prinsjesdag have had an excellent relationship for years and with this edition at CSI Ommen the cooperation goes one step further. Hendrik-Jan Schuttert will offer four very talented show jumpers in the auction on Saturday evening the 9th of July. In addition to the showjumping horses, Foal Auction Prinsjesdag has selected an exclusive collection of jumping foals.
Foal Collection
The foal collection consists of eight interesting jumping foals sired by the best stallions out of world's leading damlines. Take for example Elton BN Z - a colt sired by Emerald out of the famous line of Fair Light, Epleaser and Valentina van 't Heike. Or Waldemar van den Berg, a son of top talent Ermitage Kalone out of the Van 't Roosakker family. Another eye-catcher is without a doubt Samoa W - son of Rolex Grand Prix winner Tobago Z out of the sister of Nixon van 't Meulenhof, Emerald, Ilusionata van 't Meulenhof and many more. The Aganix du Seigneur daughter Wonder Girl 3 Leien is also a breeder's dream; she is a filly from the famous family of Qerly Chin.
Four Sport Horses
Four showjumpers were selected by Schuttert Sporthorses for the auction at CSI Ommen. Three talented 5-year-olds and one very promising 6-year-old complete the collection. Remarkable is the 5-year-old Morrison O.A. (Apardi x Carrera VDL) who was bought as a foal by family Schuttert at Foal Auction Prinsjesdag and has now developed into an highly talented showjumper with scope, carefulness and reflexes. The 5-year-old Diamant de Semilly daughter Marabel W is in her turn a very modern jumper with a lot of potential for the big sport; the Zapatero VDL son Mister Rossi is the most experienced 5-year-old of the collection and stands out for his rideability, enormous scope and mentality. The 6-year-old stallion Luciano is perhaps the most promising talent; this son of Grand Slam VDL has all the ingredients to develop into an international talent.
The program for Foal Auction Prinsjesdag at CSI Ommen is as follows:
Thursday 7 July 2022
Presentation jumping horses | 7:30 pm
Friday July 8, 2022
Try out jumping horses | The whole day
Arrival of foals at the auction site | 12:00 o'clock
Presentation foals | 6 p.m.
Saturday 9 July 2022
Stable viewing foals | The whole day
Auction total collection | 9:00 PM
*Times are subject to the final program of CSI Ommen
More information
Entrance to the event is free. For more information about the auction and it's collection visit our website: https://www.prinsjesdag.eu/en/csi-ommen/