Germany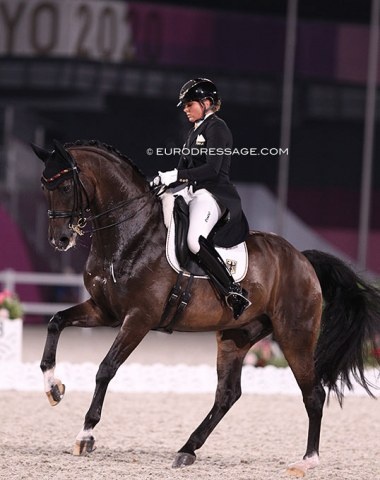 Dorothee Schneider has pulled Showtime from the CDIO Aachen, Germany's second and final mandatory team selection for the 2022 World Championships Dressage.
After winning the German Championships in Babe at the beginning of the month, where Showtime returned to competition after an injury, Schneider was entered for the CDI- Tour in Aachen where they had to confirm their spot on the German team for Herning.
At the horse inspection in Aachen the jury took its time to say the words "accepted" but on Wednesday noon Schneider announced her withdrawal.
"After training on site, I decided together with our team management not to send "Showi" into the competition," said Schneider. 
The Olympian continued, "Showi passed the vet check in Aachen on Tuesday without any complaints, but in the final training session he did not present himself as fresh as he had recently shown at the German Championships and also in training at home. Therefore, in consultation with the team management, I decided not to compete with him in the Grand Prix today, Wednesday."
"For Showtime, this also means that he will not be competing at the World Championships in Denmark from 6 to 14 August. "The way to the Championships team is via three competitions in Balve and a start at the CHIO Aachen. It is bitter to have to do without such a strong pair," explained Klaus Roeser, Chairman of the DOKR Dressage Committee."