The Netherlands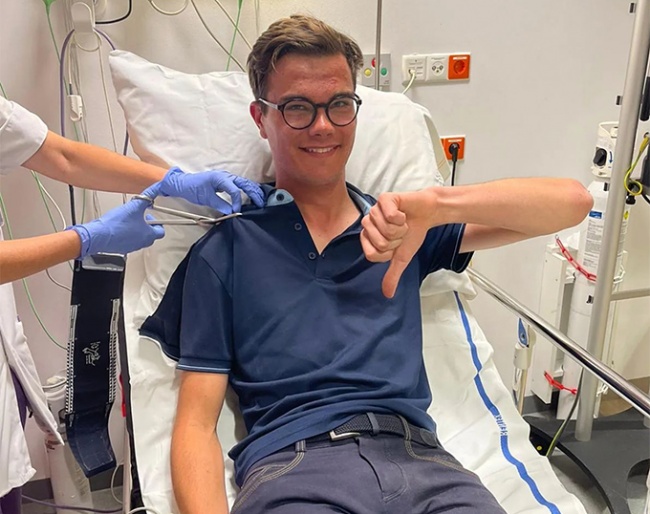 Reigning European Young Rider champion Marten Luiten has fractured his collar bone in a riding accident on 16 June 2022. 
Yesterday morning Luiten was thrown off a horse and needed to go to the emergency room for treatment. 
"An accident snuck up on me. This morning I fell off a horse and did a thorough inspection of the footing," Luiten joked on Instagram. "Result: a fractured collar bone and a polo shirt cut in pieces."
Luiten is the brand new double Dutch Young Rider and Under 25 Champion and has two irons in the fire for this summer's European Youth Championships. Aboard Arie Yom-Tov's 7-year old Killer, he could get selected for the European Young Riders Championships in Hartpury in July and with Willeke Bos' Fynona he is in the running for a Dutch team for the European Under 25 Championships at the end of August. With Killer he is also in the running for the World Young Horse Championships in September. 
"First I have to recover quietly and then we'll see how the rest of the season is looking when it comes to competitions," he said. "Shit happens!"
Related Links
Marten Luiten and Killer, Dutch Young Riders Champions, with Hartpury or Ermelo on the Horizon
Van Norel, Van Nek, Luiten Win 2022 Dutch Youth Championships
Four Dressage Riders Remain in 2022 KNHS Talent Team
Marten Luiten is the 2021 European Young Riders Champion