2022 German Dressage Championships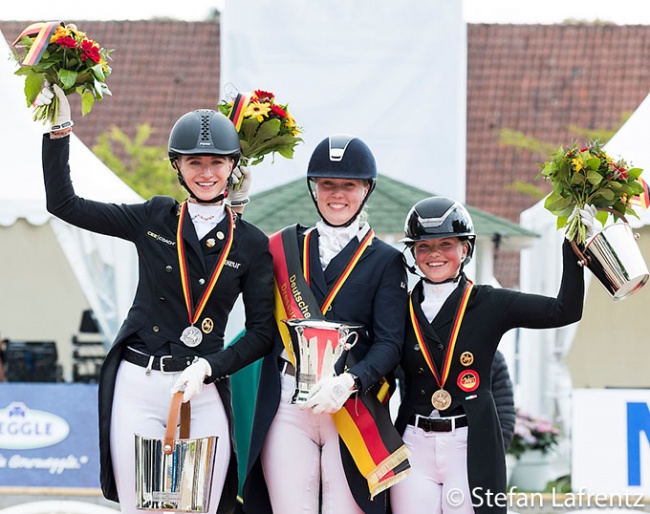 Alina Schrader and Helen Erbe became the gold medal winners in the Under 25 division at the 2022 German Dressage Championships in Balve, Germany, on 10 - 11 June 2022. 
For only the second year running, Germany is hosting a National Under 25 Championship at the "DM Balve" after years of having the Piaff Forderpreis Finals decide who the best German Under 25 Grand Prix rider of the year is. 
Two sets of medals are up for grabs, one on a technical level determined by the Short Grand Prix test and the other set for the freestyle. The Championships began with a warm-up round, the Intermediaire II, on 9 June 2022, which did not count for medals.
Alina Schrader Wins Gold in Short Grand Prix
As last pair to go in the Short Grand Prix, the 23-year old Alina Schrader and her 13-year old Oldenburg mare Paola (by Lord Loxley x Friedensfurst) topped the board  for the gold medal and title. She bested a field of 12 riders in total with a score of 72.558%. The combination used to be trained by Hartwig Burfeind, but started working with German U25 team trainer Sebastian Heinze a year ago.
"I can't believe it," said Schrader, who was moved to tears. "I trained Paolo myself with support. We both starte together at A and L-level and worked our way to Grand Prix.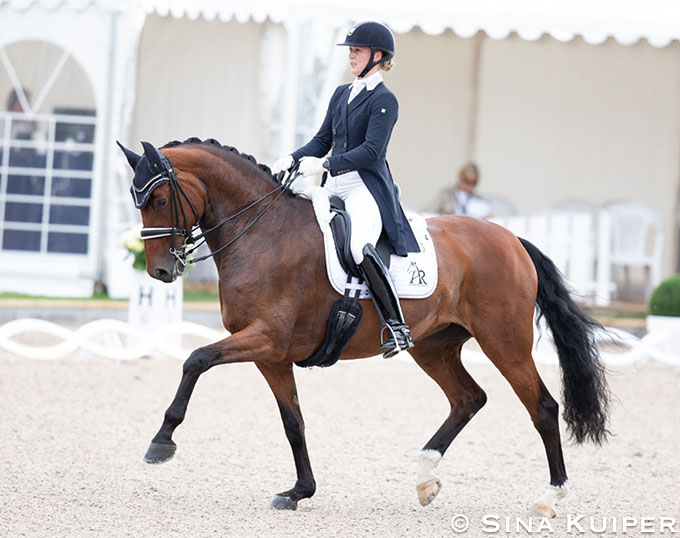 Hot on her heels was Helen Erbe with her sister Hannah's 15-year old Rhinelander gelding Carlos (by Carabas x Weltmeyer), who scored just 2.5 points less (72.442%) and ended up with silver. 
The podium was completed by Paulina Holzknecht who found a worthy successor in Entertainer Win T (by Rousseau x Jazz) after her other U25 ride, Ein Traum, passed away from colic. The 13-year old bay gelding Entertainer Win T began his sport career in Belgium as a youngster under Nick van Laer and was then ridden at small tour level by Belgian Grand Prix rider Amandine Prevost. The gelding is still listed as owned by Belgian  Dr. Emmanuelle van Erck. In her first season on Entertainer Win T, Holzknecht scored bronze with 71.791%.
"All three deserved to be here (on the podium), even if there were three, four mistakes too many. Overall we so good rides today. We have experienced horses with new riders, experienced riders with inexperienced horses and a few totally new ones," team trainer Heinze concluded at the end of the day.
Kur Gold for Erbe
The tables were turned in the Kur to Music finals, in which Erbe won gold and Schrader got silver.  Helen rode her tall bay gelding Carlos to music from the 1980s and posted 77.950% for the victory.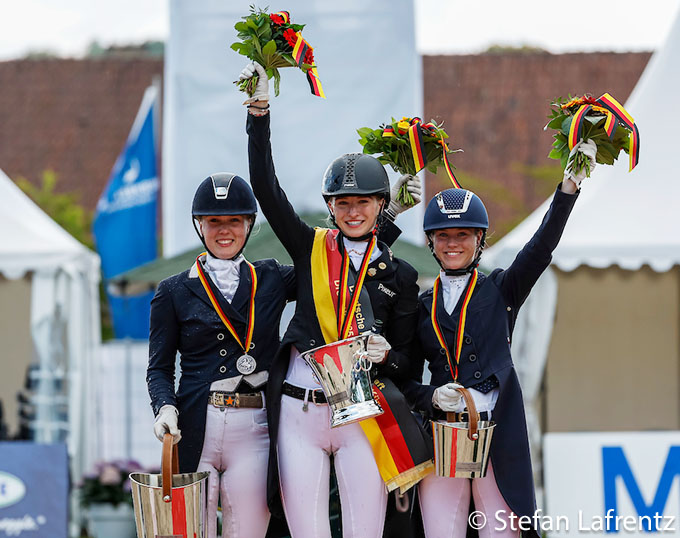 "I always wanted to ride this freestyle because I love it so much and of course the music means much to me as my sister Hannah rode Carlos to it as well," said Helen. "I woke up this morning and told myself, 'there are no nerves, just excitement.' I know Balve was around the corner and practised the freestyle at home. I said to myself, 'it fits, we're doing it'."
Schrader on Paola rode to music by Wincent Weiß and finished second for silver with 75.750%. 
Jessica von Bredow-Werndl's student Selina Söder was the newcomer on the podium for bronze. Aboard the 18-year old KWPn mare Zaire-E (by Son de Niro x Jazz) she received 75.625% from the judges. 
The 2022 German Under 25 Championship was the first German team selection trial for the 2022 European Under 25 Championships, which will take place in Pilisjaszfalu (HUN) the last week of August. The second and final team trial will be in Elmlohe at the end of July.
Photos © Stefan Lafrentz - Sina Kuiper - Barbara Schnell
Related Links
Scores: 2022 German Dressage Championships
Ann-Kathrin Lindner and Ellen Richter Win Gold at 2021 German Under 25 Championships
Germany to Stage National Championships for Under 25 Riders as of 2021