U.S.A.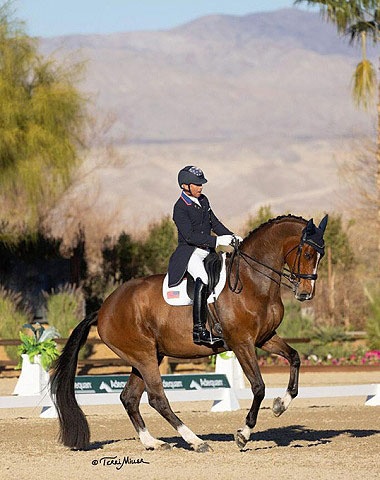 Dressage at the West Coast of America seems have caught its second breath with Temecula and Themal becoming the scenes of national and international dressage action. 
Five Events at Thermal
On 10 May 2022  the Desert International Horse Park (DIHP) in Thermal announced that "Desert Dressage" has expanded its schedule to five events, including three weeks of FEI level competition.
The USEF-approved schedule spans from October 2022 through February 2023 and includes various qualifying events from FEI North American Youth Championships to Para-Dressage National Championships and beyond.
Three CDI competitions are added to the calendar, the first one on 17 - 20 November, the second and third one World Cup qualifying CDI-W's on 15 - 18 December 2022 and 5 - 8 January 2023.
Growth at Thermal 
"We are thrilled to see the growth of dressage at Desert International Horse Park since just 2020, when we hosted our first FEI dressage event and World Cup™ Qualifier," said Steve Hankin, President and CEO of DIHP. "We have made tremendous improvements to the facility with dressage competitors in mind and are eager to welcome athletes of all levels to compete at DIHP. We have enhanced the footing in every arena to support international-level competition and have created an environment focused on ultimate comfort for the horses. Part of our larger goal for DIHP is to ensure everyone on the West Coast has every opportunity to compete at a national and international level, and Desert Dressage this season will help us achieve that goal as DIHP continues to establish itself as a dressage hub for the West Coast."
"We are very excited to offer the first full Dressage Circuit at DIHP for the 2022-2023 season," remarked Thomas Baur, Sports Director – Dressage. "National and international competitors alike will have ample opportunities to ride at the five different events. With three CDI-W events, the top riders will also have the opportunity to qualify for the 2023 World Cup™ Final in Omaha, NE, in early April of next year. We are looking forward to hosting this inaugural circuit to the West Coast at this wonderful venue, and we cannot wait to see everyone there!"
Related Links
Taylor-Smith Wins 2021 CDI-W Thermal Grand Prix Kur, Janicki Victorious in CDI Debut
CDI Competition Resumes in the U.S.A. in Thermal and Wellington, Several Debutants
Jorst Sweeps World Cup Qualifier, Peters Posts Personal Best at 2020 CDI-W Thermal
Peters Shows Readiness with 80% Score at 2015 CDN Thermal
Steffen Peters Does the Double 80% at 2012 CDN Thermal