F.O.C.U.S.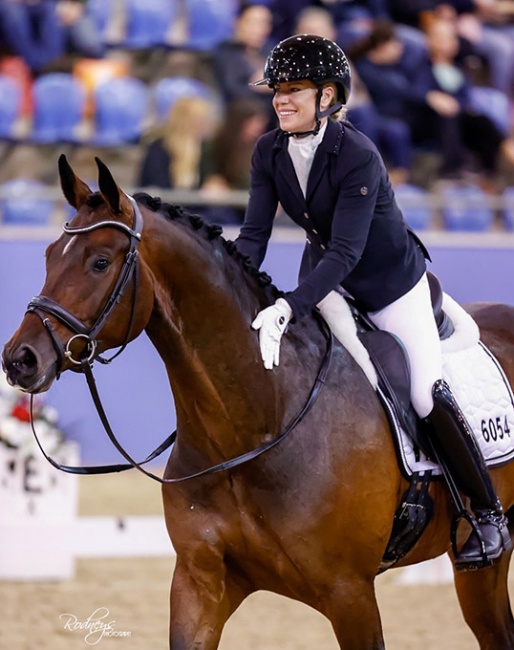 German professional dressage rider Alexandra Vodermair rode herself in the picture when she won the national 5-year old Young Horse division on Richy Rich at at the 2022 CDI Sydney on 27 - 30 April 2022. Ten months after her return to Australia, Vodermair has underscored the beginning of an exciting new chapter in her career with this victory. 
A working experience in Australia at the age of 18 planted a seed in her heart that grew into an undeniable love for the country.  "I'm just a happier person here," she told Eurodressage. 
Vodermair moved to Australia in 2016 and got married. After a brief half year return to German, she is now back in Oz building a business at Sutton Farm in Bowral, New South Wales, as a professional dressage trainer. 
Horses at the Heart
The 36-year old Vodermair grew up around horses and knew they would be the core of her life from the start. 
She spent her childhood and teenage years at her father Hermann's equestrian centre Max-Hof in Baldham, just outside Munich, and together with her twin sister Andrea Petit (née Vodermair) she is living and breathing horses around the clock.
Hermann Vodermair is a renowned breeder for the past twenty years, having bred for instance international Grand Prix horse Fürst Ferdinand zur Fasanenhöhe (Renate Voglsang) and his modern yard Max-Hof is a reputable riding stable in the area. 
Discovering Australia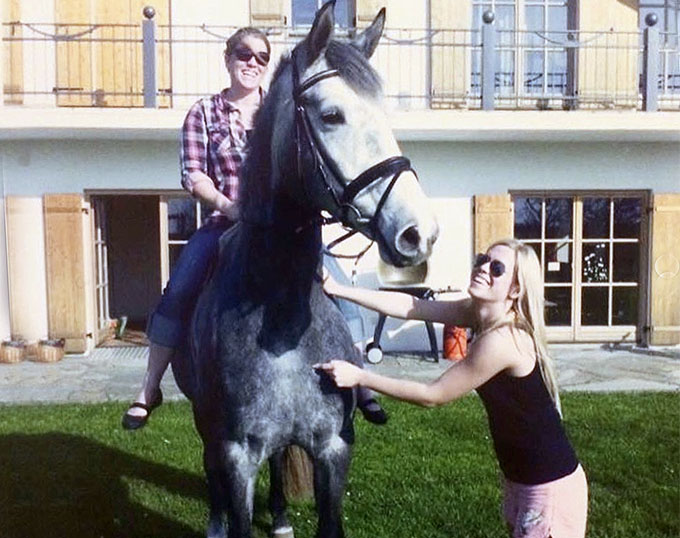 Alex' first experience with Australia took place in 2003. She had just finished high school at the age of 18 and took a gap year, travelling down under to brush up her English with a three-month Cambridge course at a college in Brisbane. She combined the year with a working experience and fell in love with the country. 
"I ended up working with horses for ten months in the southern highlands," Alex told Eurodressage. "I love the people and the country and I always had the urge to come back. I always felt I'm a happier person when I was here."
Alex worked for renowned Australian painter John Olsen (AO, OBE) whose wife imported Lusitanos, as well as for breeder Mark Dowling. "Everyone was always very welcoming and friendly to me," she stated.
Finding Her Place in the World
The Australian experience gave Alex a taste of what the world has to offer and while riding was the centre of her attention, she was torn between an education and her desire to see more of the planet.
"My parents wanted me to study something 'proper' first before I got into horses full time," she confessed. "My mum has three hair salons, so I got my degree in hairdressing, but instead of following in her footsteps I decided to travel for some years."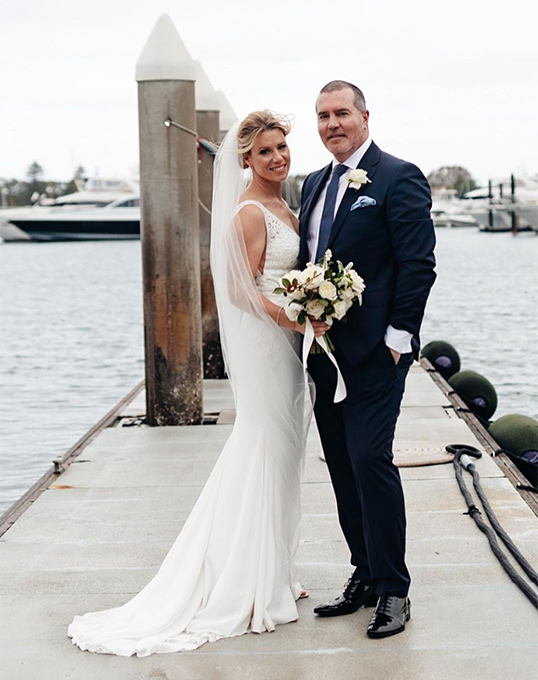 Alex ended up working all over the world, including the U.S.A. and South America before going pro with horses. 
She began her career a horse professional in 2014, first working as a show groom and assistant rider for Ferdinand Csaki at Sara Marburg's yard near Munich. Aboard Marburg's Fabiano (by Furst Heinrich x Falkland) she achieved her LK 3, competing the chestnut gelding from A to M-level at national shows in 2015.
Magnetic Pull
The magnetic pull to Australia did not disappear and in 2016 she returned to Oz. 
"I had put in all the hard work over the years to try establish myself," she explained. "It was not easy, but as we know if it would be easy everyone would do it. I love this country and it always was my mother's and my family's greatest fear that I was to fall in love and never come back. It happened. I not only fell in love with Australia, but also married an Aussi man."
Alexandra met the Sydney based Jonathan Scharrer who works for an IT-company that produces service software for the automotive industry. They fell in love and got married in 2020. 
Brief Return to Germany
In the autumn of 2020 Jonathan had a great opportunity lined up in Germany and it gave Alex the chance to reconnect with her family at home and do some work and gain more experience.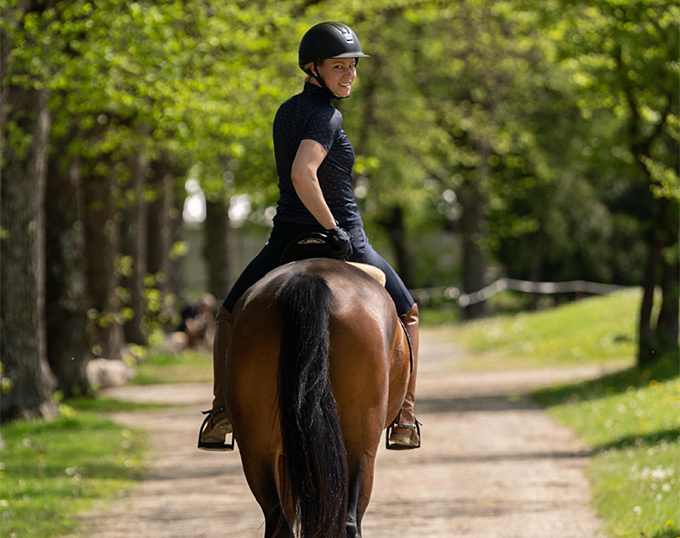 "We decided to go together to Germany for some time. I told him I will try to pick up work in one of the best barns and we might not see each other a lot, especially being in Covid lockdown. It was hard but we did it. We hardly saw each other," she admitted. 
Alex got a position with Eva and Ulf Möller at Helgstrand Germany in Syke and rode sales horses for half a year. 
"I started on the second day after they moved in to Gestut Famos," Vodermair reminisced. "I was at the right time in right place.  Eva and Ulf were very lovely to me and I felt like I was part of the family. I learned  so much from them. The way you see Eva ride at shows that's how she rides at home, always calm, always focused, her eye was every day on me."
When asked what the most important piece of information she absorbed from them was, Alex replied, "some words will be forever in my head: 'keep you hands down and together', 'sit in your horse not on top', and 'don't try to control your horse's head'. Ulf told me, 'you never go to bed without thinking how you can fix a problem'. He told me to find a solution for every individual horse; every horse needs his own time and way."
Australia Calling, Building a Business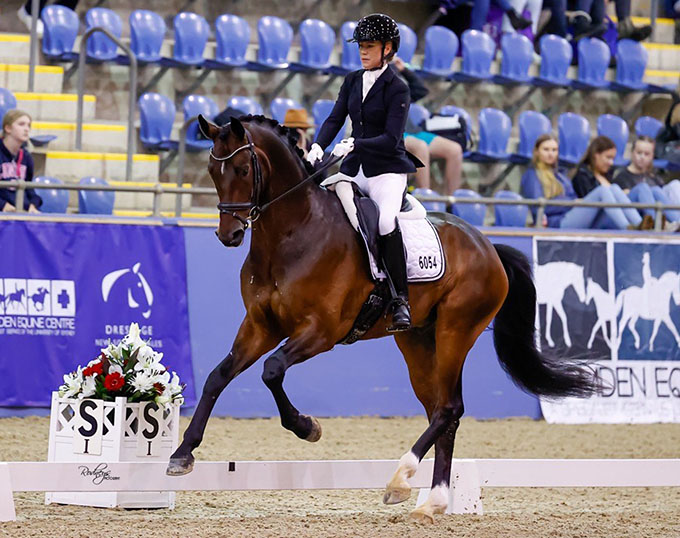 Australia kept calling though and in July 2021 the newly-weds returned. They settled down at Sutton Farm equestrian centre in the Southern Highlands in Bowral, NSW, one hour from Sydney, where Alex is building a business as as a dressage rider and trainer. 
"My plans are to slowly grow and develop my business. I have some exciting young horses to train and compete," she said. Since November she is working with former Australian team rider Matthew Dowsley, who comes to her barn once a week to coach her.
Alex' first claim to fame in the show ring took place two weeks at the CDI Syndey Lite, where she topped the national 5-year old division on Sahar Shakibaei Keshak's Hanoverian gelding Richy Rich (by Revolution x His Highness).
"I found him while I was working in Skye after a tip from Nadine Elbrecht," said Alex. "She has her own little set-up just around the corner from Syke and had this lovely young gelding to break in for the breeder, Gerkenhof. It was love at first sight with Richy! He's a very promising horse for the future."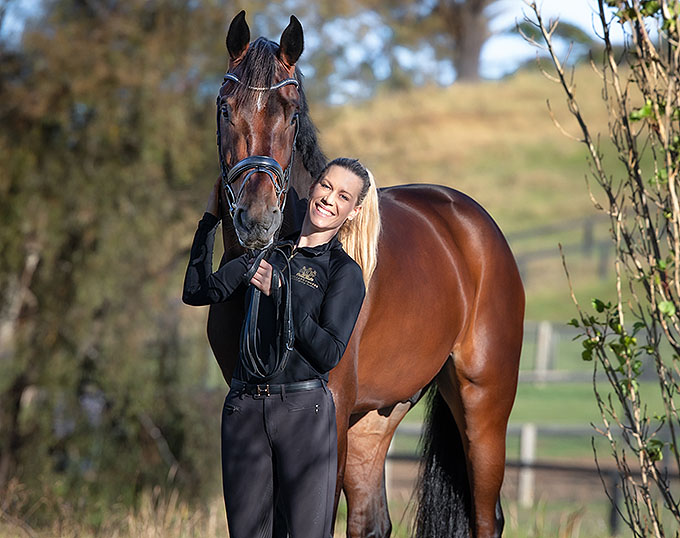 Alex will regularly return to Germany to scout for horses and has her first shopping trip planned in June. 
"I'm excited to be able to look for more youngsters to bring back to Australia," she said "I'm very grateful to be able to ride in this country and we all know it's not easy to be so far away from the centre of dressage in Europe. Australia has some very exciting and talented riders and horses and I'm very thankful to be able to ride along with them."
Photos © Rodney's Photography - private - Simon Scully
Related Links
Alex Vodermair Joined Helgstrand Germany
Floricello Sold to Walter Wadenspanner