Stallion at Stud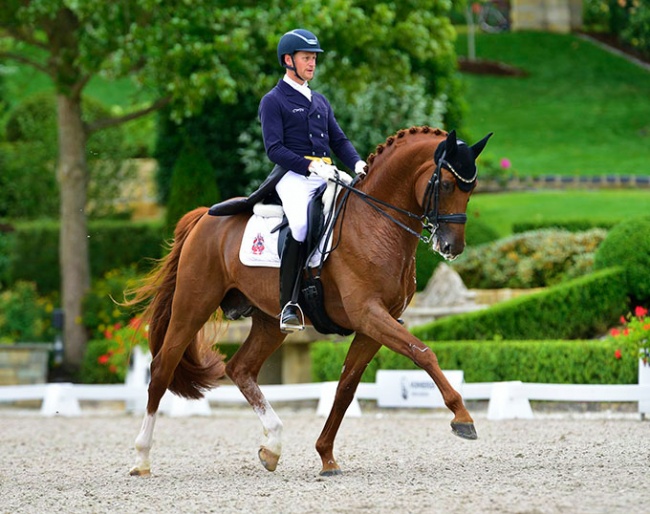 Name: Destacado FRH
Breed: Hanoverian
Approved for DSP, Hanoverian, Oldenburg and Westphalia
Year of birth: 2013
Sire: Desperados FRH
Dam: St. Pr. Libella
Dam sire: Londonderry
Height: 172 cm
Stud fee: 1,200€ incl. VAT
(split insemination / gestation fee)
Rising Star in the international dressage circuit: Destacado FRH
When it comes to perfection, the absolute optimum, the "how-it-should-be" factor, there really should be one stallion that pops up in your mind: Destacado FRH. This only nine-year-old chestnut from Gestüt Schafhof in Germany has truly been a horse, which was impossible to ignore on the international dressage circuit over the past couple of years. Only recently selected into the B-quad of the German team with his rider Matthias Alexander Rath, Destacado FRH had won everything, which there were to win, if not even more. Moreover, he has done it in a tremendous way. There is obviously a reason, why everyone calls him "The King" in his home stable.
From premium stallion to the silver medal at the WBCYH and winning the final of the NÜRNBERGER BURG-POKAL with only seven years. He qualified with over 77% for the Louisdor-Price final last year and placed himself in the top three on CDI3* Grand Prix tests throughout the season. Only a couple of weeks ago, with just nine years of age, he won his very first CDI3* Grand Prix and CDI3* Grand Prix Special in Ornago, Italy and impressed everyone with his absolute confidence during the test. Something, you do not see very often for such a young horse in the highest level of the sport.
Destacado FRH is equipped with three equally excellent basic paces, confidence and motivation. When looking at his movements, there is no doubt that, his natural, large and always well-balanced walk gives him a unique position in the field of dressage breeding. His uphill conformation and outstanding balance makes him predestined for the international dressage arena. Alternatively, to say it in the words of Grand Prix dressage judge Henning Lehmann: "If you want to see an optimum walk, look at the one of Destacado FRH."
Career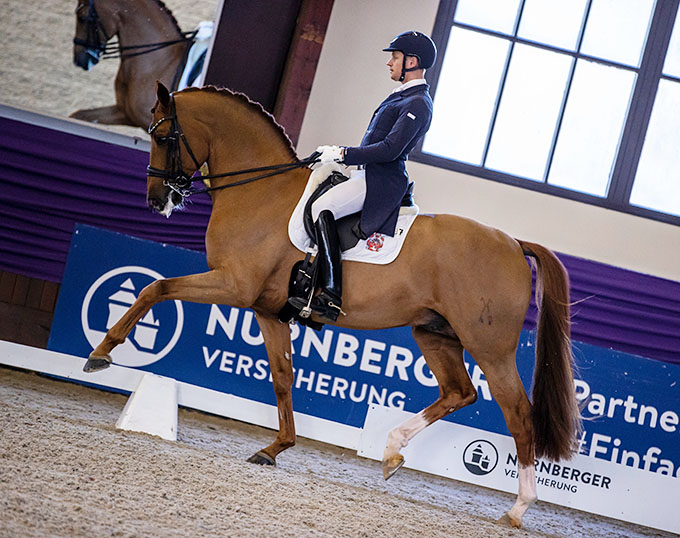 Destacado FRH was born as a winner and he has proven that repeatedly. He was a particularly thought-after premium stallion at the 2015 Hanover licensing. In 2016, he was Hanover's vice-champion of three-year-old stallions in Verden and a little later, he was Bundeschampion in Warendorf where he twice received the dream score of 10.0 from foreign riders. He completed the 14-day test in 2016 with top marks in Schlieckau.
After various victories in young horse classes, he made his international debut in 2018. He won several competitions in L-level dressage and crowned the season sensationally with the title of Vice World Champion of five-year-old dressage horses in Ermelo. Never be forgotten will be the comment of the judges: 'That was pure poetry in motion'. It does says it all.
In 2019, he also qualified for the World Championships for Young Horses and just missed out on the medals with still an amazing fourth place. If there were still some critical people left, he should have proven them all wrong latest in 2020. Winning the qualifier for the NÜRNBERGER BURG-POKAL in an inspiring way, he competed only in September for the very first time in an international Inter I class just to win it straight away. Who has seen the final in December is probably still amazed of his walk. Oh and yes, he won the final too. In 2021 he came became even better. With over 77%, he secured with a victory his ticket to the Louisdor-Price final, which he unfortunately had to miss out due to feeling not 100% fit. In the same year, he started in his very first international Grand Prix and decorated himself with top placings. His goal for the start of the new season in 2022 seemed to be to show everyone on the globe, how bright his future is looking. In March he competed at the CDI3* in Ornago, Italy where he won his very first Grand Prix and Grand Prix Special.
You must keep in mind: He is only a 9-year-old horse that makes it incredible to believe how secure he is at this top level already.
Offspring
His offspring are of his outstanding type with a pronounced, muscled neck and a top line predestined for riding horses, big-framed conformation and with outstanding movement. His second breeding year was crowned with the first licensed stallion at the Hanoverian licensing in winter 2020 (Destacado FRH/ Sandro Hit/ Brentano II). No doubt, that we will see some future top class horses sired by him.
Bloodlines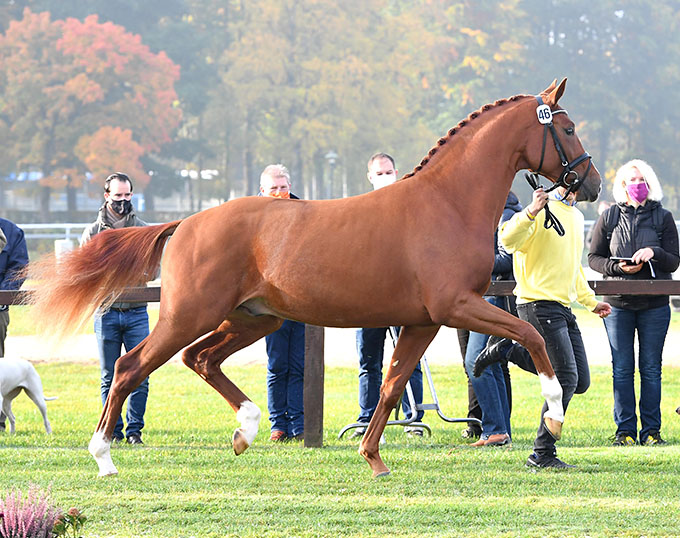 The sire Desperados FRH was one of the most successful dressage horses in the world and a medal guarantee for the German championship team. In 2016, he won team gold and the individual bronze medal at the Olympics in Rio under his rider Kristina Bröring-Sprehe. Furthermore, he was German champion in Balve in 2014 and 2015, won team silver in 2012 at the Olympics in London and became team European champion in Herning in 2013 and in 2014 team world champion in Caen / FRA. In 2015, he won team bronze and two individual silver medals at the European Championships in Aachen.
Destacado's dam Libella previously produced two further licensed sons, Bellini (by Bentley) and First Diamond (by First Dance). Her father Londonderry was licensing winner, Bundeschampion and sire to a number of successful Bundeschampionat participants in Warendorf. More than 30 of his sons are licensed, including the licensing winner 2003, Liberty Gold and the Bundeschampion 2006, Locksley II. The third generation of the Celle state stud stallion Falkland, who is extremely strong and often presented as an action trotter, was a versatile sire. The dam line continues with the large-framed Anglo-Normans Imperator and the thoroughbred Novum xx. Destacado represents the Hanoverian mare family 298 / Sadea (by Schwiethard etc.) with home in the Diepholz area. The well-known stallion Sinatra (Ldb. Warendorf) also emerged from this..
For more information about Destacado FRH, visit the official website or follow Gestüt Schafhof on Facebook and Instagram
Contact info
Gestüt Schafhof
Schwalbacher Straße 1
61476 Kronberg i.Ts.
gestuet@schafhof.com
+49 (0) 6173 921614
www.gestuet-schafhof.com