F.O.C.U.S.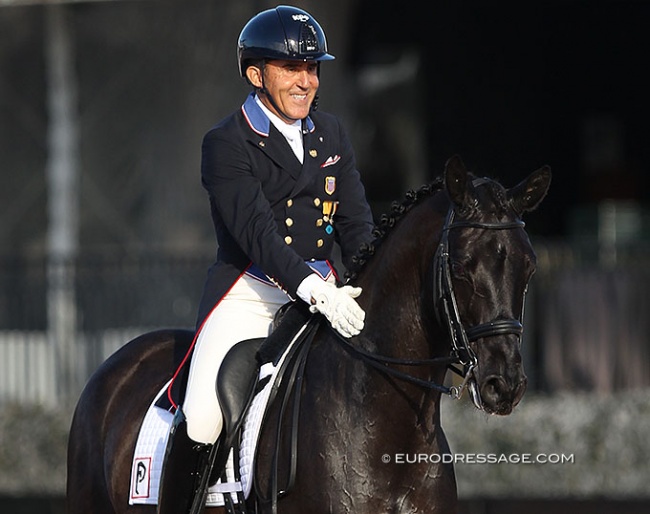 American Olympic dressage rider Cesar Parra is revelling in his Grand Prix hopeful, the Hanoverian gelding Fanta 4 who is bringing fun to dressage. The pair won three out of three classes in the 7-year old division at the 2022 Global Dressage Festival in Wellington, Florida. 
Fanta 4 is a gorgeous black gelding by Finest out of Fleur Noir (by Florencio). He is owned by Parra in partnership with his friend from childhood, Gina Raful. 
Childhood Connection
A Colombian native who moved to the U.SA. in 1999, Cesar Parra re-connected with Raful after forty years apart. The two come from the same home town in Colombia and were high school friends who both loved going to the movie theatre. 
Four decades later the two met up in Miami, Florida, and realized their mutual love for horses and animals. Raful invested in two young dressage horses - Fanta and Fontenay - and has been thrilled with the journey so far. 
Fanta is Fun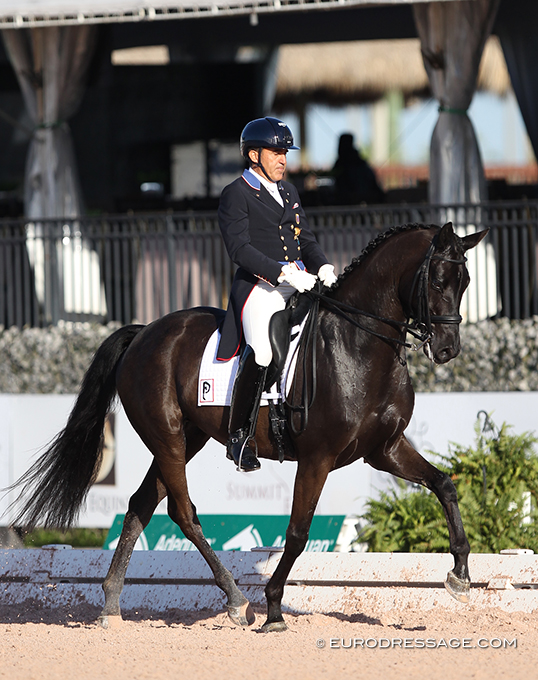 At the 2022 Global Dressage Festival, Cesar rode Gina's Fanta 4 to a triple victory in the CDI 7-year old classes, posting solid scores between 72.132 and 76.600%.
"Fanta is a horse with a special aura," Parra explained. "He has an amazing rideability and mind. He always wants to please and remembers everything so quickly. He is a clever horse, who understands what's being asked and he gives you so much in return. He is already schooling piaffe and passage and it comes so easy to him."
Cesar hopes to ride the black beauty at the 2022 World Championships for young dressage horses in Ermelo, The Netherlands.
Young Horse Power
Since arriving in the USA, Cesar has been focusing on scouting young talent in Europe, producing it up the levels, and selling them as FEI level hopefuls. He runs two operations: a year-round base in Jupiter, Florida and his New Jersey facility, which just relocated to Pittstown.
His 2017 World Young Horse Championship ride Don Cesar (by Desperados x  Manhattan), as well as the international competed Sir Beckmann (by Sir Donnerhall x Wolkenstein II) recently sold as Grand Prix horse to Mexico.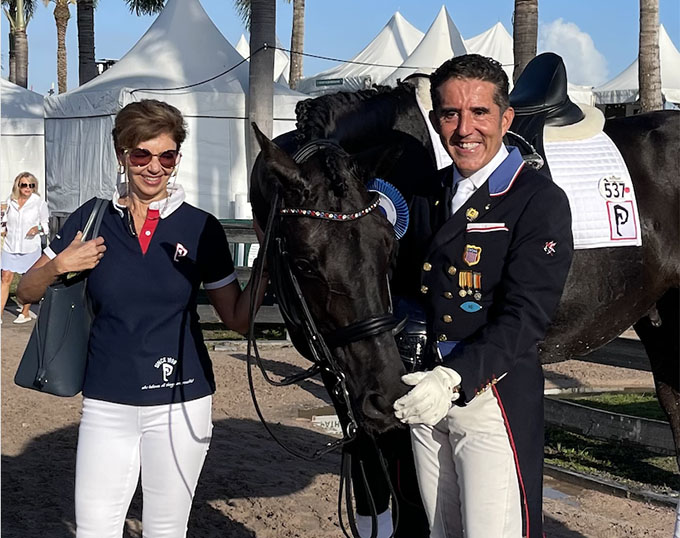 Parra has a barn full of U.S. Young Horse champions and medal winners. Katryna Evans and Raful's Fontenay won gold at the 2021 U.S. Young Horse Championships, while with Møllegårdens Fashion (by Florenz x L'Espoir) she got bronze. Madeleine Bendfeldt also piloted Sonata MF to gold at these Nationals.
Three weeks ago in Wellington, Madeleine qualified Møllegårdens Fashion for the 2022 U.S. Young Horse Championships with a high score of 86%. 
Cesar also just acquired another smashing young star in Germany, the 4-year old Superior (by Sensation x Licosto).
Friesian Power from Mexico
Cesar regularly commutes to Mexico, where he has signed up for an exciting partnership with Jonathan Robles and Sandra Sanchez of Finca Sanro, a premier Friesian sporthorse breeding and training farm. The Mexican couple is seeking to break through on the international sport scene and asked Parra for expertise and assistance.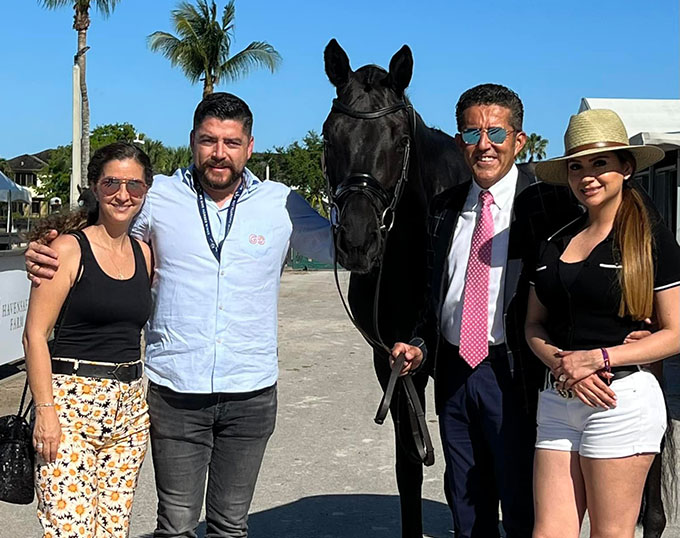 Cesar has been coaching the team at Finca Sanro, where  the 11-year old Friesian ster stallion Johnny Cash (by Tsjalle 454 x Tjimme 275) and the 5-year old Friesian licensed stallion Dedmer 519 (by Alwin 469 x Teeuwis 389) have particularly stood out with their talent and potential for the future. Johnny Cash, who was originally named Jelger fan it Hiem and sourced in South Africa before selling to Holland, has been competed by  Dana van Lierop up to small tour level.
"Jonathan and Sandra have this dream of owning the best Friesians in the world," Parra stated. "They have around 30 Friesians at their breeding farm and especially Johnny Cash and Dedmer are incredibly beautiful and talented for dressage. They have so much Grand Prix potential and a super rideability. I'm thrilled to see what the future brings."
Press release / Photos © Astrid Appels - private
Related Links
Cesar Parra Gearing Up for Florida 2022 with Year-Round Training in Jupiter and New Barn in New Jersey
Dr. Cesar Parra rides FEI High Score 6th time at Dressage at Devon and cleans up Young horses Divisions
Parra and Company Packing Fanta 4, Fashion, and Fontenay for 2021 Festival of Champions
Parra and Fashion Designer OLD Claim 2017 U.S. Developing Grand Prix Horse Championship Title