Equestrian Aid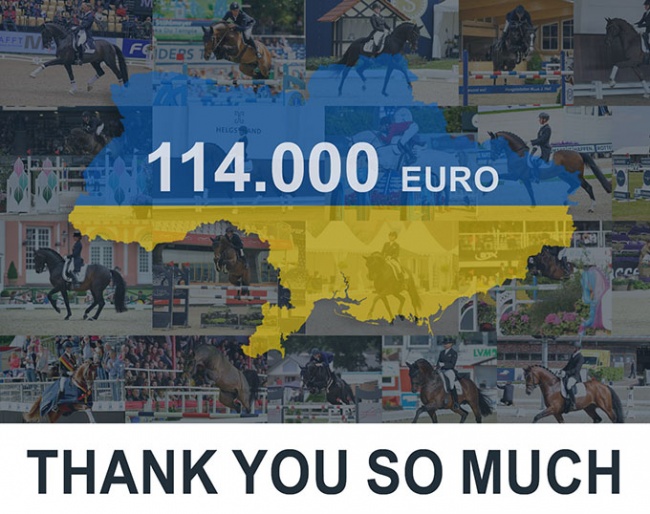 A charity auction of 112 stud fee vouchers hosted by horse24.com came to a close on Sunday evening, with the event having raised a phenomenal 114,000 euro.
Bidders from right across Europe took part in the online auction, the proceeds of which will be split in two and donated in full to two aid organizations working tirelessly to support refugees at the Ukraine border, as well as animals. Ärzte ohne Grenzen e.V. (Doctors Without Borders) is a mobile surgery unit, dedicated to providing medical care for those who are injured or unwell. Equiwent: Hilfe für Mensch und Tier e.V. (Aid for People and Animals) supports people and organizes horse transportation – for example arranging emergency accommodation and quarantine facilities.
The proceeds of the auction will be donated to both organizations without deduction of costs – half to each organization.
112 Stud Fee Vouchers
The 112 stud fee vouchers were sold in the two-part auction on Sunday afternoon.
1290 bids were made from bidders in seven different countries, achieving an average sale price of 1,017 euros.
The charity auction was made possible by the generosity of a number of stud farms and stallion owners who signed up to participate without hesitation and donated a stud fee voucher – or in some cases several of them – to the auction. Plenty of big names in horse breeding from across Germany and beyond were amongst those taking part: Böckmann Pferde GmbH, Haupt- und Landgestüte Neustadt-Dosse and Marbach, the Ligges, Birkhof, Bonhomme,  Schafhof stud, Schockemöhle & Helgstrand, as well as names from abroad such as Van Olst Horses (Netherlands) and Zangersheide (Belgium), plus many more renowned breeding stations. The bids came in thick and fast – the stallions were certainly desirable – and there were sires representing a range of disciplines on offer.
Transparency for all involved
A new account was opened at the Ellwangen branch of VR Bank especially for the charity auction.
"Transparency is very important to us", emphasizes the auction's organizer Simon Kohlenbrenner, "we shared the bank's confirmations of the transfers of the proceeds with the aid organizations and provided further information during the auction under the "Further Information" section of the website." 
Kohlenbrenner supplemented the proceeds of the auction themselves with a donation of 10,000 euros.
"We are immensely grateful to all the stud farms and stallion owners involved, and the bidders, for getting behind the project and helping secure such a fantastic outcome", said Kohlenbrenner.
 The successful bidders will receive their stud fee vouchers in the next few days, whilst the stud farms and stallion owners will receive all the instructions necessary to ensure a smooth and successful redemption of the vouchers. 
Related Links
Online Auction of 100 Stud Fee Vouchers in Aid of Ukraine
Ukrainian Equestrian Federation calls for urgent donations of feed and shavings
Russian and Belarusian Athletes, Horses & Officials Prohibited from Participating in FEI Events
FEI Removes all International Equestrian Events in Russia and Belarus