2022 CDI Wellington - Global Dressage Festival / Week 11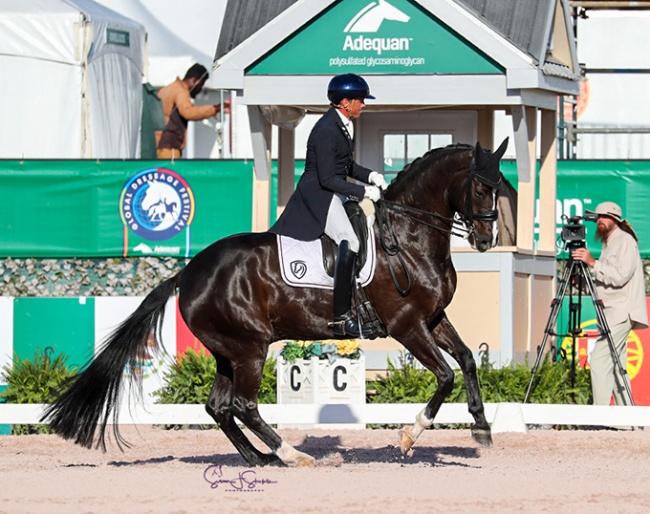 The culmination of top-level international action in the final week of the 2022 Global Dressage Festival (GDF) season in Wellington, FL, came in the form of Saturday's showcase class: the Grand Prix Special 4*. On the penultimate day of the final CDI week, Christoph Koschel (GER) claimed the richest purse of the day, scooping the blue ribbon thanks to a 69.957% victory on Dünensee.
"I had a super nice feeling today, and he was really light in my hand," said Koschel of Dünensee, Diamante Farms's 13-year-old Dancier gelding. "There was one mistake on the centerline in the ones that was maybe a little bit my fault; I was a little too forward, and it's always a little bit of a risk if you want to do it too nice. We're at the end of the season and maybe you don't have the same energy like the first CDI, but I was super happy because he was really fighting for me in there still."
Koschel has been riding Dünensee for less than four months and he is for sale, so his competitive future remains undecided.
"He was pretty consistent today, maybe a little lighter in everything [compared to the Grand Prix]," added Koschel. "He really lets me ride now, and then we grow more and more together. It's now our second special and maybe fifth or sixth test together."
Susan Dutta (USA) logged 69.255% for second place on her and her husband Tim's Don Design DC, a 12-year-old gelding by Der Designer. Naïma Moreira Laliberté (CAN) added to her already lucrative week with a 68.915% third-place finish on Statesman, KML Inc's 15-year-old Sandro Hit gelding.
Holzer Tops 3* Grand Prix Special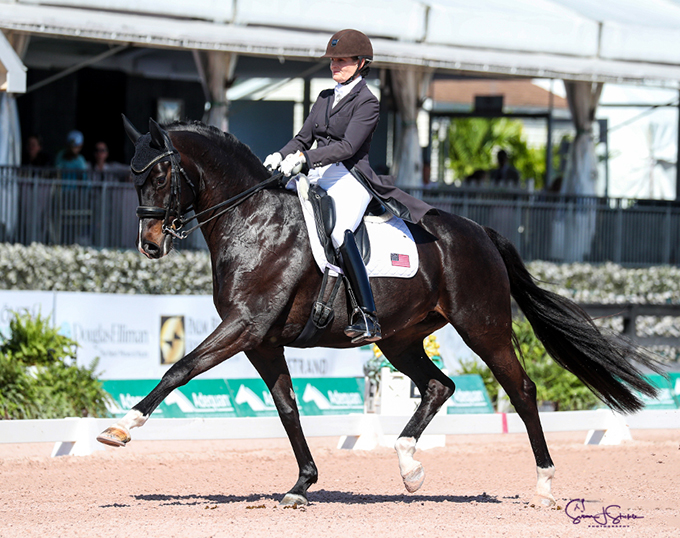 Ashley Holzer (USA) made it two wins from two starts this week with Valentine, topping the Grand Prix Special 3* just a day after winning the qualifying Grand Prix. These were the pair's first international grand prix wins. Last to go of the 13 starters, Holzer produced a test worthy of plenty of eights, finishing with a final score of 72.17%. She relegated Katie Duerrhammer (USA) and Paxton, who scored 70.255%, to second place. Laurence Vanommeslaghe (BEL) finished third, riding Havalon to 70.106%.
Of her own 12-year-old mare by Sir Donnerhall I, Holzer said: "I was honestly really thrilled with her, because all of the hard stuff she did really well. The mistakes were little glitches of miscommunication, but that's a long test and when she passages as high as she passages, it takes a lot out of her. On that last centerline she really was so honest for me. She's green; she hasn't done this test a lot and I've had issues with her being very spooky and getting nervous."
Holzer and Valentine stepped up to grand prix level less than a year ago after an extremely successful small tour campaign, which included 11 wins from 14 CDI starts in 2019. They did not compete internationally in 2020.
"I don't care how much experience you've had, especially with a mare, you have to learn to ride the horse you have and really be in the moment," added Holzer, who rode for Canada four times at the Olympics before switching nationality to represent the USA. "It's always a learning curve in the ring, with every new horse, and sometimes you overdo it and sometimes you underdo it. Robert Dover has been such a great coach for me, telling me to bring her in gently to the movement, let her settle, and ride her nicely out. I think that's really helped me a lot."
Holzer's next competitive stop is the FEI Dressage World Cup™ Final next month in Leipzig, Germany, on her other grand prix mare, Havanna, where she will represent the USA at a major championships for the first time since her nationality switch five years ago.
Luuk Mourits: Two Wins on Two Horses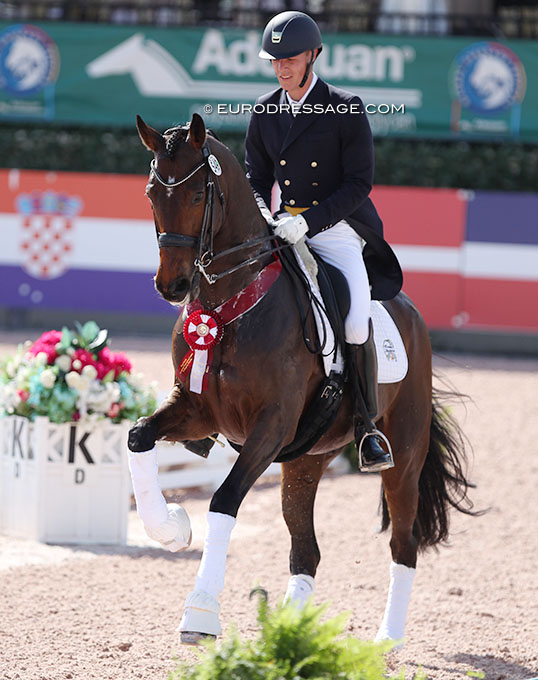 By midday, Luuk Mourits had captured two three-star wins on two different horses — one from first draw in the class and the other from last. In the Intermediate I CDI3*, the Dutch rider piloted Sarotti OLD to 69.412%. Harmony Amateur Sports Foundation's 12-year-old Oldenburg gelding by Sarkozy also won the previous day's Prix St. Georges class, marking the first international wins for the pair who began competing together at GDF in 2020. This was their first three-star CDI show.
American female riders posting personal bests on their own horses followed up behind Mourits. Katrina Sadis rode the 10-year-old Belloona, by Bellissimo M to 67.255%, with Susan Jaccoma piloting Dinozzo Nexen, by Blue Hors Don Olymbrio, to third place with 65.196%.
Mourits' other victory came courtesy of another horse owned by his employer, Harmony Sporthorses' Don't Stop The Feeling. The 13-year-old gelding by Don Primus garnered 68.382% in the Intermediate A 3* — their third time riding this test in a CDI. Mourits was once again chased by two personal bests, with Portugal's Tiago Ernesto logging 67.97% on Hobbit Interagro and Ecuador's Julio Cesar Mendoza Loor bolstering an already unforgettable week to capture third and a new high score for Baylen Dream TWF at the level of 67.471%. Both Ernesto and Mendoza's horses were performing this test in a CDI setting for only the second time.
Devine and Slæbækgård's Santino Win Inter I 1*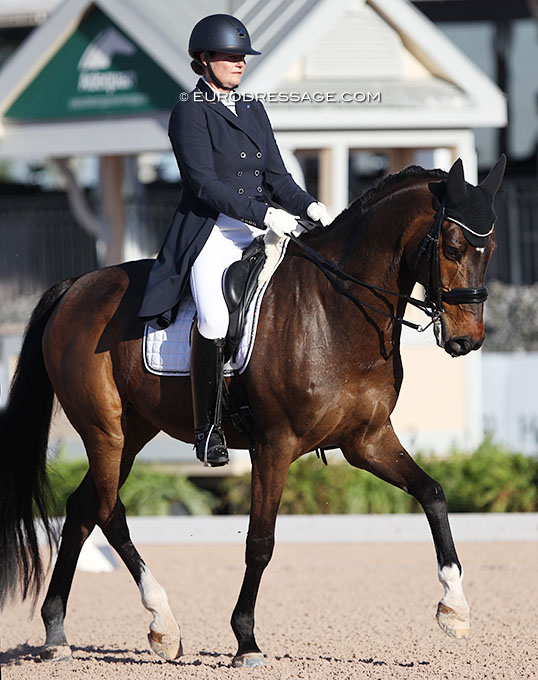 Personal bests were certainly the order of the day, with Intermediate I CDI1* winner Christina Devine (SWE) duly delivering on Slæbækgård's Santino. A classy 70.49% performance captured the winner's sash out of 11 starters. This was the first senior CDI for Devine and her own 13-year-old gelding by Sir Donnerhall I — their only previous international experience being during GDF 8, where they competed as amateurs.
Canada's Naïma Moreira Laliberté, who won the previous day's Prix St. Georges, also clocked a new personal best at the level — her second in as many days. She rode KML S.à r.l.'s nine-year-old Vitalis gelding Inspire to 70.147% and second place. Spain's Pablo Gómez Molina rode Cristina Danguillecourt and Yeguada de Ymas S.L.'s Baltasar De Ymas — another gelding by Vitalis — to 68.529% and third.
-- GDF press release, edited by Eurodressage
Photos © Sue Stickle - Astrid Appels
Related Link
Scores: 2022 CDI Wellington
Lyle and Salvino Extend Their Unbeaten Streak. Koschel, Mendoza, Holzer in the Blue at 2022 CDI Wellington
Four Out of Four for Lyle and Salvino, Mendoza Shines Again at 2022 CDI Wellington