Training Your Horse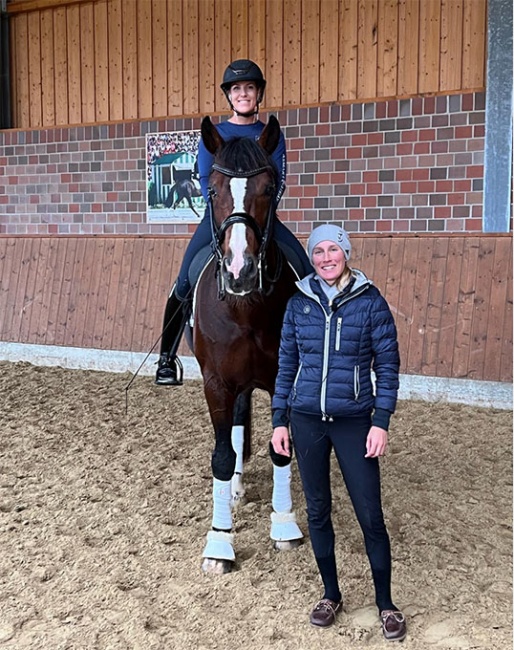 Text by Emma Pennell - reproduced with kind permission of the American Hanoverian Society
Emma, our newest member of the office at the American Hanoverian Society (AHS), had the great fortune to interview Kasey Cannon about her experience training with the wonderful and truly gifted Helen Langehanenberg.
The Journey to Germany: Kasey Cannon and Diesel CF
A trip two years in the making was finally able to come true. AHS member Kasey Cannon and her Hanoverian dressage stallion, Diesel CF (by Dressage Royal out of Ria Grande, by Ritual), embarked on a 60-day life-changing journey this past year when they boarded a Qatar Airways flight to Billerbeck, Germany to train with German Olympian, Helen Langehanenberg.
Kasey and Diesel's journey began when Kasey reached out to Susanne Meyer, to inquire if training with Helen would be an option for her. Immediately Kasey was put into contact with Helen and their dream turned into reality.
In Damsey's Footsteps
Helen Langehanenberg, a German trainer and rider, has won numerous World Championships, European Championships, World Cups, as well as being a member of Germany's 2012 London Olympic team where she and Damon Hill took home Team Silver. Training with an Olympian such as Helen was not Kasey's only draw to Germany, but also that Helen campaigned Diesel CF's full brother, Damsey FRH, owned by Louise Leatherdale.
"He [Damsey FRH] was the connector with all of this. I bought my horse in early 2016, about the same time Helen was offered the ride on Damsey as a 14-year-old Grand Prix stallion. I was on a journey with them, watching year after year how Helen did better and better with this amazing horse. It was really fun to see the genetic potential of where my horse could go one day,"
Kasey explained about her ties to choosing to work with Helen. During her time in Germany, Kasey was lucky enough to travel with Helen and Damsey FRH's former groom, Ann Christine, to visit and see him in person for herself. "Damsey is incredible! It was sort of like meeting a rockstar. I am not starstruck by people, but with him, it was pretty intense and a little emotional. I idolized him and watched the last six years of his career,"
Kasey said as she recalled greeting Damsey in the crossties at his retirement farm. "It was very cool to see how excited he was to see Ann Christine. He just knickered and was like "Hi! Where have you been?" That was pretty emotional for me to see these animals really have a strong connection to their humans. I will say I feel like I have Damsey's puppy dog younger brother. Damsey is very cheeky and I almost feel as if he is trying to see what he can get away with. Diesel definitely doesn't like to be in trouble. He's very cognizant of trying to stay in my good graces. It was interesting to see that both of them are really communicative with people and they have very good human skills," described Kasey.
The Long Journey
After COVID-19 delays and several flight schedule changes, in the early hours of the morning in October, Kasey and Diesel's 777 cargo plane finally landed in Liege, Belgium after the 10-hour flight from Los Angeles International Airport. Cleared through customs and packed up onto their trailer the next stop would be Helen's training stable where the fun and work would begin. Due to unfortunate COVID-19 delays, Kasey and Diesel's training in the beginning with Helen started as interval training through video lessons but was finally able to work one-on-one in person.
Kasey explained there are greater expectations in Germany with dressage than in the United States where riding is most of the time viewed as a hobby. "They aren't going for 6s or 7s, they are going for 8s, 9s, and 10s. It's very black and white. The system is very methodical and logical for the horses and the standard is always kept very high," Kasey stated.
The Frozen Rider Syndrome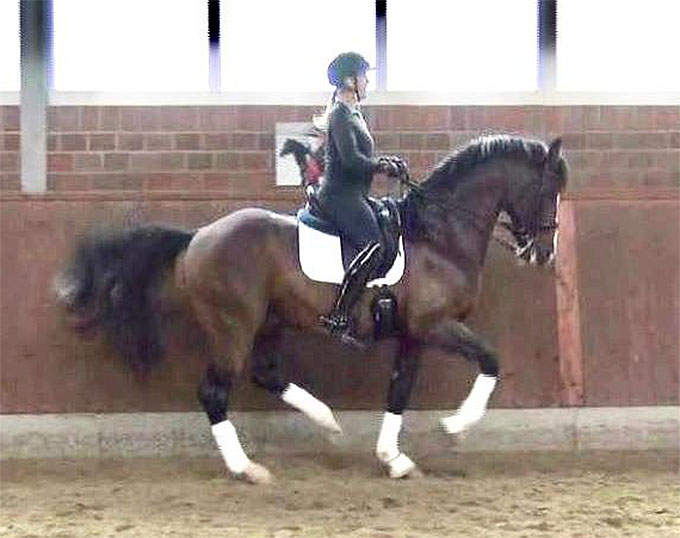 Being an amateur dressage rider currently performing between Intermediate I and Intermediate II tests, Kasey divulged how Helen worked with her to overcome what Kasey termed her "frozen rider syndrome". Helen suggested for Kasey and Diesel to ride through a test every week and then work off things that needed improvement.
"That's so logical and also genius because at home I would only ride through the test a few days before the show. Especially if we move up to a new level, I have only ridden the test a few times and schooled parts of it and only put the whole test together just days before going to a show. This idea of actually riding the test once a week so that you've ridden the test maybe 20 times before you go down centerline in the show ring is somewhat genius," said Kasey about Helen's plan of riding their weekly dressage tests.
Kasey admitted to herself she needed this strategy as a rider to ease her nerves to continue effectively communicating with Diesel through the duration of their test. Learning in the world of dressage is never completely finished, the "goalposts" as Kasey called it always continue you to move forward to achieve new goals and new skills.  "We put a fair amount of pressure on him to go over there and raise the bar. He stepped up to the plate," Kasey spoke of Diesel CF on his performance when working with Helen, "the more we asked, the more he offered."
The Feeling in the Saddle
A huge improvement for her and Diesel's partnership was working with Helen on hind end-use and suppleness from Diesel throughout their movements. Together their movements improved to a smooth connection from start to finish.
"The feeling in the saddle changed a lot," she said. "Before Germany, whenever I would prepare for a movement, I would slow down. I would over-prepare and overthink. After being in Germany, I can now change things or start and end movements where he still pushes from behind and the tempo is not changing."
Training alongside Helen Kasey said allowed her to find points in their performance that were their weak areas and learned to communicate better with Diesel to begin a strong execution point for their start in the Intermediate II levels.
European Learning Experience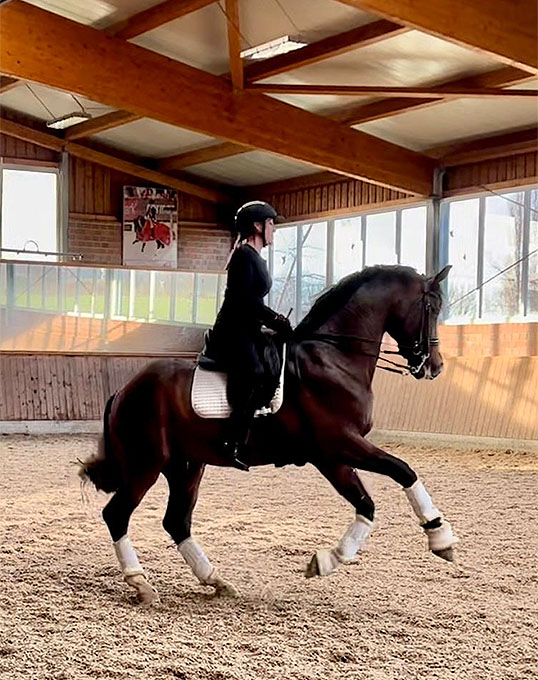 While COVID-19 delays were a hurdle in beginning, Kasey looked back and said they were lucky to have had to push off the trip for two years because it allowed Diesel and herself, once they landed in Germany, to fully utilize their time with Helen on working towards movements in the Grand Prix level.
"I think if we had gone a year or two earlier, we wouldn't have gotten as much out of it. Now I think we are ready to show Intermediate II and it's the perfect time to go when you're stepping up to the next big thing. It ended up being the perfect time to go! I'm thankful that COVID kept us from going for a year," Kasey commented.
Be Ready for Introspection
When asked what would be her best advice that she would give to someone else who is wanting to pursue a similar experience of traveling with their horses for training outside the United States she commented, "Be open and maybe be ready for some introspection. You've really got to step out of your comfort zone to do something like this, especially for me. I have always been very conscious of my lack of experience to go and train with one of the best trainers in the world. It was a little bit of a risk. I think if you're going to grow as a human, as a rider, the best way to do that is to put yourself in these environments."
Text by Emma Pennell, edited by Eurodressage
Related Links
Scores: 2020 CDI Temecula
2014 Helen Langehanenberg Clinic in Berne: "Dare It, It's Only Training!"
Hanoverian Stallion Damsey Retired from Sport in Doha, Maybe a Few More Shows in Europe
Damsey FRH: From the Verden Auction Arena into the International Limelight
Helen Langehanenberg Secures Ride on Damsey