2022 CDI Boneo
Australian young riders shook off the ring rust at the 2022 CDI Boneo on 21 - 23 January 2022 by competing in their first CDI in two years time. The corona pandemic caused all international competitions to be cancelled for a two-year period, and Boneo was the welcome return to that. 
Amy Bachmann, Kodi Tupper, and Shilo Harvey were the winners of the three Young Riders class at Boneo Park in a field of seven strong. The scores in each of the classes ranged between 63% and 68%, judged by Connie Murray, Maria Schwennesen, Jane Ventura, Ricky MacMillan, and Susan Hoevenaars.
Amy Bachmann Wins with "Covid Project" Horse
The 19-year old Amy Bachmann kicked off the young riders' competition at Boneo with a victory in the team championship test. Aboard the 11-year old Australian warmblood bred SWS Debutante (by Dancier x Don Frederico) she topped the board on 68.186%, edging out Hannah Shippen with the 17-year old Yarramee B Bear (by Northern Favus Two x Falkland Victory). She went on to place fourth twice in the individual test (64.069%) and Kur (69.175%). 
"I was extremely happy to start off the show by winning the team test," Bachmann told Eurodressage. "Unfortunately in the individual test we had a costly mistake in a canter pirouette, which greatly affected our score. Sadly, we didn't score as well as I had hoped in the freestyme due to a music technical issue that occurred, leading to a less polished performance. This aside, I was still pleased with my horse who was consistent and more rideable in the ring throughout the competition, with the work getting rewarded by the judges. She was pretty tired having competed the week before at the Australian Young Dressage Nationals, where we won all three of the FEI Young Riders classes."
Bachmann has been riding "Midge" for almost two years. She has worked with Charlotte Pedersen before switching to Justine Greer a year ago. Amy hopes to have a competitive Under 25 Grand Prix mount in her. 
"I bought Midge, a typical chestnut mare, on April Fools day in 2020 as a COVID project to occupy my spare time," Bachmann explained.. "We figured if the riding didn't work out we at least had a good broodmare. Prior to us purchasing her she had competed rather unsuccessfully at Elementary Level, had an elite foal and then a year or two out of work in the paddock. After a lot of hard work, time and fitness on Midge's behalf, she is competing small tour level and showing great potential for the Grand Prix work. I am beyond proud of her climbing the levels to FEI in such a small timeframe."
Bachmann hopes to compete in the Aachen Challenge at DSJWTS in Werribee, the young riders' classes at the CDI Sydney in May, and then steam onwards to the Australian Dressage Nationals, where she also wants to show her Welsh cross pony Heritage Park Chartreuse at FEI pony level.
Kodi Tupper 3 - 1 - 3
The 19-year old Kodi Tupper produced three very consistent rounds over the weekend which saw her being rewarded with two third places and the victory in the individual test.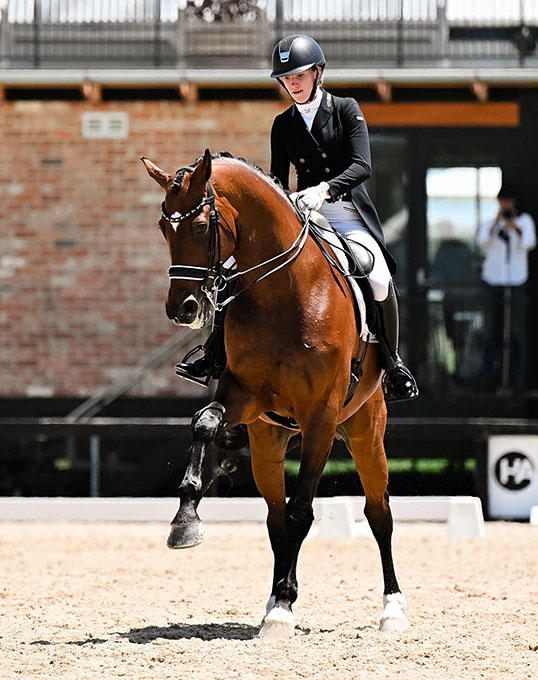 Kodi and the 13-year old KWPN gelding Endless Dream (by Krack C x Diamond Hit) began the show with a third place in the team test on 67.794%. She rose to the top of the board in the individual with 67.451%, referring Sophie Taylor on the 17-year old Jazzabelle (by Jive Magic) to second place. Tupper was back in third place in the freestyle with 68.75%
Tupper also rode at the Australian Youth Nationals as preparation for CDI Boneo. 
"I was pleased with our performance at the CDI as Duke (Endless Dream) and I were able to produce some really consistent tests," Tupper told Eurodressage. "I think the management of the horse through two weeks of competition in the heat is really important in order to produce consistently strong performances."
Endless Dream was found for Kodi by her coach Gina Montgomery 2.5 years ago. As Montgomery is leaving for Germany to train with Jonny Hilberath, Kodi has switched to Brett Parbery and Carlos de Cleermaecker for training. 
"After two years of COVID restrictions I'm really looking forward to competing again at international events," she admitted. "I hope to get to as many (CDI's) as possible this season. In the European summer I would like to visit Gina in Germany and spend some time training and gaining broader experience."
Shilo Harvey, From Bottom to Top
For 20-year old Shilo Harvey the 2022 CDI Boneo was a bit of a rollercoaster weekend, needing her time on Jaybee Alonzo to find her groove. Hailing from the Central Coast, NSW, the 12-hour drive to Boneo did pay off as on the last day of competition, the pair surged to the top of the ranking and won the freestyle.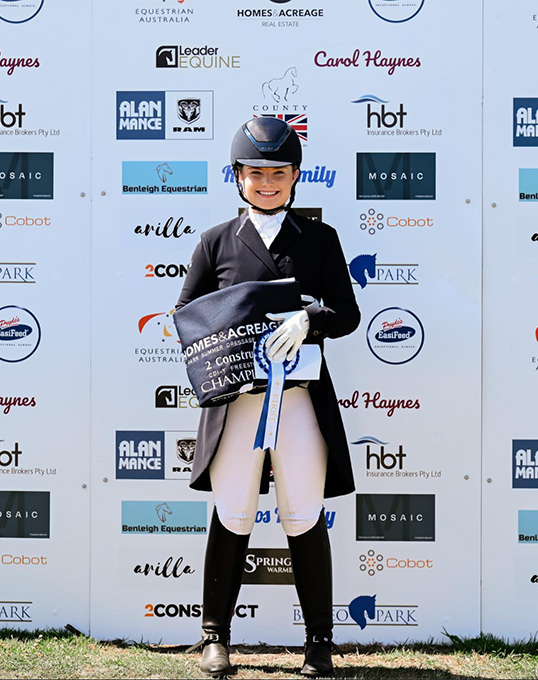 Harvey and her 16-year old Australian warmblood bred Jaybee Alonzo (by Jaybee Alabaster x Aachimedes) began with a seventh place in the team test on 63.726% and repeated that ranking in the individual with 63.137%. The pieces of the puzzle came together in the Kur, which she won with 68.992% with Natasha Moody on the 11-year old DSP mare Diamonte Noir (by Shiraz Black x Carbine) as runner-up with 68.95%
"The show was great, it was my first time competing at Boneo Park and only my second proper CDI due to covid," Shilo told Eurodressage. "This was my first big trip with Alonzo and after the trip he was definitely quite tight and a little tense which unfortunately, as well as some miscommunication on my behalf, led to some costly mistakes the first two days of competition. I was still quite happy with our performance regardless of these mistakes and received some really encouraging comments from the judges."
Shilo credits the physiotherapist for relieving some tightness in Alonzo at the show before the final day.
"The last day, I put no pressure on myself, I had nothing to lose and no expectations - and that's how I rode," she confessed. "I just wanted to enjoy the ride and have fun and it worked! We rode a clean test with no costly mistakes and ended up with a score I was stoked about! I wasn't worried about my placing, I was just thrilled to have finished with a clean test and a happy horse and rider. Winning was a huge huge bonus and never expected - particularly in such strong competition. It was anyone's game and I think the movement of everyone's places through all tests reflected the caliber of the combinations in the young rider division."
Harvey has been riding Alonzo for just under 18 months, but had very limited outings due to Covid disruptions and lockdowns. She trains with Robert Schmerglatt, whom she praises for being "holistic and supportive." He was on the scene to coach his protege. 
"I am still very inexperienced at the Prix st Georges, but I am really just enjoying the journey and very fortunate I have such a gentleman in Jaybee Alonzo to be my partner in this journey," she said. Shilo will head to the CDI Bawley Point and Sydney next. 
"More importantly I just (want to) enjoy riding, continue training and improving and to definitely learn to harness that mindset I had for the freestyle - no pressure or expectations, just ride how I know how to ride and have fun doing it," she stated.
Photos © James Abernethy - Click Capture Photography
Related Links
Scores: 2022 CDI Boneo
Mary Hanna and Jayden Brown Stand Out at First Australian CDI After Two-Year Corona Break