Tête à tête
While social media often feels as a platform of contrived infomercials, in which riders with filtered faces present a fictional reality or their avatar living in LaLa land, Instagram particularly can also take you by surprise with jokes, spontaneous home made interviews, or eye-opening behind the scene reels that are fun, light, and direct. 
Semmieke Rothenberger, the 2021 European Under 25 Kur Champion, recently killed some time in the lorry by interviewing her own parents Sven and Gonnelien on the road and disclosing their replies.
German born Sven won individual bronze at the 1996 Olympics in Atlanta and raked in 12 more Championship medals for Germany and later on Holland, while Dutch born Gonnelien (née Gordijn) was a serial team silver medal winning rider for The Netherlands.
Here are some of the highlights of Semmieke interviewing her parents: 
Where did you two meet?
Sven and Gonnelien: At Hofgut Neuhof where we both trained with Conrad Schumacher.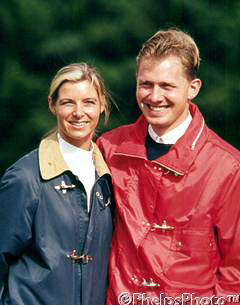 Famous horse you want to ride?
Sven: Alexandra Simons-de Ridder's Chacomo 
Gonnelien: Ulla Salzgeber's Rusty
Which is your once-in-a-lifetime horse?
Sven: Cosmo, because I found him as a 4-year old in Holland and I am so proud of him that he brought my son to so many big successes. 
Gonnelien: Leonardo da Vinci, because he was known to be a very complicated horse. On his first show we ended with 54% and in the end he trusted me so much because I took a lot of time and we managed to ride the World Cup Final. He was a very special horse because he was very suspicious about everything but nonetheless I managed to win his heart. 
Which pony your children rode did you like the most?
Sven: Domino Dancing
Gonnelien: Deinhard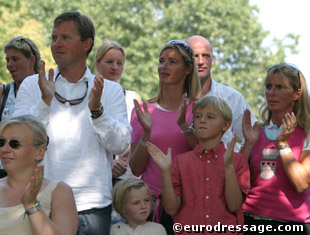 Do you miss riding competitions?
Sven: I wouldn't want to do it now but I really liked showing on competitions! I love to show off what i trained at home. I loved riding freestyles in front of big crowds. and I love the competition. 
Gonnelien: No! I have never really loved competing, to me it was always more about the training and developing a partnership. I love and loved educating horses.
What do you like most about each other and what do you dislike?
Sven: I love that Gonnelien does everything for the family. She's a super hard work and I love her heart. What could improve is that she is ready for the first task at hand at 5h40 and by 9h00 has already called out 10 times what still needs to be done. 
Gonnelien: I love Sven's reliability, that he will do everything for our children, and his passion for horses. What I want to improve in him, and I'm tring, is his driving style and his impatience, but that's getting better.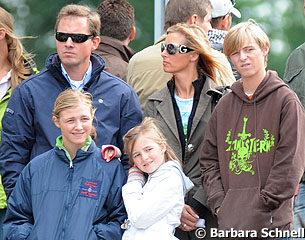 What is the craziest thing your children ever did?
Sven and Gonnelien: When Semmie had piglets growing in her glat and when Sönke started breeding chicken in his wardrobe.
In what language do you talk to your children?
Sven: in a direct one
Gonnelien: unfortunately mainly in German
Which child was the most stressful?
Sven: Semmie, she still is, especially when we are driving in the lorry.
Gonnelien: As baby/toddler Sanneke was the most stressful because she flipped night and day and we were both still active in sport. Sönke was quite stressful when he went to school because we were often summoned to school. Semmie wasn't really stressful, although she cried a lot as a baby.
What piece of advice would you give to yourself when you were young?
Sven: I would recommend a young Sven to study veterinary medicine. 
Gonnelien: I would recommend a young Gonnelien to take more time to read a book
If you were to choose a different profession, which would it be?
Sven: veterinarian
Gonnelien: forensic medic
Who's your favourite in the barn?
Sven: Finest Prince
Gonnelien: Oberon (KWPN, by Indian Rock x Negro)
Sven and Gonnelien: but also Escala and Fürst Leo, those are four very special horses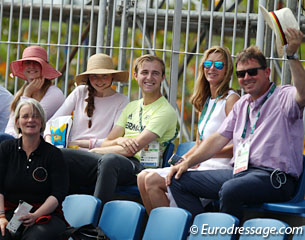 Which criteria do you have for buying a horse?
Sven and Gonnelien: willingness to go and comfortable to sit
Do you still get in the saddle from time to time?
Gonnelien: the children are doing such a fantastic job so sadly we only get in the saddle if they are sick or on holiday. But we do enjoy training the horses every day.
What do you think of the development of equestrian sport?
Sven and Gonnelien: It becomes increasingly difficult to give young horses the time and to train them despite the lures of shows likes the Bundeschampionate and World Championships. We also fear the development of the Olympic Games with only 3 per team and no drop score. What we saw in Tokyo with the show jumping has little to do with horsemanship.
Photos © Dirk Caremans - Mary Phelps - Barbara Schnell - Astrid Appels
Related Links
Semmieke Rothenberger Wins 2021 Piaff Forderpreis Finals for German U25 Riders
Semmieke Rothenberger On Top for Freestyle Gold at 2021 European Under 25 Championship
Look Who's Back: Sanneke Rothenberger
Sönke Rothenberger's Cosmo Withdrawn from Olympic and European Team Championship Contention
Sven Rothenberger In Dutch A-Team
Jonggor's Weyden Passed Away