Switzerland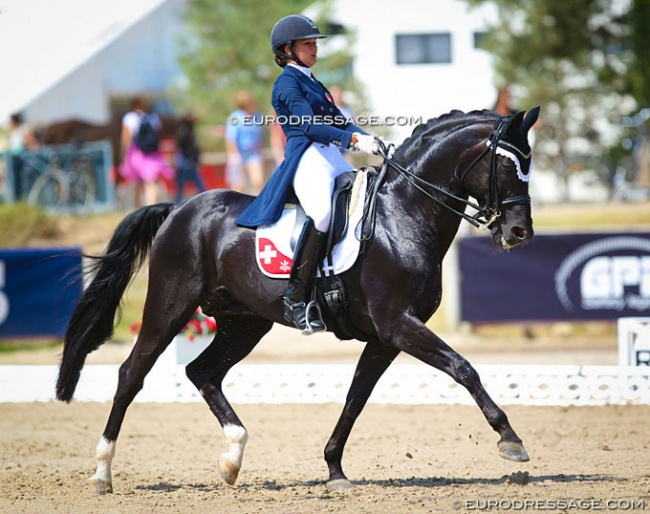 The 20-year old Swiss warmblood and international Grand Prix horse Dream of Night Fluswiss CH has been officially retired from sport after a final public appearance in the annual Swiss stallion show in Berne on 22 January 2022. 
Dream of Night Fluswiss is a 2002 born stallion by Dream of Glory out of Rubiroseanne KZI (by Rubinstein x Weltmeyer x Genever). He is bred by Urs Flury. 
The black was born at the Flury family's Russmatt equestrian center in Deitingen, Switzerland. He has stayed in their ownership his entire life. 
Sport Career
At the start of the horse's sport career, the ride on Dream of Night Fluswiss CH was alternated between Gilles Ngovan and Christiane Schroeder (née Flury) . 
The horse's first claim to success was when he won the Swiss Bundeschampionate in 2005 as a 3-year old and in 2006 as a 4-year old.
He then competed at the 2007 World Young Horse Championships in Verden as a 5-year old with Gilles and finished 11th in the consolation finals.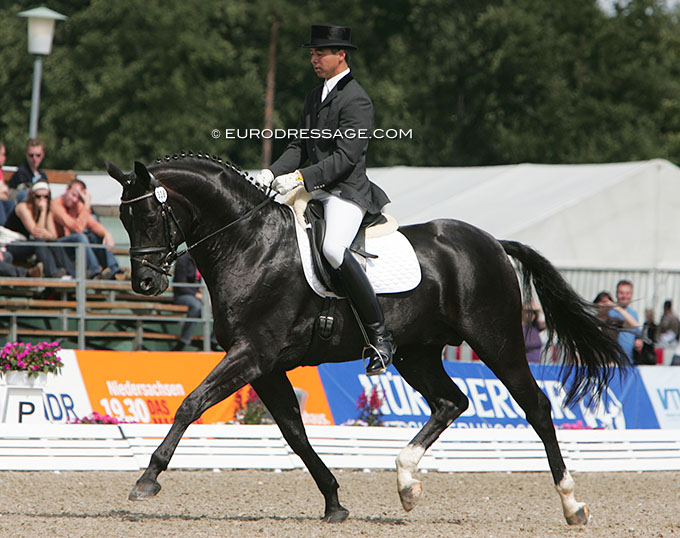 In 2010 he won the Swiss Developing PSG Horse Championship called "Super Promotion".  In 2011 Christiane campaigned him, but Gilles rode him to a second place in the Super Promotion.
Seven-Year International Career
Dream of Night's national show career spanned from 2005 till 2021, no less than 17 years. He competed on international turf from 2012 till 2018.  In that period the stallion only did a few CDI's each year.
In November 2012 Gilles premiered the stallion at Intermediaire II level at the CDI Vidauban in France and only returned to the CDI ring a year later in the Grand Prix at the CDI Paris in December 2013.  Another year later, the stallion showed at the 2014 CDI Vidauban and San Giovanni in the spring. In 2015 there was Arezzo, and in 2016 he did no internationals.
Gilles and Dream of Night were regulars at the Swiss Dressage Championships: they were sixth in 2012, won bronze in 2013, fourth in 2014, eighth in 2015, and fourth in 2016. 
Schoomaster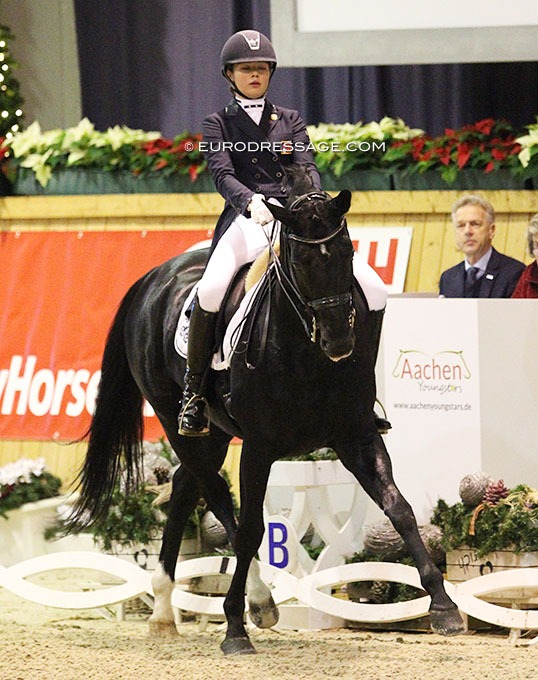 In 2017 Dream of Night made his debut as a junior rider's horse and schoolmaster for Gilles' daughter Meilin.  They debuted at the CDI-J Aachen Indoor in December 2017.
The new combination had their highlight year in 2018 with starts in Mariakalnok and Hagen, before representing Switzerland at the European Junior Riders Championships in Fontainebleau, where they finished 40th in the individual test (66.294%). The horse's last international was the CDI Aachen Indoor in December 2018. 
Dream of Night continued to compete at national level with Meilin. In March 2019 they did their first Intermediaire II test at the show in Berne, but the rest of 2019 Meilin got her feet wet at Prix St Georges level. In February 2020 they tried another Grand Prix test in Berne, while the rest of the year and throughout 2021 they stayed at small tour level. The pair's last competition was in Roggwil in October 2021. 
At the Swiss Junior Riders Championships Meilin and Dream of Night got silver in 2017 and bronze in 2018. They earned gold in the Swiss Young riders Championships in 2019 and 2020 and were fifth in 2021.
Retirement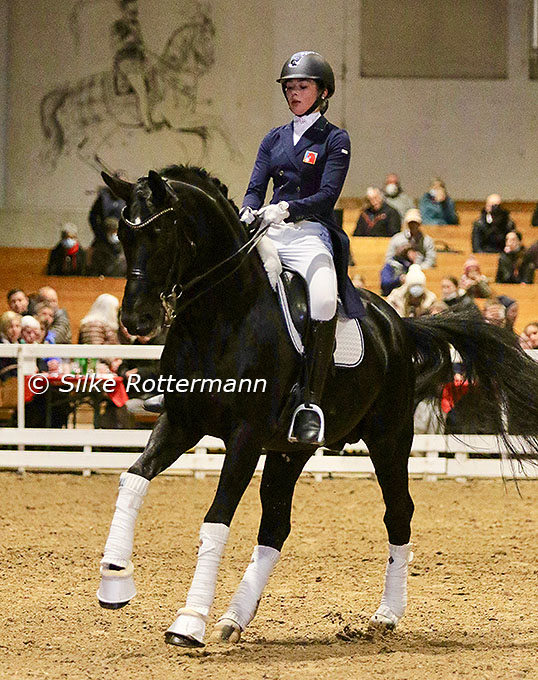 The rising 20-year old Dream of Night Fluswiss has been officially retired from competition sport after a final public appearance in the stallion show held at the NPZ in Berne on Saturday 22 January 2022.
"He was my springboard," Meilin Ngovan told Eurodressage about the impact Dream of Night has made on her life. "He was my teacher and also my best friend and he has given all the years everything for my father and me that it was very important to me to say goodbye to him healthy from the sport."
As a breeding stallion, the black catered to a small market in Switzerland, but produced some successful offspring, including the WCYH participant Dream on S (by Dream of Night x Dock Leaf xx), as well as Dreamcatcher Flusswiss (by Dream of Night x Silvio I),  Indira (by Dream of Night Flusswiss x Coka), N.B. Lady (by Dream of Night x Lysan d'Or), and Dream of Grovi (by Dream of Night x Grafenstolz)
Photos © Astrid Appels - Silke Rottermann
Related Links
Eurodressage Photo Database: Dream of Night
Schmid, Ngovan, Sulzer, and Lenherr Win 2021 Swiss Dressage Championships
Party of Three - Graf, Ngovan, and Wettstein - Rule the 2020 Swiss Dressage Championships
Graf, Nater, Ngovan, Wientzek-Pläge Win 2019 Swiss Dressage Championships
Scores: 2018 European Children, Junior, Young Riders Championships
Furstentraum, Weltjunge, Dandy de la Roche Win 2011 Swiss Young Horse Championships
Kayal du Perchet, Dandy de la Roche, Don Camillo II Win 2010 Swiss Young Horse Championships
Scores: 2007 World Championships for Young Dressage Horses
Scores: 2006 Swiss Young Dressage Horse Championships