Great Britain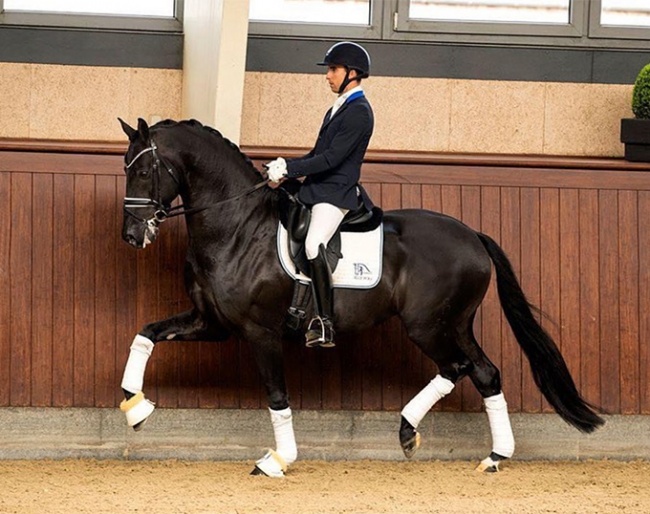 The rising 6-year old Oldenburg licensed stallion Blue Hors Zackorado has moved to the U.K. for the 2022 breeding season and possibly longer.
"In collaboration with Blue Hors, we are excited to announce that Blue Hors Zackorado will be standing in the UK for the 2022 breeding season, providing breeders with access to top-class chilled semen right here in Great Britain," said Lorna Wilson of Elite Stallions U.K..
Licensed Stallion
The 2016 born Zackorado is by Blue Hors Zack out of Roxanna (by Florencio x Donnerhall x Rubinstein). He is bred by Paul Rode in Germany.
He was first licensed at the 2018 German ZfDP stallion licensing in Kreuth and named champion stallion. Two weeks later he was Westfalian approved and in april 2019 he was approved for Hanoverian breeding. Oldenburg and Danish warmblood also followed in accepting him for breeding, although Danish Warmblood only gave him a two-year pass.
Zackorado did his 14-day suitability test in Adelheidsdorf in April 2019, where he scored 8.34 for dressage and 6.73 for show jumping, totalling 7.70 points. In February 2021 he completed his mandatory sport test in Munster-Handorf and scored 8.14 points. 
In 2020 he was the fifth most used breeding stallion in Denmark with 104 coverings.
Sport Career
Owned by the Danish Blue Hors stud, Zackorado was trained by Spaniard Cristian Tudela Ruiz.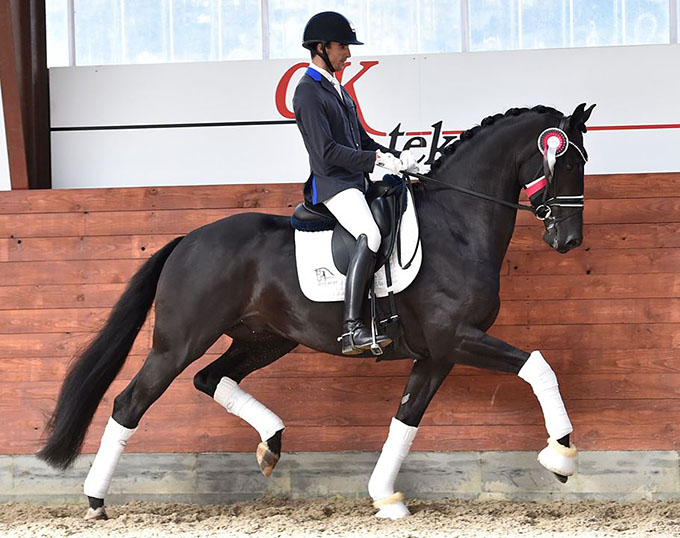 The horse made its show debut in June 2020 at the qualifier for the Danish Young Horse Championships, where he was third with 93.8 points. In the semi-finals in September he finished second with 90.6 points, but the actual finals were cancelled due to Covid. 
Tudela and Zackorado returned to the arena in May 2021 to easily qualify for the 2021 Danish Young Horse Championships, in which they ended up placing fifth in the 5-year old division with 86.4 points. 
Move to the U.K.
Blue Hors stud reached an agreement with Elite Stallions U.K. to lease Zackorado. The black stallion will continue his breeding and sport career in the U.K.
"We are honoured to be collaborating with the world famous Blue Hors stud with this incredible horse and to be able to have a horse of his calibre available to British breeders. We can't wait," said Lorna. 
She added, "he will continue his sports career on UK soil under the expert guidance of Anna Ross and the team at Elite Dressage. We are very excited to introduce you to this young stallion and you will be able to meet/watch him being ridden on the 11/12th February at the British Stallion Show at Arena UK. 
For more info, visit www.elitestallions.co.uk
Related Links
My Vitality, Hesselhoj Down Town, Sweetnes, Elverhojs Raccolto Win 2021 Danish Young Horse Championships
Meet Blue Hors Stud's Young Stars on the 2021 Stallion Roster
Six Stallions Named Premium on Home Tour for 2021 Danish Warmblood Stallion Licensing
Four-year old and Older Stallions Approved at 2020 Danish Warmblood Stallion Licensing
Six Dressage Stallions Approved at 2018 Westfalian Late Licensing
Janeiro Platinum, Most Popular Breeding Stallion in Denmark of 2020