Seat Instruction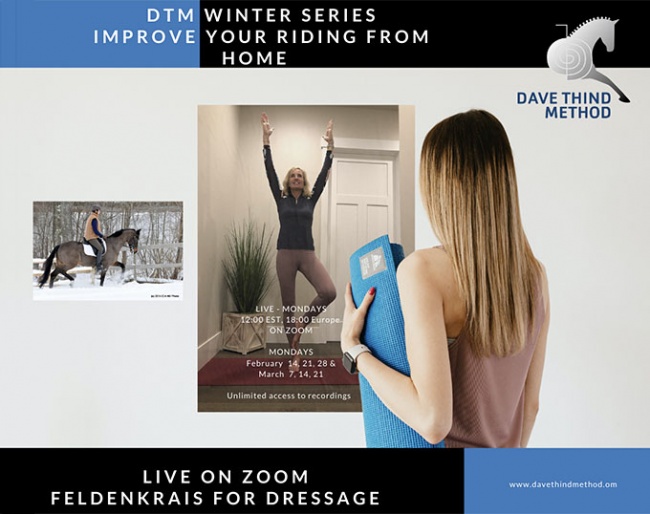 Become more supple, develop your 'feel', ride better movements and achieve the score breakthroughs you've been training for.  Now on Sale!
Dave Thind Method is proud to announce that from now until 31 January several at home learning opportunities are available, now on sale until January 31.
Thind offers 3 on-demand course options and 1 upcoming series of live-class for riders to choose from
Option 1) DTM Winter Series. 6-Week Online Class Series
12 pm EST, 18:00 Central Europe, recordings included. With early bird registration, only $35 per class starting 14 February 2022.
Themes and Goals
This 6-week series of online Zoom workshops will have a specific focus on finding pathways to the right mixture of suppleness and "positive tension" in your body. The goal is to reframe the human nervous system's response to normal "holding patterns" instead of of one of tension or simply trying too hard.
"We will tackle difficult to overcome position and seat issues in a clear and direct way, giving you results normally only attained with expert longe lessons," said Dave. 
Other specific goals, questions and themes in the Winter Series:
Specific focus on a correct deep seat in canter, but also on elements of walk and trot.
Discovering through movement lessons, whether we should ride with a contracted "core" or let our belly out.
Short reins, or longer reins?
Coordinating breath with down and up transitions
Sitting deeply but bringing your horse's back up.
A following seat that can follow or lead, without pushing.
Other general goals and themes that will be addressed:
Dave Thind on the Hanoverian licensed stallion White Star

Riding with more leel
Lightness
Gracefulness and poise 
Ease
Comfort (Including reducing or eliminating pain)
Suppleness
Improved coordination
Improved timing
Youthfulness in movement
Springiness
Feeling more grounded 
Feeling more confident and capable 
More personal power, and self empowerment 
Resilience through adaptability
Reaching YOUR personal riding and seat goals!
Option 2) Relive the Fall Series of classes
Missed the fall series? No problem!
The upcoming Winter series will continue where we left off with the Fall Series. Although not necessary, you are encouraged to catch up with the Fall Series if they did not already take part.
One of the major themes last series was How to Sit Upright, in self carriage while being supple in the pelvis and legs. For many, shifting the way they ride and getting them immediate results.
Option 3) 14-Day Challenge to Unlock Your Hip Joints and Swing your Back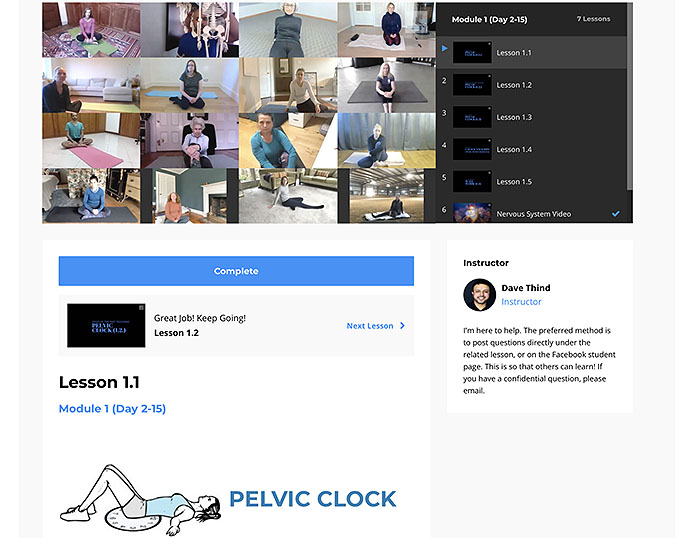 Which rider doesn't need this?
Dr. Hilary Clayton, veterinarian, researcher and rider testified: "I love the DTM focus on the pelvis which research shows is the key to riding success. His lessons will help all of us to reach our full potential in the saddle."
Central to DTM philosophy is that a good seat moves, especially the pelvis. According to a research study, published by MDPI and funded by the Danish Horse Levy Foundation, there is a direct relationship between Rider Pelvic Mobility and Harmony during riding.   The study also helps riders understand what types of unmounted mobilizing exercises can directly help improve their riding. It is shown that static balancing exercises won't positively influence riding performance, even though they might be helpful for other things or perhaps even considered "healthy".
"It appears that the ability to actively move the pelvis is more relevant to equestrian performance than static balancing skill," the study reads. "Horses ridden by riders with better pelvic mobility and control showed significantly fewer conflict behaviours. On the contrary, high scores for balancing on the gymnastic ball were negatively correlated with the horses' working heart rates, suggesting a less energetic performance. Pelvic control and mobility may be predictive for equestrian skills and riding harmony."
Option 4) 60-Days to a Better Dressage Seat
A full makeover that gets rave reviews. Made to easily complete in 2 months.  But totally possible to take your time.  Lifelong access and backed by a guarantee.
Improve Suppleness, Posture, Coordination, Feel, Longevity & Find Ease and possibly even Pain Relief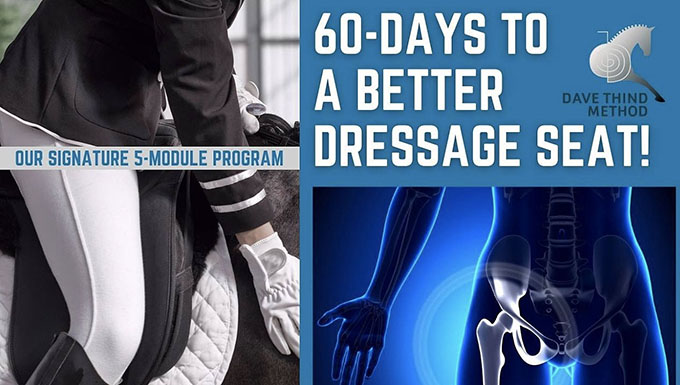 Kimberly Gothberg from Ohio stated, "After the 60-day course, which was not physically difficult by the way, I have so much more awareness of where I am in space and what my body parts are doing. I also find it so much easier to influence my horses to straighten them and change their posture. I still have a lot of learning ahead, but I feel like DTM has given me an incredible tool for body awareness and improved riding without getting in my own way by trying too hard. The most interesting thing to me is how little physical effort DTM/Feldenkrais takes compared to something like yoga or Pilates but how much it has helped my body control and coordination.  Thanks so much for this wonderful resource-my seat has never been better or more effective!"
Interested in a First Taste of the Dave Thind Method?
Are you interested in these DTM unmounted Zoom sessions but want to first get a taste?
The Dave Thind Method (DTM) uses Feldenkrais principles to help riders improve position/balance, relieve pain and enhance connection and communication with the horse.   A major principle that all riders grasp during Dave's unmounted Zoom sessions is awareness of unconscious holding patterns and how those patterns lead to subtle imbalances throughout our bodies and therefore our horses' bodies.  When these patterns are recognized and released our horses' balance improves instantly.
A short audio lesson from Dave while being interviewed for a Norwegian Podcast, Clan of The Horses, can be listened to here. 
Sign up for the DTM Newsletter at www.davethindmethod.com to get another lesson, featuring Charlotte Jorst and Dr. Hollis Day.