Belgium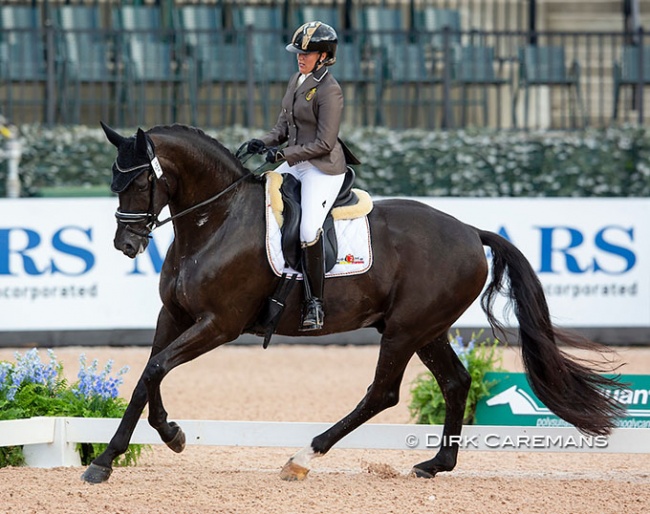 Belgian para dressage rider Manon Claeys and her black gelding San Dior made an impact on the para-equestrian scene by winning two bronze medals at the 2021 Paralympic Games in Tokyo. 
Her trusty mount is San Dior, born 2008, by Stedinger out of De Nila by De Niro - Welt Hit II - Manstein - Luxus - Vollkorn xx, bred by Albert Liekens, Belgium, ownend by Ingrid Thilleman, Manon und Philippe Claeys, Belgium. San Dior's dam De Nila is sister of the two Grand Prix successful Semper Fidelis by Sir Donnerhall I with Heather Blitz from the USA and Dundee by De Niro with Barbara Ries in the saddle.
The Oldenburg breed society interviewed Manon on her partnership with San Dior. 
When did you start riding?
"When I was around five years old, I begged my parents to let me ride a pony. Since I was too young to start riding in Belgium my mum drove me to the Netherlands on Fridays and Saturdays regularly. When I was 12 years old I finally got my own pony."
You had a severe riding accident in 2007. How did you cope after your accident? Where did you get your strength to go on after that?
"When I was 21, I fell off a young horse while trying to mount it. The horse spooked and jumped away. I fell on the concrete and broke three vertebraes and I also had a fracture in my neck. One of the first aid responders told me that I was in the way of the horse and wanted me to get up and move away from it. While I was trying to do that, one of the pieces of the vertebrae that was broken went against my spine. I was paralyzed in the legs. I had to have surgery within 24 hours in order to avoid being paralyzed permanently. It was definitely a shock for me. The surgery took seven hours and when I woke up, I immediately asked the doctor: when can I ride again? Eventually it took two years though.
In the beginning it was very difficult for me to cope with everything. I was 21 and you do have other plans in life than being in recovery. But I have always considered myself as a positive and strong person. I am a fighter and always see the glass half full instead of half empty. When I started riding again, in the beginning I was very scared to get on a horse because that was when the accident happened. I always made sure that the horse is safe to get on. When I am sitting on the horse all is fine. I consider myself very lucky since I can still do what I love. I have a disability, my strength on my right side is only 30% anymore, but I am not disabled. I get chances I normally probably wouldn't have gotten. I went to the Paralympics, the World Equestrian Games and I rode already two European Championships. That is wonderful and I am very grateful for that."
How many horses do you own respectively ride?
"We own six horses, mostly young ones and of course San Dior. All horses are not for sale, which puts me in a very fortunate position. I don't have to worry about the horses being sold and can fully concentrate on my training."
When did you and San Dior become a team and where did you discover him?
"We discovered San Dior in the Netherlands in 2016. He was known for being quite difficult because when he was young, they pushed him excessively and it was too much pressure for him. Eventually he didn't want to work at all anymore. That was the reason I was able to buy him in the first place. Otherwise he would have been too expensive or not for sale at all. He is a very talented horse but also very special. He has a lot of blood, is 1,82 m tall and very sensitive.
When San Dior and I did our first national show we immediately qualified for an international show in Doha, Qatar. We were so excited. But when we entered the arena in Doha, he put his tongue above the bit of his double bridle. Nothing worked anymore. I was there for a whole week but in every single competition, I had to raise my hand and give up because of that. It was devastating. People told me I am not ready to compete him and he may not be the best choice for me after all.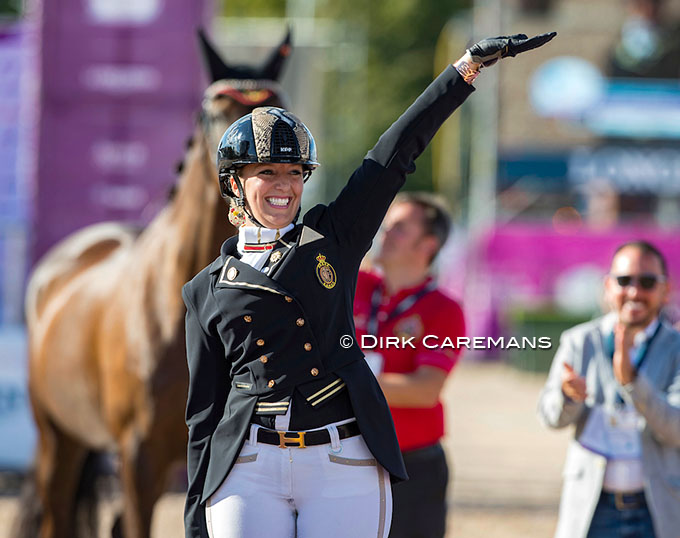 I didn't want to give up on him, so we changed a couple of things. First of all, I didn't ride him on the double bridle anymore. San Dior has always loved the snaffle, so I changed to that. That's when everything changed. He was much happier and so easy to ride. He has never put his tongue over the bit anymore. We also changed some training methods because San Dior isn't a horse you can force to do anything. We worked very hard and in the end it paid off. In 2017 I competed internationally again and from that moment on we were never out of the top three. I always believed in him and never gave up on him. In return he thanked me for never letting me down again."
What makes him special?
"San Dior is very fixated on me. He loves to get my attention, so I always take care of him first. If I don't do that, he gets grumpy and stays that way for the whole day. He is quite the character."
What are your goals for 2022?
"I would like to start competing a couple of younger horses in international shows to have a backup for San Dior. I don't want to put all the pressure only on him. Also, I will start preparing for the World Championships in Herning. Above all I hope everyone stays happy and most of all healthy."
Photos © Hippofoto
Related Links
A Look at the Freestyle Medal Competition at the 2021 Paralympics
Belgian Para Dressage Team for 2021 Tokyo Paralympics Named
Jorgensen and Claeys, the New Riders on the Block in Para Equestrian
Fiona Bigwood Acquires Fidelio van het Bloemenhof and Florina
Scores: 2010 Belgian Dressage Championships