Hanoverian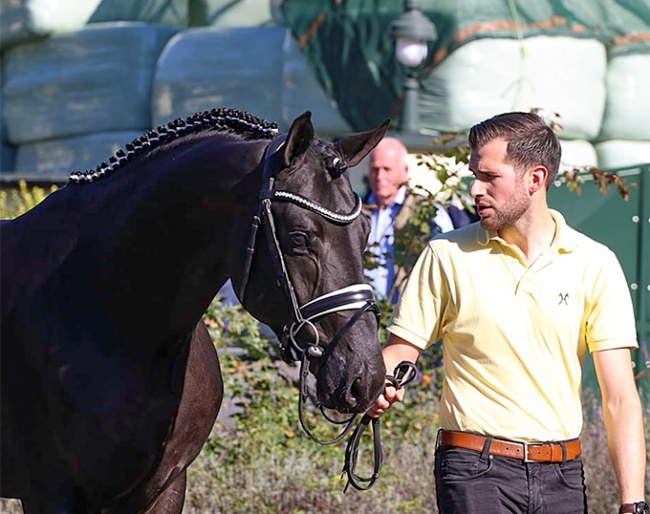 The Hanoverian breed society annually holds a stallion approval in January to inspect and approve for Hanoverian breedings colts or older stallions that licensed with other breed society or who need a second chance.
On Tuesday 18 January 2022 the Hanoverian stallion approval took place and six young dressage colts were accepted for Hanoverian breeding.  
In the older stallion category only jumpers were presented. 
The accepted dressage colts are:
Big Apple (by Bonds - Destano - Stedinger) - Breeder: Hof Schepergerdes - Owner: Friederike Brors
n.n. (by Danzador - Likoto xx - Weltmeyer) - Breeder: Zuchthof Meyer - Owner: Wilfried Struckmann
Escaneno (by Escamillo - Veneno - Ravallo) - Breeder & Owner: Tobias Schult 
n.n. (by For Romance I - Londontime - Carabas) - Breeder & Owner: Katharina Oltmann-Heemke 
n.n. (by Morricone I - Fidertanz - Hohenstein) - Breeder: Silke Groeneveld - Owner: Markus Winkler
Quintessential (by Q-Sieben - Fiorano - Depardieu) - Breeder: Birgit and Hans-Ulrich Franz - Owner: Christoph Wahler
Photo © Hannoveraner Verband
Related Links
Infantino, Kjento, Lantanas Pass 2021 Hanoverian Stallion Approval
Four Older Stallions Accepted at 2020 Hanoverian Stallion Approval
Four Colts Accepted at 2019 Hanoverian Stallion Approval
Seven Dressage Colts Accepted at 2018 Hanoverian Stallion Approval