2021 Japanese Dressage Championships
Children rider Shuma Hiraga,  junior rider Yuki Takamatsu, and young rider Hiyori Jinmura became the winners of their divisions at the 2021 Japanese Youth Riders Championships held at the Gotemba City Dressage and Sports Center. 
These youth championships, named "All Japan Dressage Championship for Juniors," were held for the 38th time and took place on 13-14 November 2021. The Championships were held behind closed doors with no spectators allowed. 
Children: Shuma Hiraga
Thirty-eight combinations contested the two L-level national classes that made for the Children Championship. 
Shuma "Hidema" Hiraga reigned supreme with two twinning rounds. Aboard Phaedrus, he posted 69.733% and 69.467% to total 139.200 points. The pair has only been a combination since May 2021. 
"I was relieved that I won the championship," said Hiraga. "My trainer and parents told me to stay calm, so I wasn't too nervous. I felt like I was being helped by a horse, but next year I will be a junior, so I will do my best to practice a lot and improve my skills so that I can step up."
Following in the distance was Shigehiro Sato on Florence. He produced two solid rounds of 66.333% and 65.000% to total 131.333 points for silver. 
Amika Komiya and Fairy Tale in Black were on Hiraga's heels and slotted in third overall with 130.333 points. The pair posted 64.933% in the first round and improved to a 65.400% on day two. 
Junior Riders: Yuki Takamatsu
Thirty-two pairs were entered in the junior division, which consisted of the individual test and freestyle.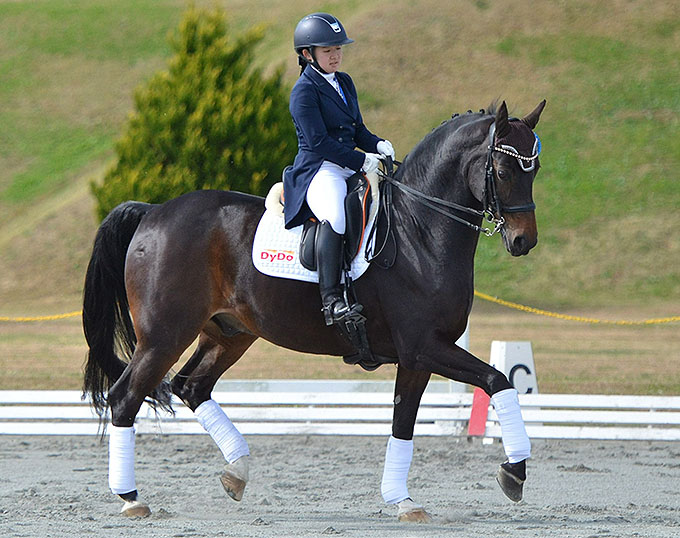 Yuki Takamatsu and Hermes Der II moved onto the highest step of the podium for the gold medal after two winning rounds with 68.824% in the individual test and 70.955% in the Kur. She was fifth at the 2020 Nationals. Takamatsu has been riding for three years and has been able to gain experience on Grand prix schoolmasters Rostropowitch and Hermes der II.
"I'm speechless," said Takamatsu after her overall victory. "I was in the first place in the qualifying round and in a position to be chased for the first time, so I enjoyed it a little today. I couldn't afford to perform to full potential because of the best, but I think I was able to do my best. I'm glad I was able to match well with the music."
Kanako Furuyama and Why Not were not too far behind the winners and landed silver with 68.725% and 69.590% (total 138.315 points). She placed fourth overall in 2020.
Naruto Egami and the 16-year old AES registered mare Soraya van het Trichelhof (by Don Ruto x Godwin van ten Bosch) finished with the bronze medal after posting 67.451% and 69.650% (total of 137.101 points).  The mare owned by the Japan Racing Association was previously shown at CDI small tour level by Kazuki Sado in 2016 and by Yasushi Shimizu in 2018.
Young Riders: Hiyori Jinmura
At young riders level the combinations had to perform the individual test and freestyle.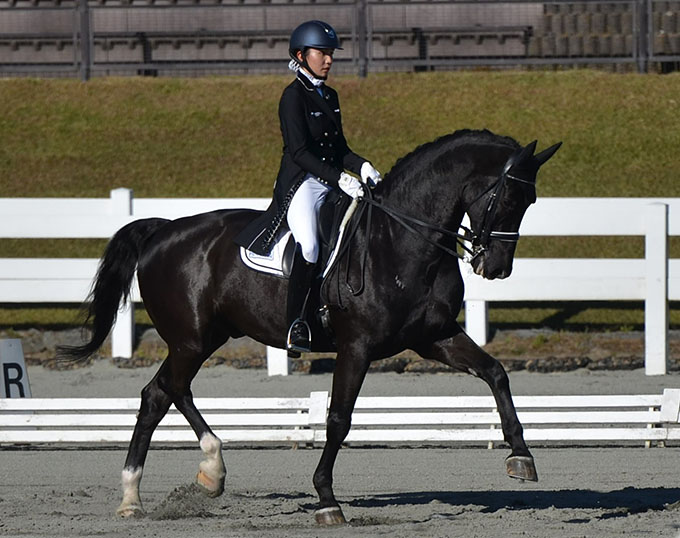 Hiyori Jinmura and the 18-year old KWPN gelding Kostendrukkers Zarino (by Special D x Fabricius) ruled the roost and landed the title and gold medal with 139163 points in total. The pair scored 68.578% in the individual test and 70.585% in the Kur. Jinmura is a highly successful Japanese youth rider. He won the Children title in 2015, the junior title in 2016 and 2017 and the young riders' title in 2018 and 2019. Last year she was the silver medallist. Jinmura's Zarino was previously shown by Lisanne Zoutendijk before selling to Nobuko Nagasak in Japan in 2018, where he was briefly competed by Shingo Hayashi.
"I'm happy to win the championship, but I'm more disappointed that I failed in the freestyle," Jinmura told the Japanese NF in an interview after the Kur. "I felt that the combination with the horse was getting better, but I couldn't fully demonstrate it in the competition. From now on, I want to be able to quickly feel any mistakes coming up and act quickly."
The silver medal went to Yurie Yoshida on the 14-year old Hexagon's Conquest (by Rubiquil x Weltmeyer II). They posted 66.912% in the individual test and won the freestyle with 70.725% but their total of 137.637 points placed them second overall. Yurie's chestnut was competed internationally by Jeanine Nieuwenhuis and Thamar Zweistra before selling to Japan. 
Mio Fukuoka and the 19-year old Westfalian Tiida (by Fetiche du Pas x Diamantino) landed the bronze medal with 67.353% and 68.580% (total of 135.933). The now 20-year old Fukuoka has been campaigning Tiida at young riders level since 2016 when she was just 15. This is the second bronze medal in a row for her. 
Photos © Japan Equestrian Federation
Results - 2021 Japanese Youth Riders Championships
Children
1. Hiraga, Shuma -   Phaedrus    69,733     69,467    ----    139,200
2. Sato, Shigehiro  -  Florence    66,333     65,000    ----    131,333
3. Komiya, Amika  -  Fairy Tale in Black    64,933     65,400      ----  130,333
4. Tsuboi, Ayano  -  Diquita    64,800     65,067    ----    129,867
5. Nishiki, Aya  -  Philibert    64,667     65,133    ----    129,800
6. Inaba, Sakura  -  Kant Joule    64,933     64,133     ----   129,066
7. Asakawa, Shunma  -  Holy Night    64,200     64,733    ----    128,933
8. Nishijima, Taiga  -  Joie Earth    64,733     63,000     ----   127,733
9. Miyano, Risa   - William    63,667     63,267    ----    126,934
10. Hayamizu, Kokoro   - Matador    64,133     62,800    ----    126,933
11. Saito, Isami  -  Orchid Will    63,200     63,600     ----   126,800
12. Nakai, Mei  -  Fairy Doll    63,467     63,200    ----    126,667
13. Watanabe, Natsuki  -  First Fantasy    62,133     63,933    ----    126,066
14. Sato, Mayuko  -  Brown Sugar    63,067     62,133     ----   125,200
15. Fujino, Miyu  -  Dark Chocolate    63,400     59,733    ----    123,133
Junior Riders
1. Takamatsu, Yuki  -  Hermes Der Ii    68,824     70,955     ----   139,779
2. Furuyama, Kanako   - Why Not    68,725     69,590     ----   138,315
3. Egami, Naruto   - Soraya    67,451     69,650     ----   137,101
4. Nagami, Makito  -  History    67,402     68,580   ----      135,982
5. Izumi, Wakako  -  Edison    67,549     67,455   ----      135,004
6. Yoshida, Marie -   Remilia Spectrum    65,931     68,685      ----   134,616
7. Hidaka, Gaito  -  De Miro    64,216     67,720     ----   131,936
8. Komiya, Arisa  -  Bum Fleur    65,392     66,230   ----      131,622
9. Sunagawa, Shigehiro  -  Diamond Maker    65,147     65,145    ----     130,292
10. Yokoyama, Hiroaki  -  Bum Buick    63,677     65,175    ----     128,852
11. Uchida, Itta   - Leon Glanzend    64,853     63,415     ----   128,268
12. Omata, Ryohei -   Rohstein    62,696     64,450    ----     127,146
13. Tenkyu, Hana  -  Coltrada    61,912     64,660     ----   126,572
14. Ishikawa, Hayato  -  Gino Gerodi    62,451     61,635      ----   124,086
15. Iida, Saya  -  Roi De Figeac    66,716     R    ----   66,716
Young Riders
1. Jinmura, Hiyori -  Zarino    68,578     70,585   ----   139,163
2. Yoshida, Yurie -  Hexagons Conquest    66,912     70,725   ----   137,637
3. Fukuoka, Mio  -   Tiida    67,353     68,580   ----   135,933
4. Ito, Shintaro  -   Ready to Dance 9     67,843     67,505    ----  135,348
5. Arai, Kasumi -  Atanic    63,676     68,080    ---- 131,756
6. Watanabe, Satsuki -  Widor/wilson    63,775     67,470      ----131,245
7. Kawakami, Ai - Itents    65,441     65,075    ----  130,516
8. Sugai, Ami -  Veerle    65,294     64,100 ----    129,394
9. Shigeto, Edith Aya  -  Ouu    63,627     65,755   ----   129,382
10. Komori, Yukiko  - Flavio    60,686     64,470   ----   125,156
11. Tsuruta, Emiri -  Gold Brilliant    61,275     63,175  ----   124,450
Related Links
Yokoyama, Tahara, Yoshida and Kawabata Win 2020 Japanese Dressage Championships
Yoshida, Fukuoka, Hayashi Win Trophies at 2016 CDI Tokyo