The Netherlands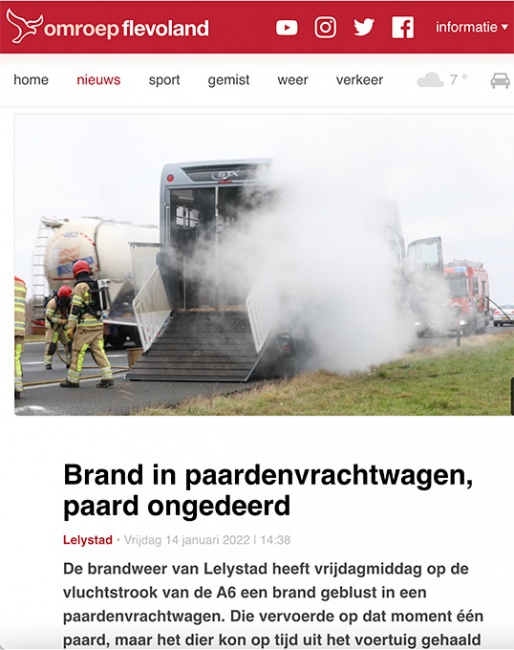 Jessica Poelman, the Dutch Under 25 rider who won double bronze at the 2021 European U25 Championships in Hagen, had an eventful weekend competing at the national show in Tolbert.
On the way to the show in Tolbert round 13h15 on 14 January 2022, her lorry caught fire. They immediately pulled over on the emergency lane and were able to get her top horse, Chocolate Cookie RDP, out of the burning vehicle. Nobody got injured.
The horse could immediately be loaded onto the lorry of Yannick van Wijk, who saw the scene and stopped to offer help.
The fire brigade of Lelystad rushed to the scene to extinguish the fire, while a police helicopter surveilled the scene. It was initially suspected that the brakes caught fire, but in the end it turned out to be the electronic motor for the ramp.
While the burnt out lorry was towed, Poelman still continued to the horse show where she rode to a 73.529% score, winning the Intermediaire II. The next day she won the Short Grand Prix with 72.692% in a field of seven competitors. Poelman was coached by Lotje Schoots this weekend. 
"It was a very nerve-wracking way to the show in which our lorry caught fire. I'm very grateful that Cookie came out unscathed and even happier about our fantastic performance," Poelman took to Facebook. "
Photo © Omroep Flevoland
Related Links
Dutch Young Rider Jessica Poelman Buys GP Horse Chocolate Cookie RDP
Semmieke Rothenberger On Top for Freestyle Gold at 2021 European Under 25 Championship
Raphael Netz Wins Individual Gold at the 2021 European Under 25 Championships
Dutch Team Selected for 2021 European Under 25 Championships