The Netherlands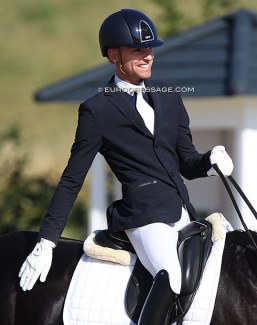 Dutch professional dressage rider Dirk-Jan van de Water has found new employment at Tim Coomans' TC Dutch Sporthorses, replacing Jeanine Nieuwenhuis who decided in September to go independent. 
For the past five years, Van de Water has been an assistant rider at Arie Yom-Tov's Sport Pro Horses in Uden, The Netherlands, where he got the opportunity to develop young horses to Grand Prix level as well as compete at international dressage shows, including the 4-year old pilot project at the World Young Horse Championships in Ermelo. 
"I had beautiful years there, learnt a lot and rode beautiful shows. I made my Grand Prix debut and rode lovely horses," Van de Water told De Hoefslag. "I'm very grateful to Arie, but I found that the time was right to continue my development elsewhere."
Since December, Dirk-Jan has been test-riding at Tim Coomans' sales yard TC Dutch Sporthorses, where the top riding job was vacant as Jeanine Nieuwenhuis had left. The combination Dirk-Jan and Coomans worked and the rider is now officially hired there. 
In the mornings, Van de Water rides for Coomans in Oud-Beijerland, The Netherlands, and in the afternoon he also rides horses for Lennart Bos in Werkendam. 
The 30-year old Van de Water competed six different horses, owned by Sport Pro Horses, at CDI's in Europe after his international debut in May 2019 at the CDI Pilisjaszfalu. He further showed in Leudelange, Le Mans, and Ornago, making his Grand Prix debut on Hexagon's Grandville, who was allocated to Hungarian Under 25 rider Jazmin Yom-Tov in the summer of 2021 as her European Championship mount. 
More information about Van de Water's new riding jobs at De Hoefslag.
Photo © Astrid Appels
Related Links
Jeanine Nieuwenhuis Goes Independent
Sport Pro Horses in Uden (NED) is looking for new Senior Head Rider
Jazmin Yom Tov Takes Over Hexagon's Grandville, European U25 Championships Next
Grand Prix Rookie Dirk-Jan van de Water Makes His Mark at 2021 CDI Ornago