U.S.A.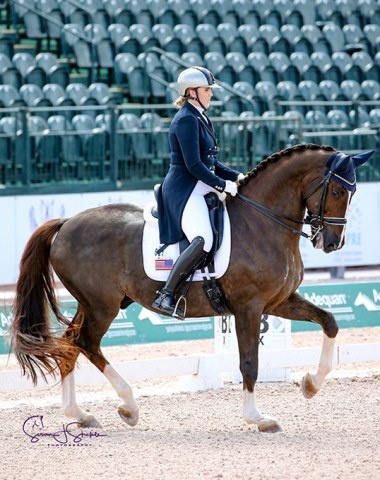 American Under 25 rider Lauren Asher has found a new rider for her number one horse in the barn, West Side.
West Side is an 18-year old KWPN gelding by Florett As out of Marina (by Equador). He is bred by Tim and Leida Collins
Leida Collins
Dutch horse dealer Leida Collins-Strijk trained West Side from the start and made her international debut on the liver chestnut gelding in 2011 at small tour level. They showed in Vierzon and Hickstead. 
They returned to the arena after a 3-year old break in 2014 at the Global Dressage Festival, where they competed in two internationals, clocking one victory in the Intermediaire I with 72.158%. 
In 2017 the pair made an attempt at their international Grand Prix debut in Wellington, but withdraw.
Lauren Asher
Collins sold West Side to American young rider Lauren Asher in 2018.
The new duo had one season together in the international arena as an Under 25 pair. They showed in three CDI's and recorded three victories, four second places and a third. Their three wins was during the Nations' Cup for Under 25s at the CDIO Wellington.
The pair was fourth at the 2019 U.S. Under 25 Championships in Gladstone. 
Cynthia Screnci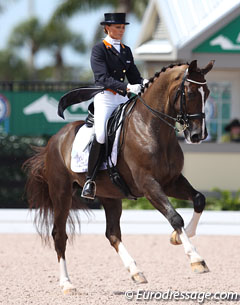 Asher has now decided to loan West Side to American Grade V para rider Cynthia Screnci as her 2022 World Para Championships hopeful.
The German based Asher met Screnci little over half a year ago when Cynthia came to Germany and bought her horse, the 14-year old KWPN gelding Sir Chopili (by Sir Donnerhall x Carabas). 
"Sometimes people come into your life, and you just have a feeling that they will have a prodigious impact on your journey," Lauren stated. "My former Grand Prix horse, West Side, has been enjoying his retirement here in Germany, but over the past year, I had the nagging feeling that he wanted to compete again, though perhaps at not such a high level. Anyone who knows Wessie and his larger than life personality, knows that he is an incredible, loving, motivated, energiser bunny of a horse, who loves his work and job, as much as he loves his sugar cubes and apples. So when Cindy reached out to me about adding another iron in the fire, it was a natural decision for my father and I to loan West Side to her. "
Screnci, who is the 2021 U.S. Grade V Champion, is thrilled to have a second iron in the fire for Herning. 
"Lauren and I have become dear friends in the process and her friendship and support mean the world to me," she said. "We speak often and it was after one of those heartfelt conversations about how important in this sport it is to have a strong team, Lauren and Mike (Lauren's father) have decided to sponsor me in the most incredible way."
Photos © Sue Stickle - Astrid Appels
Related Links
Bacon, Kment, Dupell, Kadlubek, Manhard Win Youth Titles at 2019 U.S. Dressage Championships
Lauren Asher's Honnerups Event Becomes Broodmare, Stable Champagne in the Making
Francis and Asher Take Individual Honour at 2019 CDIO Wellington Nations Cup
American Under 25 Team wins Nations Cup at 2019 CDIO Wellington
Bacon, Ots, Asher, Wagner, Bondy, Miles, Priest Emerge as Overnight Leaders at 2019 U.S Dressage Championships