Grand Prix Sales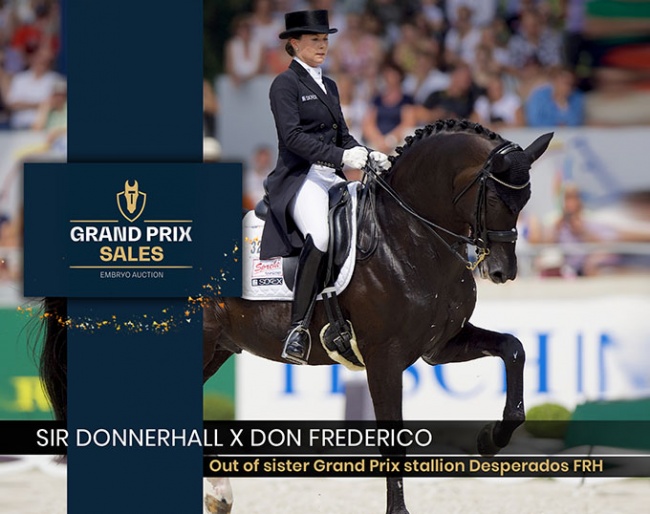 The greatest stallions of all times combined with world class mom's out of proven dam lines are present in the last embryo auction of Grand Prix Sales.
The online auction start on 13 December and the first lot ends on 14 December at 07.30 PM (CET, Amsterdam).
Desperados FRH
If this will not be a champion machine? Sire Sir Donnerhal I's heredity is huge. He is combined here with a sister of another great Grand Prix stallion: Desperados FRH, winning Team Gold at the Olympic Games in Rio with Kristina Sprehe. Desperados FRH's dominance in the dressage scene with so many Grand Prix wins was outstanding and he was probably one of the best combinations Germany ever had, earning more than 450.000 euros price-money. He was the No.1 on the WBFSH dressage ranking for a long time.
His half sister Danzmusik (by Don Frederico), mom of this unborn foal, produced already the Oldbg and Westf approved stallion Frascino who had top placings in young horse competitions with scores of 9.0 for trot and 8.5 for confirmation, walk and canter.
Sir Donnerhall 
Sire Sir Donnerhal is one of the best breeding stallions in the world. He produced more than 369 award-winning daughters and 101 approved stallions. The prize money of his offspring who are successful in Grand Prix's has long been in the seven-figure range and has earned him a place amongst the top 15 of the world's best dressage sires according to the WBFSH ranking.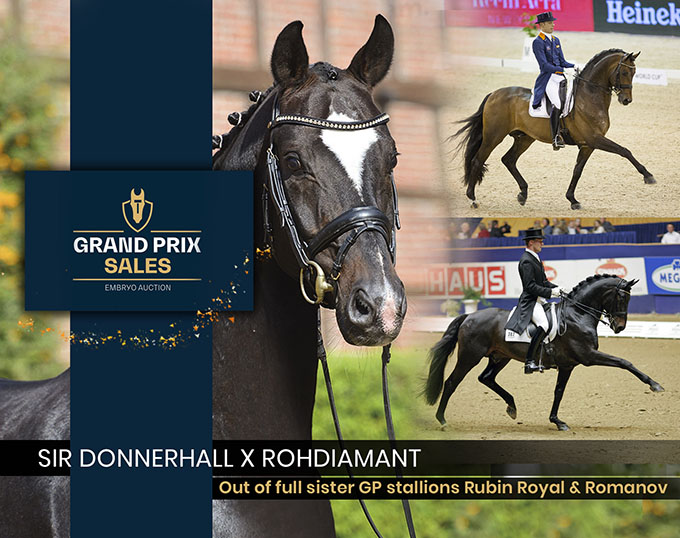 State Premium mare and dam Rumira is the full sister to the Grand Prix Stallions Rubin Royal, Glock's and Blue Hors Romanov, Rubin Action and she is the full sister to the stallion Blue Hors Rockefeller. Rumira shows off with some excellent dressage offspring: the approved stallion Denim de Hus, the Inter A/B/II gelding Don Amour de Hus and the ZZL dressage mare Rumira Larina.
Grand Prix mare Sisther de Jeu
They were unbeatable together, Sisther de Jeu and Edward Gal, with GP wins in Rotterdam, Flyinge, Mechelen, Zwolle, Oslo…..  Sisther is by Gribaldi and has made the name " De Jeu" a household name in the dressage world. She is combined here with the World Championship gold and silver medal winner Revolution. He shows of with his offspring, ten sons are already approved including the Hanoverian champion Rockabye S. The dam line of Sisther de Jeu brings a lot of GP horses think about Thriller, Brother de Jeu, Asther de Jeu, W.Esther de Jeu.
Glock's Toto Jr.
How exclusive do you want it? Semen of the highly rated son of Totilas, Grand Prix stallion Glock's Toto Jr. is rare. The hype around the stallion has been validated by his national championship win in 2020 after which a great international debut with Edward Gal followed in 2021. Glock's Toto Jr. is combined here with the mom of the amazing PSG/inter I stallion Imposantos, winning almost every class he starts. Imposantos' achievements so far:
Winner KWPN Stallion Test
Winner CDI Wiesbaden 2019 Young Horse Competition 
Winner KWPN Stallion competitions in 2018, 2019 and 2020
Dutch KNHS Champion ZZ-Zwaar 2020
Winner Prix St. Georges Olfen and Houten 2021
The dam line of this unborn foal brings exceptional jumping and dressage sport horses and stallions think about Explosion W of Ben Maher, his mother Untouchable and the KWPN approved dressage stallions Imposantos and Tolando.
Jumping foals
Grand Prix Sales auction sells also exclusive embryos out of world leading mares as Quaranca de Muze, Loro Piana Boyante de Muze, Centa de Muze…  and sires as example Chacco Blue, Comme Il Faut, Cumano and Carthago. Check them all out on our website!
Online Auction:
December 13, 2021 online auction starts at 10.00 AM
December 14, 2021 online auction ends at 07.30 PM
For online bidding you need to register on our website first.: www.grandprixsales.nl . Bidding by Telephone is also possible.
The team of Grand Prix Sales
Sannah Angenent: +31 6 54 62 66 22
Marjolein Ras: +31 6 10 39 42 37
E-mail: info@grandprixsales.nl
Register here for online bidding on the Collection December 2021