2021 CDI Stockholm - 27 - 28 November 2021
Emma Jonsson and the 10-year old KWPN gelding Gerion became the winners of the 2021 Lovsta Future Challenge Finals, the inofficial Swedish Developing Grand Prix Horse Championships. 
The Lovsta Future Challenge is the Swedish variant of the Louisdor Cup in Germany with a series of qualifiers for a Finals/Championship held annnually at the CDI Stockholm. Whereas in Germany 12 combinations qualify for the Finals, in Sweden it is only four. 
Lovsta Future Challenge Champion
The 2021 Future Challenge Finals start out with an Intermediaire II as warm-up class, followed by the short Grand Prix as Finals test. Emma Jonsson and Gerion were the favourites for the title coming to Stockholm as the leader of the Lovsta qualifiers. However, she could not materialize her favourite's role straight away, placing third in the first round on 67.029%. In the Finals' test the whole ranking was turned upside down though and Jonsson ended up on top with a title winning score of 69.395%. 
"It feels great, I'm really so happy," Jonsson told Hippson about her victory. "Yesterday we had a little miss in the first piaffe when my horse needed to go to the toilet, which was a little inconvenient. Going in and taking revenge today was great fun and I am super happy with today's round. He became a little overambitious in the two tempi changes, misunderstood me and made some changes in each instead, but otherwise I am very happy!"
The runner up was Maria von Essen aboard the 9-year old Dutch bred but Oldenburg licensed Invoice (by Jazz x Ferro), bred by Piet Crum in The Netherlands. The other two finalists were Carl hedin aboard Eques Management's 8-year old Westfalian gelding Van der Veen (by Vitalis x Fidermark - 68.105%) and Stefan Jansson aboard his own and judge Magnus Ringmark's Swedish bred Zidney (by Zuidenwind x Laurentio - 67.947). 
The winner got almost 4,000 euro in prize money offered by sponsor Antonia Ax:son Johnson of Lovsta Stuteri. 
Gerion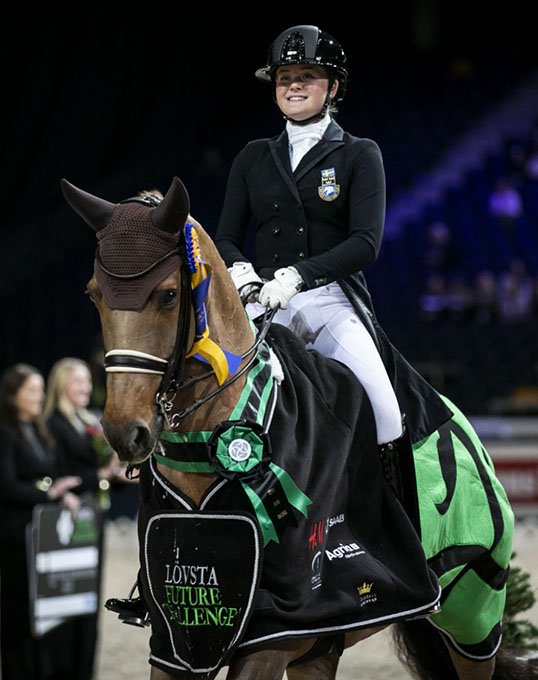 Trained by Jan Brink, Emma Jansson has competed at two European Championships in her career so far, as a young rider in 2015 aboard Santo Domingo (by Samba Hit x Flemmingh) and as an Under 25 rider in 2019 on Donizetti (by Don Frederico x Lauries Crusador xx). She won team bronze at the latter event. 
Last year Emma and Gerion competed in the Lovsta Future Challenge for Under 25 riders, placing second, and won the 2020 Swedish Under 25 Championships. This year as a 26-year old she did the Developing GP horse division with her young Grand prix horse. 
Gerion is not an unfamiliar face to the international arena. The chestnut gelding finished ninth at the 2017 World Young Horse Championships in Ermelo under Australian Briana Burgess, who rode the horse for owner Mary Hanna. She put Gerion first in training with Russian Alena Starr before selling him to Jonsson in 2019.
Jonsson runs her family's equestrian facility based in Särö, just south of Gothenburg. They bought the property nine years ago after Emma had been boarding her horses there. They renovated the yard and now it's a state of the art dressage base with over 40 horses in training. Carl Hedin has his own business at Emma's yard.
Jonsson aims to ride Gerion in the senior Grand Prix division next year.
Photos © Johanna Blixbo, courtesy Lovsta Future Challenge
Related Links
Scores: 2021 CDI Stockholm
Mattsson, Jonsson, Kittel Win 2020 Swedish Dressage Championships
Lordswood Dancing Diamond, Sovereign Winner of the 6-YO Finals at 2017 World Young Horse Championships
Feodoro Finishes on Top of 6-YO Preliminary Test at 2017 World Young Horse Championships
Hard Work Pays Off for Mary Hanna, Syriana Shines at 2019 CDI Deauville