France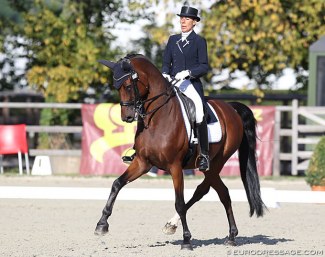 Stephanie Brieussel's number one Grand Prix horse Amorak has been retired from competition sport. 
Amorak is a 16-year old Dutch warmblood gelding by Special D out of Serena (by Inspekteur x Nimmerdor). He is bred by R. Nout in The Netherlands. 
Wedding Gift
The bay gelding arrived in the stables of the Brieussel couple in 2010 when the horse was five.
Stephanie's father bought the horse as a wedding gift for Dominique and Stephanie. His daughter has just tragically lost horse Werner and had to retire Twister prematurely. 
The very energetic youngster was offered for sale a year later, but nobody wanted to buy him, so he stayed. By 2013 Amorak reached small tour level and made his international show debut at the CDI Vierzon, where he won the Intermediaire I and Inter I Freestyle. Two weeks later in Deauville he reconfirmed the same upper sixty scores. 
Olympic Dream
That same year, team trainer Jan Bemelmans spotted Amorak in a clinic and convinced Brieussel to continue with him. They were schooling the Grand Prix that year and the horse was submitted to the Olympic hopeful (JO/JEM) squad with the 2016 Rio Olympics as goal. 
In 2014 the pair made its international Grand Prix debut at the CDI Vidauban, but got eliminated. Their second try in the Grand Prix the next day was better and they were fourth with 68.760%. They gained mileage that year in Saumur, Compiegne and Mechelen. 
In 2015 they tried for the team for the European Championships and competed in the Nations Cup in Vidaudab and Rotterdam, as well as in Hagen, Saumur and Wiesbaden but fell short of team selection. 
In 2016 it was all or nothing and with CDI scores fluctuating between 64 and 68% in Lierp, Hagen, Compiegne, Roosendaal and Rotterdam, they made the cut and travelled to the 2016 Olympics in Rio de Janeiro, Brazil, where they were 55th in the Grand Prix (65.114%)
Trying Hard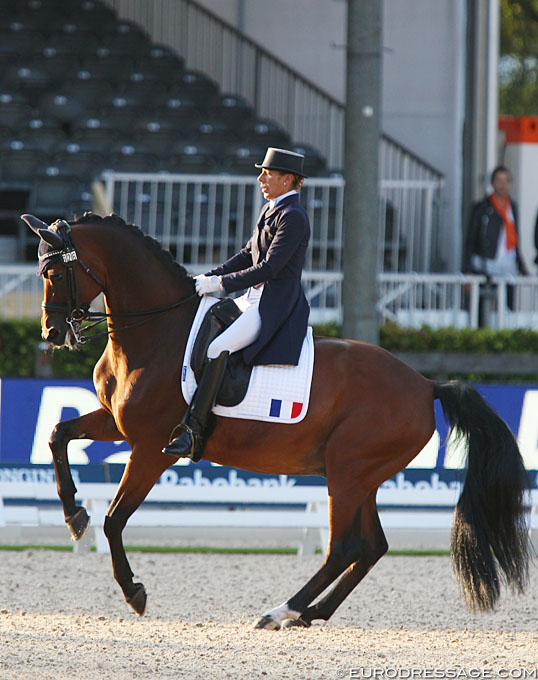 After Rio, the pair regularly competed at big events in Amsterdam, Dortmund, Den Bosch, Keysoe, Compiegne, Roosendaal, Rotterdam, London, Leudelange, Warege, Geesteren and Le Mans, and even the 2018 CDIO Aachen, but their results went up and down from 62% rides to 69% for the technical tests.
The first time they hit the seventy marker for the Grand Prix was at the 2019 CDIO Geesteren, right on time for team selection for the 2019 European Dressage Championships in Rotterdam, where they were 41st with 68.758%. 
Lyme
In 2020 the pair only did one CDI in Le Mans. Shortly afterwards the corona pandemic broke out. They returned to the national arena in the summer of 2020 but Amorak had lost sparkle. He was diagnosed with Lyme disease. 
He was treated and recovered, but upon transport to the national show in Vierzon he had a second Lyme outbreak. In 2021 they returned to the CDI ring in Le Mans in February, where they were 16th in the Grand Prix and retired from the Special. It was their last international as a pair. 
There and then Brieussel decided to retire Amorak from sport and slowly prepared him for a life in the field. 
Retirement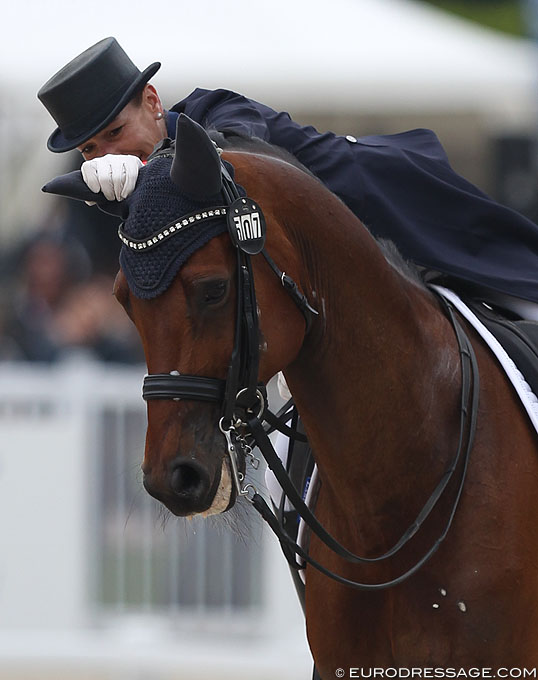 Since October, "Momo" has been fully retired to the field at the Stephanie's parents' property in Sarthe near Le Mans, France. 
In an interview with Cheval Mag, Brieussel said, "Amorak is a friend, a confidant, the one who gave me the Olympics when on paper he was not made for it. Before him I had the chance to have horses that were more suited for the big sport, but finally he was the one that did everything for me. He fought for me and I fought for him, it is a very beautiful story."
Brieussel has a barn full of promising Grand Prix hopeful with a new sponsor Dominique Degueldere on board. She stocked up on four new horses, Koning,  Quaterhit, Don Vito de Hus and Devonport with as goal reaching the 2024 Olympics in Paris.
Related Links
Eurodressage Photo Database: Amorak
KWPN Stallion Koning Sold to France
Stéphanie Brieussel Adds Devonport to String of Horses
Stephanie Brieussel's Werner Passed Away
Akazie and Dominique Brieussel