Sweden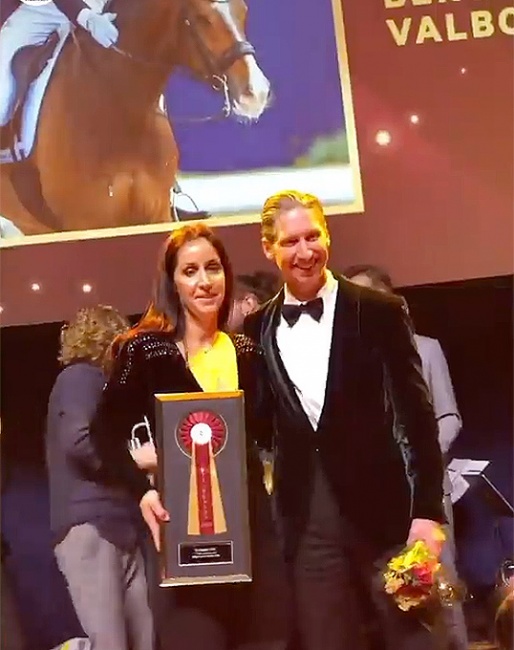 With the massive successes of the Swedish jumping team at the 2021 Tokyo Olympics, it came as no surprise that the largest group of award recipients at the 2021 Swedish Riders Gala in Stockholm on 24 November 2021, came from the field of show jumping.
In a lavish gala evening ceremony hosted at the Grand Hotel in Stockholm, the creme de la creme of Swedish high performance sport gathered.
Ulf Brömster, chair of the Swedish Equestrian Federation, first celebrated the three medal winning teams of this year: the Under 25 dressage team (European team bronze), the senior eventing team (European team bronze) and the senior jumping team (Olympic gold). 
Four dressage personalities were decorated: 
Patrik Kittel was celebrated for topping the national Swedish Riders Ranking of 2021 in dressage. His own and Masahiro Kosaka's 8-year old Swedish bred Bergsjöholms Valbonne (by Blue Hors Zack x Epson) was named "Tomorrow's Horse".  The rising Grand Prix horse is bred by Marita Strauch. 
For the "Comet of the Year" award, young rider Amanda Lindholm was nominated but in the end the award went to show jumping young rider Filippa Enmark. 
The "Fighter of the Year" award went to para dressage rider Louise Etzner Jakobsson, who seven weeks before the 2021 Paralympics in Tokyo, broke her leg and was operated on. She convinced her doctor to remove the cast prematurely so she could ride in Tokyo. She won kur silver in her grade. 
Louise Etzner's daughter Hanna was named "Groom of the Year".
Related Links
Amanda Lindholm Nominated for 2021 Comet of the Year Award
Kittel, Astoria, Hansson Recognized at 2019 Swedish Riders' Gala
Well Done de la Roche, Kittel, Olsson, Ander Honoured at 2018 Swedish Riders Gala
Bergakra Berglund and Quatermain Fly the Dressage Banner at 2017 Swedish Riders Gala
2016 Swedish Riders Gala To Relocate and To be Hosted in 2017
Lord, Dolk, Kyrklund Honoured at 2017 Swedish Riders Gala
Kristoffersson, Kittel, Haward, Etzner, Dan Brown and Don Auriello Honoured at 2015 Swedish Riders Gala
Aldenfalk, Strolchi, Darcia VH Honoured at 2014 Swedish Riders' Gala
Marina Mattsson Honoured at 2013 Swedish Riders' Gala
Lette and Hagman Award Recipients at 2012 Swedish Riders' Gala
Cecilia Dorselius Nominated to Become 2011 Comet of the Year
Kittel, Telde, Hofmann Honoured at 2010 Swedish Riders' Gala
Bergstrom Kallstrom, Comet of the Year at the 2009 Swedish Riders' Gala