F.O.C.U.S.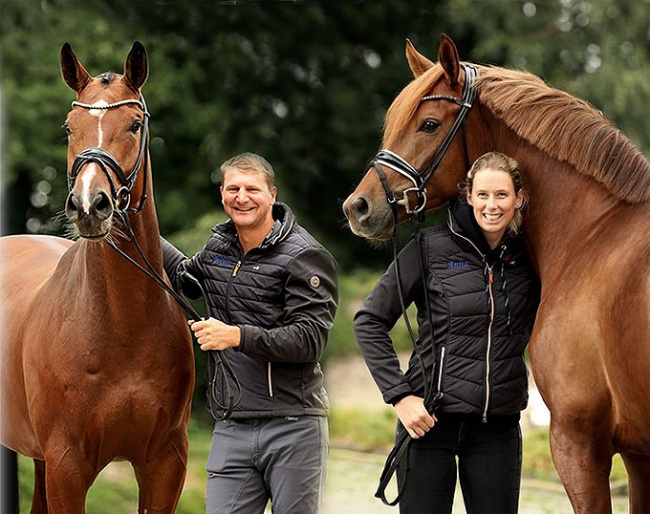 German dressage rider Anna Mitter and her husband Benjamin Mitter are highly respected young horse trainers based at the Reinke family's private,  stable in Rechterfeld, Germany. With a string of successes at Bundeschampionate, Elite Mare Shows and stallion licensings, the Mitters have proven their mettle as qualified young horse trainers for whom the classical dressage principles and horse welfare serve as compass. 
The handlers and first trainers of young horses that grow into celebrated Grand Prix horses or breeding stallions, often go unrecognized. This is also what the Mitter couple has experienced. They were responsible for the career start of numerous diamonds in the rough, such as popular stallions Ibiza and Floricello, as well as Grand Prix horse Amplemento. 
Anna and Benjamin set an example of good dressage training and horse keeping, which was noticed and recognized in 2019 when Benjamin received the animal welfare award at the Bundeschampionate in Warendorf.
Mileage and Marriage
Both knew as teenagers that horses would be their path in life and serendipity brought them together in the same barn, where Cupid struck.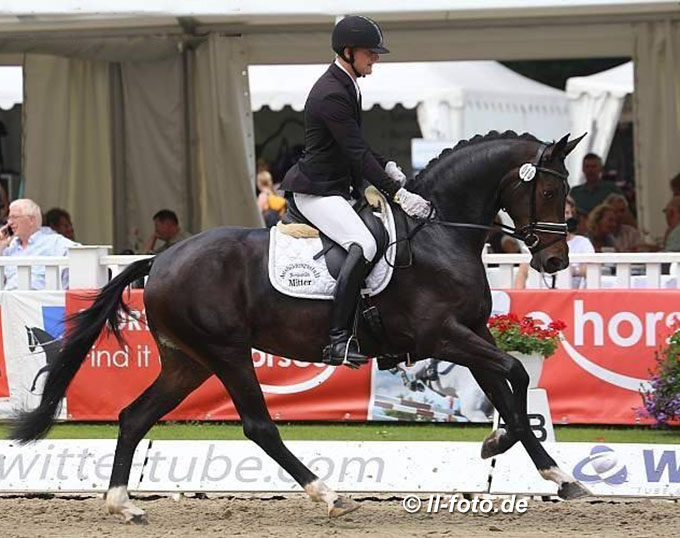 Swapping a chair at school for a saddle on a horse, Benjamin began working at the Schwaiganger state stud at age 16. He developed from working student to qualified young horse rider and ended up in the North of Germany - the heart of German horse sport - as head rider at stallion station Ludwig Kathmann in the late 2000s. Especially stallions Amandari (by Ampere x Donnerhall) and Fragoli (by Florencio x Donatelli) were Benjamin's heart projects at Kathmann's. And more affairs of the heart happened at Kathmann. Benjamin met Anna, who came to view a horse and it was love at first sight. 
In 2009 Benjamin moved to Hof Kasselmann, where Anna had just begun her first professional apprenticeship. She gained then valuable experience at Dressage Performance Centre Lodbergen.  In 2011 the couple decided to join forces and started their own business together. By 2020 they withstood the test of time and got married. 
Achievements from Warendorf to Rastede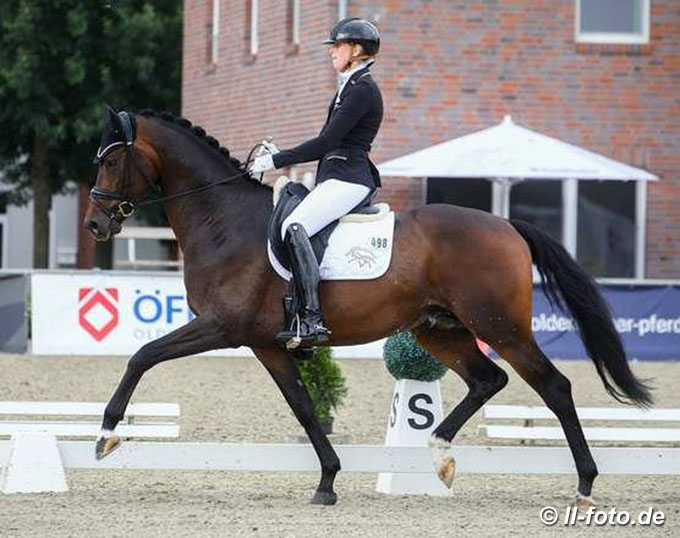 The past decade the Mitter couple has celebrated plenty of success with their thriving horse business.  They deliberately kept the amount of horses small and manageable in order to be in close contact with the owners and share the journey, instead of giving the feeling that horses are just a number in the barn.
They qualified and competed no less than seven horses at the Bundeschampionate in Warendorf, i.e. Bel Air, Vinja, Elfenperle OLD, Duca Germanio, Vive la Vie OLD, Hannerl, and First Lady. They trained and presented numerous mares for the performance test, which ended up making it to the Brilliant ring at the Elite Mare show in Rastede and Verden, including Vive la Vie OLD. 
In 2020 Anna rode the young licensed stallion Ikon (by Ibiza x Hotline) in the 14-day suitability test, where he scored 8.5 for willingness to work and 8.75 for rideability. Ikon then went to Helen Langehanenberg for a training season, and returned to Mitter's care in 2021. He is now in the U.S.A. with his American owner. 
Longing For S-Dressage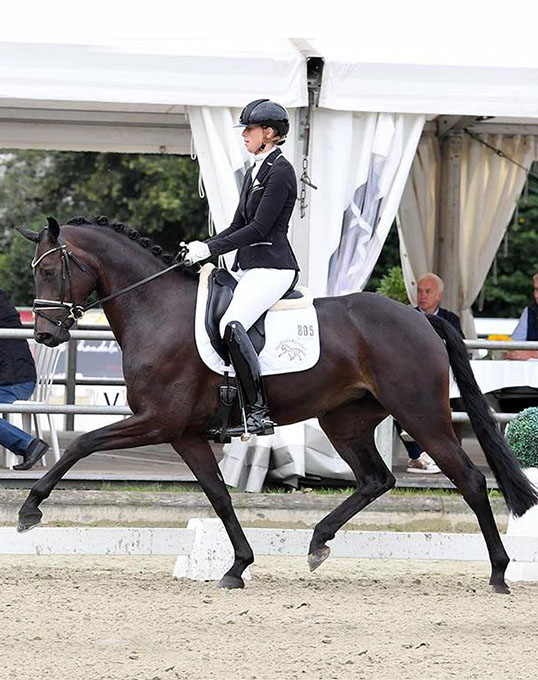 Although training young horses brings the joy of laying the foundation for high performance sport, the Mitters have the ambition, skill and experience to ride beyond riding horse classes and L/M-level tests.
In September 2019, Anna decided to jump the puddle for a 3-month adventure in California, U.S.A., where she fine tuned her S-level riding skills under German ex-pat Markus Gribbe. 
"Benjamin learnt much from trainer Anja Backhus-Theile, who brought him to S-level with the now junior squad horse Bella Rouge," Anna told Eurodressage. "I felt that I needed more experience riding older horses at Intermediaire and Grand Prix level and trained with Markus in the U.S.A., riding for him and his clients. It was a very educational time and I learnt so much from him."
Anna is currently competing Luiz Barroso (by Licosto x Falsterbo) at Prix St Georges level.
"We have built up a very good reputation of being young horse problem solvers, which is of course a great compliment," Anna explained. "We work so much and try hard to have every horse perfect. We would be able to compete more at S-level, but the problem is that we are selling the young horses so fast and so well," she chuckled. 
Good horsekeeping in Private Stable
The Mitters make sure that the horses in their barn are treated like royalty and get what they deserve: plenty of movement, interaction, and down time.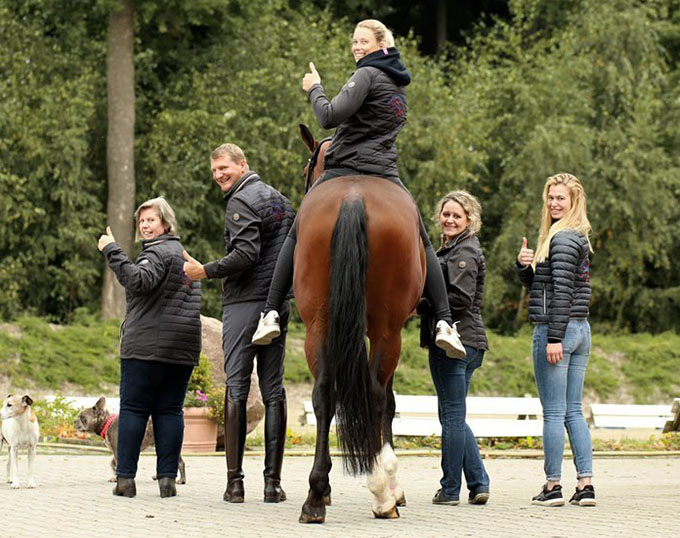 "Every horse in our yard gets turned out every day. We have gigantic pastures and there never is a box day," she said. "We have a small stable with around twenty horses, just one assistant trainer, and two grooms. We have enough time and staff for a dedicated care to each individual horse and this is a private barn with no other people making it feel busy and crowded."
Anna and Benjamin are excited about the future with some promising young stars in the barn, including Bettina Schellin and Wolfgang Stritzke's rising 5-year old Manolo (by Morricone x Donnerhall), which Anna rode to 8.7 scores this year, and Georg Heidig's 3-year old Danish bred Florian Guldenbjerg (by Blue Hors Fifty Cent x Blue Hors Rockefeller). This youngster was shown just four times this year, each time finishing in the top four.
"I'm very happy that they will stay with me and that I can train them longer and compete him next year," she said. "I put so much heart into my job and enjoy it so much. I always try to give my best."
Discover Anna and Benjamin Mitter on their official website, or on Facebook and Instagram. 
Photos © Ruchel - LL-foto - private
Related Links
Helen Langehanenberg Welcomes Ikon to her Barn
From Outside the Sandbox: Some Personal Observations from the 2017 Bundeschampionate
Scores: 2021 Bundeschampionate
Oldenburg Riding Horses Selected for 2021 Bundeschampionate
Oldenburg Riding Horses Selected for 2020 Bundeschampionate
Oldenburg Riding Horses Selected for 2019 Bundeschampionate
Oldenburg Riding Horses Selected for the 2016 Bundeschampionate