Westfalian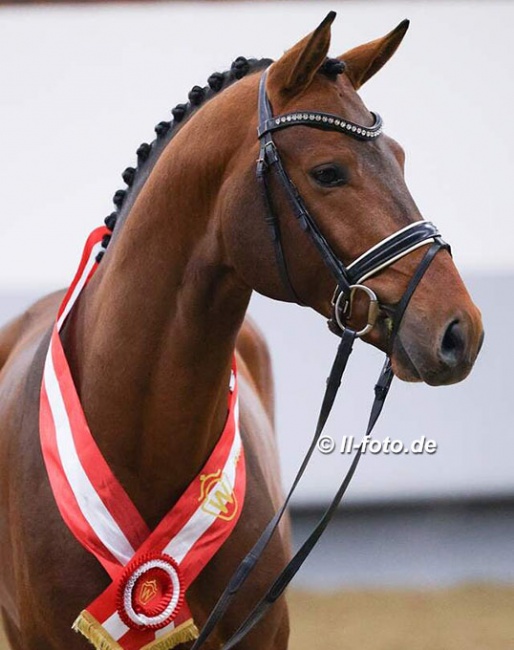 Extra Gold (by Escolar x Apache x Don Schufro) has been named the champion of the 2021 Westfalian Stallion Licensing in Munster-Handorf on 22 November 2022. 
 Premium Title Eroded in Westfalia?
The 2021 Westfalian main licensing featured a collection of 58 dressage bred stallions of which 53 were presented. 
The commercial background and approach of the Westfalian breeding director and sales manager Thomas Münch left nothing to the imagination. No less than 35 colts were approved (approx. 75%) and the licensing committee made the farcical decision to name no less than six (!!) stallions reserve champion. 
"There hasn't been a vintage with a quality density at the top like this one for a long time," said Münch.
The inability or unwillingsnesss to properly rank the premium stallions according to quality discloses the commercial approach of the breeding society, completing eroding the "value" of a premium title to the point of the non-sensical. Either you don't rank the stallions at all and just name them premium (like in Hanover), or you provide a proper ranking (like in Oldenburg) and send a clear message to the breeders, stallion keepers, and owners. 
Then again, who can blame Munch as his premium title festival is bringing more money in the Westfalian pocket than ever before, and he literally can be quoted that the "breeders will do the selection for themselves" and decide which breeding stallion survives on the market. So his approach with an open studbook where Hanoverians, KWPNs, Rhinelanders, have equal chances for a premium title, turns this licensing into a magnet and colts are selling like hot cakes in this (post) corona spendthrift. To what extent are quality, standard, and tradition sacrificed for the big bucks.. time will tell.
There were 14 premium stallions in total, so almost half of the licensed colts were named premium. Insert emoji here of female raising her arms in wonder. 
Extra Gold, a Story of Strife and Success
A champion was named and that was Extra Gold. The Escolar colt out of Aweih (by Apache x Don Schufro x Sandro Hit) has Isabell Werth's Weihegold as grand dam and it gives a touch of Hollywood glam to Extra Gold's pedigree.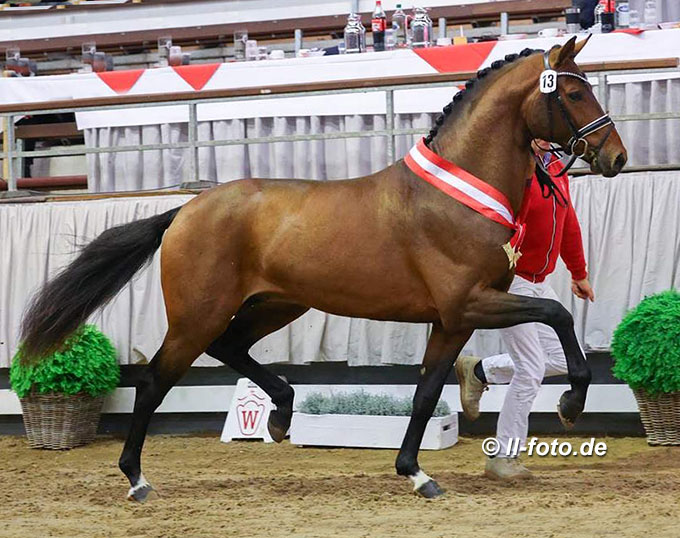 Bred and owned by Bettina Hinnemann, this bay colt is the product of a battle fought in court. Dam Aweih is an embryotransfer by Apache out of Weihegold and the embryo was payment. Weihegold's owner Christine Arns-Krogman brought Weihegold to Johann Hinnemann to be trained in 2011 and instead of paying board and training fees, it was agreed that Hinnemann could flush an embryo out of the mare.  Hinnemann chose Apache as a sire and in 2013 the foal Aweih was born out of a recipient dam under the care of Hinnemann. Arns-Krogman contested that she was the breeder of Aweih and the case went to court. After a trial and a subsequent appeal, Hinnemann took the matter to the supreme court, which ruled in favour of (Johann and) Bettina Hinnemann.
At the licensing in Munster Extra Gold convinced the licensing committee of his star quality. The 1,64m standing colt was not for sale and will stand at stud at Hinnemann's Krusterhof in Voerde, Germany. 
"Impression, freedom of shoulder and type of the stallion leave nothing to be desired," Münch raved.
Six Reserve Champions, Vitalis x Fidertanz Sells for 940,000 euro
The licensing committee invited no less than 14 colts into the premium ring and six of them were named reserve champion. Everyone's a winner!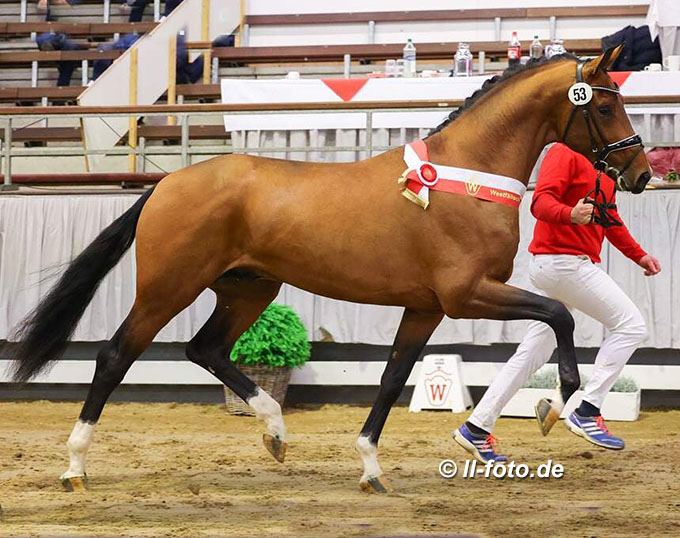 The reserve champion that had the most commercial value for buyers was the Hanoverian bred colt Vogue (by Vitalis out of state premium mare Fräulein W (by Fidertanz x Sandro Hit x Monte Carlo)). The dam was the Rhinelander Mare Champion of 2013. The bay stallion, bred by Herbert Werth, sold at auction for 940,000 euro.  
It was a tough bidding duel between an unidentifiable online bidder and Andreas Helgstrand/Paul Schockemöhle. Earlier reports that the bidding was against Gestut Bonhomme were confirmed untrue. "Schockstrand" won the money duel for the Vitalis and got him for 940,000 euro. 
Schockstrand also purchased another reserve champion, the colt by Franklin x Rock Forever I x Florestan, bred by Hendrik Schulte-Märter, for 410,000 euro. The owner of the horse was listed as "Blue Moon Sporthorses," an unknown company based in Kissenbrück, the town where Helgstrand's German agent Udo Wagner lives. According to Horses.nl he also represented the stallion in Munster so it raises questions if this was a full buy of Helgstrand. 
The Four Other Runners-Up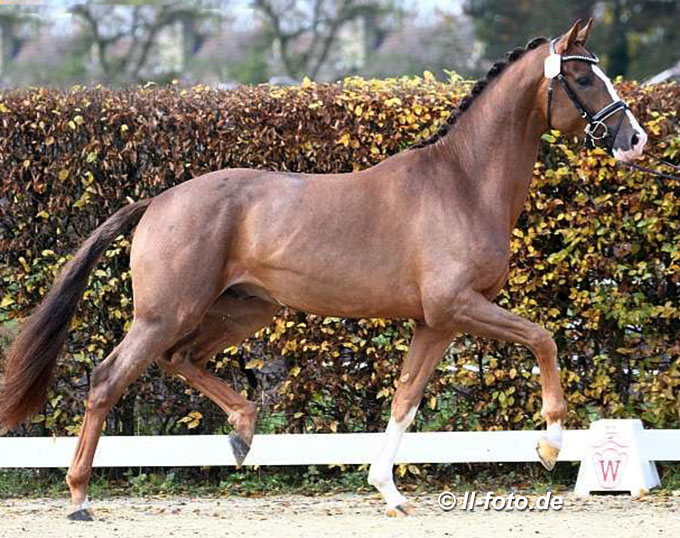 The Janeiro Platinum x Sir Donnerhall I x Arpeggio, bred in The Netherlands by Mirjam-Mathilde Drenth and presented by Heinrich Gießelmann & Catharinus van der Laan, sold for 360,000 euro to the Swiss owned Dressage Performance Center Lodbergen in Germany. 
The Zoom x Status Quo x De Niro, bred by Franz-Josef & Ivonne Woltring, and owned by Mathieu Beckmann sold at auction for 100,000 euro
The colt by Benicio x Vivaldi x Ferragamo, bred by Georg & Leonie Kellerwessel and owned by Friederike Kampmeyer, as well as Escaneno (by Escamillo x Veneno x Ravallo), bred and owned by Tobias Schult, were also reserve champions but not for sale.
Auction Extravaganza
Thirty of the 32 colts offered for sale at auction found a new owner under the hammer of Thomas Münch. A turnover of 3.6 million euro was made.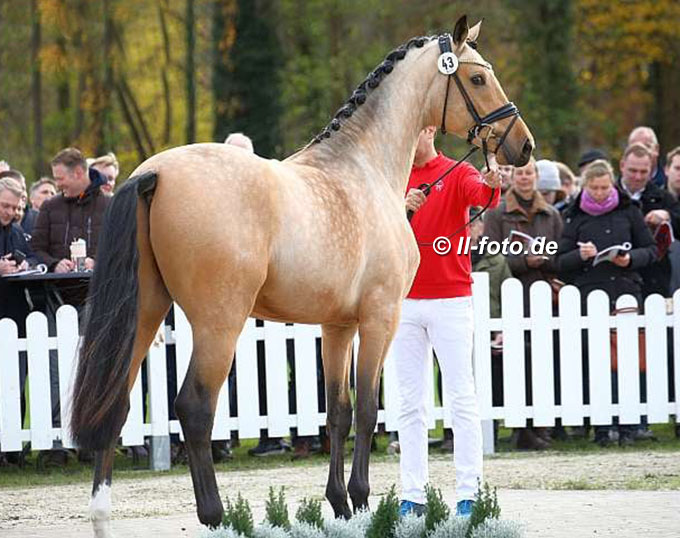 The most expensive premium stallion that wasn't a reserve champion or "Endring" stallion as Westfalia calls it, was the Secret x Dresemann x Florestan, which sold for 151,000 euro to the state stud Celle.
The most expensive non-premium stallion was the buckskin coloured Quaside MD x Captain Fire, bred by Sascha Hahn and presented by Ib Berger. He sold for 150,000 euro to...... Helgstrand. 
The most expensive non-licensed stallion was the Sezuan x Belissimo M, bred and presented by the Pistner family. He sold for 56,000 euro. The non-licensed Secret x Dimaggio x Lanthan fetched 52,500 euro,, while the Floris Prince x Sarotti Mokka Sagne sold for 42,000 euro abroad. Kurt Gravemeier's Franklin x Belissimo x De Niro sold for 28,000 euro to Haras de Malleret.
At this licensing auction, the average price for a licensed stallion was 157,714 euro, the nine non-licensed stallions cost an average of 33,611 euro. 
Our colleagues of St. Georg published an article with a clear overview and discussion of each of the premium stallions. Read it here.  
Photos © LL-foto
Overview Licensed Stallions
Premium stallions
1. Extragold (by Escolar / Apache / Don Schufro) - Breeder and Owner:  Bettina Hinnemann  - not for sale
2. nn (by Benicio / Vivaldi / Ferragamo) - Breeder: Georg & Leonie Kellerwessel - Owner: Friederike Kampmeyer  - not for sale
2. Escaneno (by Escamillo / Veneno / Ravallo) - Breeder and Owner:  Tobias Schult   - not for sale
2. nn (by Franklin / Rock Forever I / Florestan) - Breeder: Hendrik Schulte-Märter - Owner: Blue Moon Sporthorses. - 410,000 to Helgstrand
2. nn (by Janeiro Platinum / Sir Donnerhall I / Arpeggio) - Breeder: Mirjam-Mathilde Drenth NED - Owner: Heinrich Gießelmann & Catharinus van der Laan -- 360,000
2. nn (by Vitalis / Fidertanz / Sandro Hit) - Breeder and Owner:  ZG Werth - 940,000 euro to Helgstrand
2. nn (by Zoom / Status Quo / De Niro) - Breeder: Franz-Josef & Ivonne Woltring - Owner: Mathieu Beckmann - 100,000 euro
nn (by Escolar / Vitalis / Lord Loxley) - Breeder: Leo Hermanns - Owner: Wagemans Stables, Egbert Schep, Egbert Kraak, NED -- 106,000 to LG Celle
Forte Per Me (by For Romance I / De Niro / Frühlingsrausch) - Breeder and Owner:  Ludger & Lars Wigger-Pieper  - 230,000 Lodbergen
nn (by For Romance I / Franziskus / Florestan) - Breeder: Ulrike Walloch - Owner: DZ Lodbergen
nn (by Franziskus / Rock Forever I / Ferragamo) - Breeder: Hermann Rosenbaum - Owner: Simon & Wilhelm Holkenbrink - 110,000 Bonhomme
Oberon (by Indian Rock / Negro / Don Schufro) - Breeder: Veronique Roerink NED - Owner: Rothenberger 
Joshua (by Jovian / Belissimo M / D'accord) - Breeder: Volker Schmale-Steinkamp - Owner: Helgstrand Dressage DEN
nn (by Secret / Dresemann / Florestan) - Breeder and Owner:  Uta Rosemann - 151,000 euro to LG Celle
Further Licensed stallions
nn (by Ibiza / Donnerhall / Freudentänzer) - Breeder: Heinz & Elisabeth Schulte - Owner: S.R. Holtwiesche -- 57,500 GER
nn (by By your Side / Ehrenstolz / Samarant) - Breeder: Wilhelm Brinkmann - Owner:  Mathieu Beckmann - 43,500 GER
nn (by Christ / Scolari / Laureus) - Breeder: Josef Decking - Owner: Gestüt Sprehe - 100,000 euro
nn (by Dante's Junior / Lauries Crusador xx / Worldly) - Breeder: Eibe Johanns - Owner: Sönke Rothenberger  - not for sale
nn (by Diamond Deluxe / Bordeaux / Dormello) - Breeder: Georg-Philipp Pries - Owner: Eduardo Bundyra, GBR
nn (by Escamillo / Belissimo M / Pythagoras Z) - Breeder: Isabel and Jörg Clasen - Owner: Heinrich Gießelmann  - 49,000 abroad
Elastic (by Escolar / Dimaggio / Wolkentanz II) - Breeder: Daniela Werheit-Wagemeyer - Owner: Pascal Kandziora
nn (by Escolar / Sir Donnerhall I / Brentano II) - Breeder: Frauke Oelerich - Owner: Joachim & Ursula Rosendahl - 41,500 GER
nn (by Fair Game / Hochstern / Weltmeyer) - Breeder: Heike Neugebauer - Owner: Friedrich Isaak - 35,000 euro to Haras de Malleret
nn (by For Romance I / Diamond Hit / Matcho AA) - Breeder: Gertrud Höckesfeld - Owner: Ute Redemann - 31,500 abarod
Fabulé (by Franziskus / Dali X / Rohdiamant) - Breeder: Ludger Niebert  - Owner:  Falk Schubert - moved to gestutSchonweide
nn (by Franziskus / Fürst Grandios / Lauries Crusador xx) - Breeder: Johannes Schulze-Kappelhoff - Owner: Jan Pieter Dalsem NED - 49,000 GER
Geronimo G (by Glamourdale / Escolar / Fürst Heinrich) - Breeder: Dieter Grasekamp - Owner: Helgstrand Dressage DEN
nn (by Henkie / Feuerspiel / Donnerhall ) - Breeder and Owner:   Ib Berger
nn (by Lord Leopold / Blue Hors Leredo / Rouletto) - Breeder: Horst Schepper - Owner: Rothenberger - 51,000 GER
nn (by Millennium/T. / Lord Loxley / Lancer II) - Breeder and Owner:  Heike Pleines
Quelle Couleur (by Qaside MD / Captain Fire / Power) - Breeder: Sascha Hahn - Owner: Ib Berger - 150,000 to Helgstrand
nn (by Secret / Levisonn / Quidam's Rubin) - Breeder and Owner:  Claus Hillebrecht - 92,000 GER
nn (by Sir Heinrich / Con Capitol / Filigran) - Breeder: Antonius Richter - Owner: Jan Pieter Dalsem NED - 50,000 abroad
Volltreffer (by Villeneuve / Diamond Hit / Lord Sinclair ) - Breeder and Owner:  Klaus Strobel - 105,000 euro LG Warendorf
nn (by Vitalis / Florestan I / Rubinstein) - Breeder: Jutta Kelle - Owner: IB Berger - 150,000 euro abroad
nn (by Vitalis / Sandro Hit / Brentano II) - Breeder: Klaus Tuchen - Owner: Eugene Reesink NED - 160,000 euro
Related Links
Forever Love, Champion of Generous Approval at the 2020 Westfalian Stallion Licensing
Dynamic Dream, Champion of 2019 Westfalian Stallion Licensing
Dynamic Dream, 2019 Westfalian Licensing Champion and 1.9 Million Auction Horse, Tests Positive to Medication
Danciero, Champion of the 2018 Westfalian Stallion Licensing
Fashion in Black Named Champion of the 2017 Westfalian Stallion Licensing
Valverde, Champion of the 2016 Westfalian Stallion Licensing
D'Egalite, Champion of the 2015 Westfalian Stallion Licensing 
Borsalino, Champion of the 2014 Westfalian Stallion Licensing
Rock For Me, Champion of the 2013 Westfalian Stallion Licensing
Like A Diamond, Champion of the 2012 Westfalian Stallion Licensing
Dubrovnik, Champion of the 2011 Westfalian Stallion Licensing
A La Carte, Champion of the 2010 Westfalian Stallion Licensing
Silbermond, Champion of the 2009 Westfalian Stallion Licensing
Flanagan, Champion of the 2008 Westfalian Stallion Licensing
Coronas, Champion of the 2007 Westfalian Stallion Licensing
Estobar NRW, 2006 Westfalian Licensing Champion
Cornado 2005 Westfalian Licensing Champion
Fidertanz, 2004 Westfalian Licensing Champion
Dancing Dynamite, 2003 Westfalian Licensing Champion
Rosencharmeur, the 2002 Westfalian Stallion Licensing Champion
Don Bedo, 1998 Westfalian Stallion Licensing Champion