Blue Hors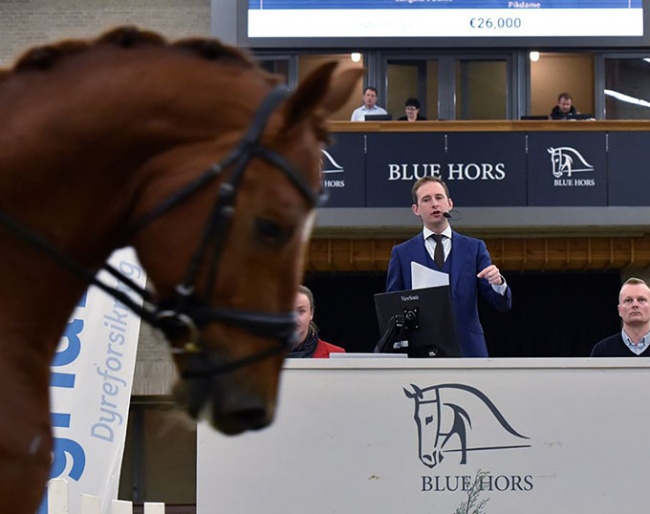 The former licensed stallion Emilio became the best selling horse in the first auction Blue Hors has hosted with a collection of young horses exclusively owned by the Danish stud farm. 
The 2021 Blue Horse Autumn Auction was held on Saturday 13 November during the CDI Ranbøl and bidding took place live at the event as well as online.
Guest were also treated to some fun entertainment with a short music show by X-factor duo Simon & Marcus. 
The 7-year old Blue Hors Emilio (by Escolar x Lauries Crusador xx) was a former licensed stallion and now a gelding, ready for the small tour. He sold to Belgium as price highlight for 104,000 euro. 
The second most expensive horse was Sir Helmut (by Sir Donnerhall x Benetton Dream) which was bought by a bidder at the venue for 74,000 euro. He sold to Danish junior rider Kristian Wurtz Green, who rides for Stutteri Schuberts.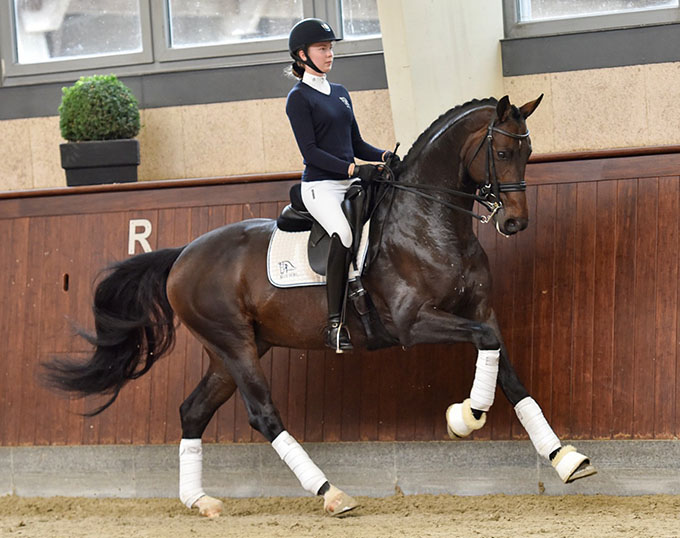 The 5-year old gelding Zatisfaction (by Zalabaster x Bretton Woods) and the 4-year old stallion Fabion (by Farrell x Fidertanz) both sold for 40,000 euro to bidders in the arena. Zatisfaction was bought by Mette Holmgaard, Fabion was secured by Alice Oppelstrup.
The 5-year old gelding Giccolo (by Grey Flanell x Furst Piccolo) also sold for 40,000 euro but found a new home in Portugal. 
Three horses sold for 24,000 euro: Verano (by Veneziano x Sandro Hit), Vanzetti (by Veneziano x Zuidenwind), and First Demont (by Furst Wilhelm x Desperados). The latter will move to Sweden, Verano sold to Hetty Jägers.
A British customer secured Farlow (by Farrell x Furst Romancier) for 26,000 euro and Fair Hope (by Emilio x Johnson) for 13,000 euro. Foxtrot A (by Franklin x Romanov) fetched 14,000 euro.
Related Links
Quality Horses "Made by Blue Hors" in the Blue Hors Autumn Auction on 13 November 2021
Twelve Spectacular Horses For Sale in First Blue Hors Stud Auction