Hanoverian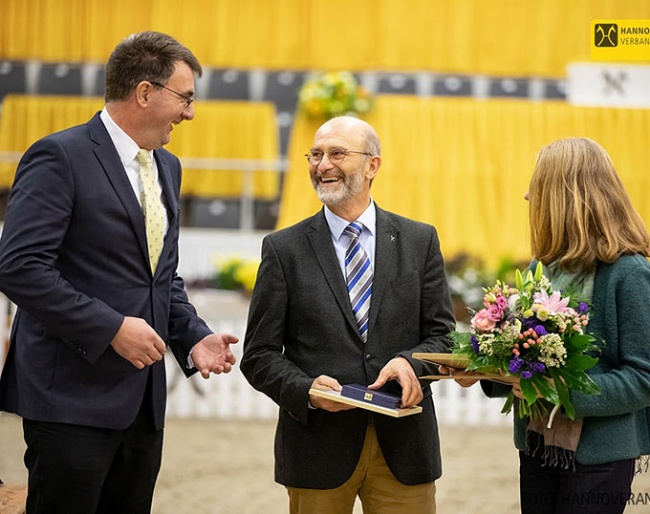 Dr. Ludwig Christmann has been sent off into retirement with a special ceremony on the closing day of the 2021 Hanoverian Stallion Licensing in Verden on 5 November 2021.
The 65-year old Christmann studied animal science at the universities of Gießen and Göttingen, achieving his Master Degree in 1981. He got the Doctor's degree for his PhD on "The development of breeding values based on the evaluation of mares in studbook and mare performance tests."
Since 1984 he has worked for the Hannoveraner Verband and has been a spokesperson for the society for 37 years.
First he worked as  deputy breeding director, and later on he headed the department "Breeding International". He was the worldwide ambassador of the Hanoverian breeding society.  One of his many tasks included being an inspector at foal and mare gradings, studbook inspections, and at mare performance tests.
He spearheaded  the development and promotion of projects, such as the Young Breeders initiative, the breeding programme for Hanoverian Jumping Horses, the research on OCD, a programme to market the Hanoverian as a pleasure horse ("Hannoveraner Erlebe"n) and the seminar programme of the Hannoveraner Verband.
In an interview with The Horse Magazine, Christmann stated, "There are some breeders who want to breed a Grand Prix horse, but the majority want a horse that is sellable, a horse that is a super young horse." Inherent in that is the recognition that a horse that is saleable as a young horse - flashy, lots of front end movement - is not necessarily the horse that has the talent for FEI work.  I believe it is a world-wide problem - that riders are too easily swayed by flashy movement in a young horse. It has led to flashy movement as a breeding goal, perhaps at the expense of other, more desirable traits."
Christmann was decorated with the Golden Badge of Honour of the Hannoveraner Verband, but also the Gustav Rau Medal in Bronze by the German Equestrian Federation.
A biography in German here.
Related Links
Eurodressage Photo Database: Ludwig Christmann
Do We Still Need Thoroughbred Blood to Breed Performance Horses?
Le Chef, Supreme Champion of the 2021 British Hanoverian Horse Society Annual Show
Hanoverian Society Stands by Results of 2011 U.S. 70-day Stallion Performance Testing
24th November 2003 - Hot in Hannover
Fight Club Achieves Top Knock Down Price at 2000 Verden October Elite Auction