U.S.A.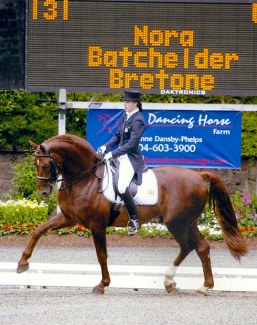 American Grand Prix rider Nora Batchelder said goodbye to her Under 25 Grand Prix horse Bretone on 27 March 2021. He was 26 years old.
Bretone was a 1995 born Hanoverian by Brentano II out of Santiana (by Salut). He was bred by Josef Engelke in Germany. 
German Start
Initially owned by Johann-Klaus Brunkhorst, the chestnut stallion was licensed at the 1997 Hanoverian Stallion Licensing and did his 100-day stallion performance test in Medingen in August 1998. He scored 122.02 points for dressage and 109.30 points for show jumping to finish third on a total of 123.25 points. 
He was first competed by Brunkhorst in 2000 in the L-level dressage horse tests. In 2003 at age 8 the stallion moved up to M-level. He did his last local show at that level in September 2004.
During his time as a breeding stallion in Germany he produced 37 offspring that are registered for sport with the German equestrian federation, one of them is a state premium mare. His two most successful ones, Britania and Boccachino are both being jumped or evented. 
Sold to the U.S.A.
Bretone sold to Verne Batchelder in the U.S.A. in 2004 as the successor for Nora's horse Maronjo. 
Shortly after his arrival he injured himself and was sent to River House Hanoverians in New Hampshire, where he was rehabbed. 
"Tony went to college with me where he finished his education to Grand Prix and was a barn favorite. I'd come to the boarding barn and find little kids sitting on him while he was sleeping," Nora reminisced. 
Under 25 Horse
One year and a half into their training Batchelder and Bretone were at Intermediaire II level and competed in the qualifiers of the inaugural Brentina Cup, the American Under 25 division similar to the Piaff Forderpreis.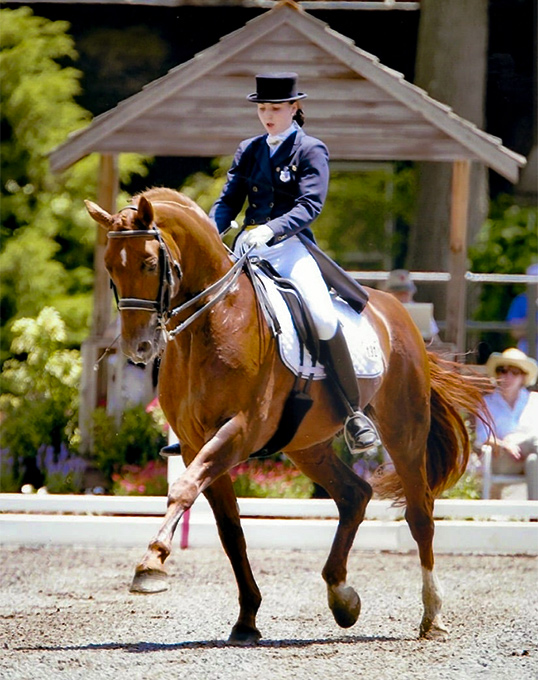 "We went to the Brentina Cup three times, finishing fifth in 2006 as well as in 2010, and I competed him for many years at Grand Prix. Tony won numerous Regional Championship titles, he earned several "10"s for his fabulous ones tempis, and even broke 80% in the Grand Prix Freestyle. He was the USDF/Adequan All Breeds Hanoverian Grand Prix Freestyle Horse of the Year for 4 consecutive years (2008-2011).
Schoolmaster
"Tony" was a schoolmaster for Lee Longfield, Clark Moss and Celina Collins, who all earned their USDF Medals on him. 
He competed in his last show in November 2020 at age 25. Unfortunately, shortly afterwards he foundered and could not be saved. 
"He contracted an unknown illness," Batchelder explained. "A fever triggered laminitis. He battled hard, stoic to the end, but we were unable to save him. He really was the safest horse on the planet. He would take care of anyone. When the neighbor's cows got out, I hopped on Tony to round them back up again. You could ride the whole Grand Prix on him out in the field bareback with a halter and lead rope. He was one of a kind."
Photos © Sue Stickle
Related Links
Scores: 2010 U.S. Dressage Championships - Week Two
Scores: 2006 U.S. Dressage Championships
Participants In the 2006 Brentina Cup Championship Announced