Dominican Republic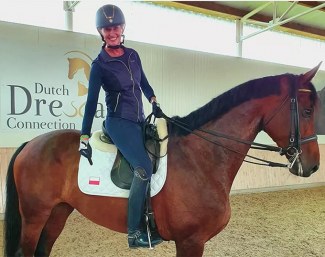 Dominican Republic Olympian Yvonne Losos de Muniz has added the 8-year old KWPN mare Idwinaretto to her string of horses. 
Idwinaretto is by Everdale out of Betwina (by Johnson x Winston x Aktuell). She is bred by P. Dolfsma in The Netherlands.
Inbetwina LH in Great Britain
The 1.75 m tall standing mare was originally named Inbetwina LH and sold as a foal with the dam to Lickley Horses in the U.K.
In 2017 she made her national competition debut as a 4-year old under Darren Hicks and at the end of the season placed sixth in the first round of the 2017 British Young Horse Championships for 4-year olds. 
Idwinaretto in Poland
Lickley then sold the mare to Gert-Jan van Olst in The Netherlands, who re-sold her to Katarzyna Milczarek in Poland.
She was renamed Idwinaretto and Milczarek developed her to Grand Prix level.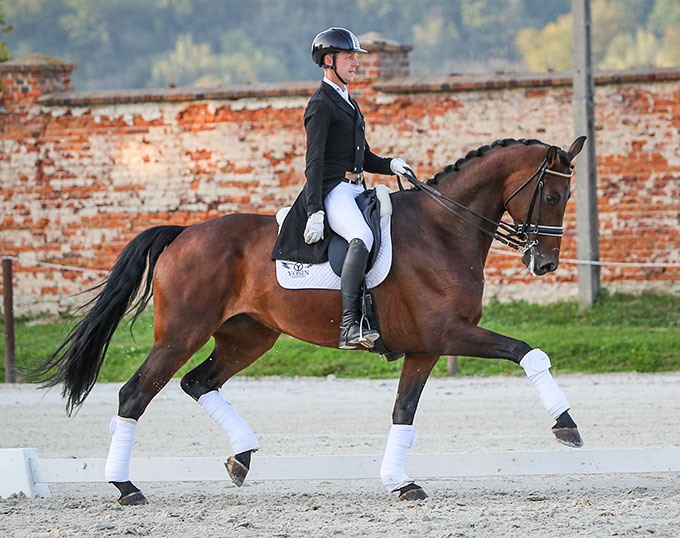 Under Hubert Jankowski she became Polish champion in the Developing Prix St Georges horse class for 7 - 8-year old horses.  
Move to Spain
Yvonne Losos de Muniz tried out the mare while she was in Germany competing at the CDIO Aachen and decided to add her to her string of horses, which includes her number one Aquamarijn and rising Grand Prix horse Felicia. 
"She's a tall, powerful mare with outstanding movement and ability," said Losos de Muniz about Idwinaretto. "She has been undefeated in Poland for the last two years."
Losos de Muniz is currently based in Gijon, Spain for her European summer tour but will soon move with her horses to her winter base in Wellington, Florida.
Idwinaretto was advertised for sale in the Eurodressage equimarket. 
Photos © private - Lukasz Kowalski
Related Links
Scores: 2017 British Dressage Championships
Personal Best Instead of World Cup Final for Yvonne Losos de Muniz at 2021 CDI Wellington
Polish Grand Prix Champion Dzeko Sold to the U.S.A