Trakehner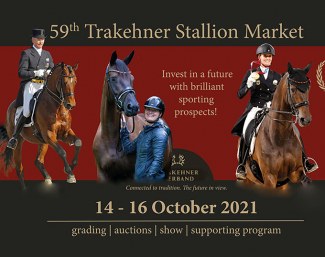 The collection of the Trakehner Hengstmarkt elite foal auction sale on 15 October is crowned by a unique offer: a pregnancy by international Grand Prix winner Imperio bred to a three-quarter sister to the currently best dressage horse in the world, TSF Dalera BB, boasting own results at S level.
The World's Number 1: TSF Dalera BB
TSF Dalera BB by Easy Game has collected seven championship medals during the 2021 season alone. Winner of team gold and individual gold in the freestyle at the Tokyo Olympics, reigning European champion with the team, in the grand prix special and in the freestyle, as well as reigning German champion in the grand prix special and the freestyle – the dressage queens based in Aubenhausen in Bavaria wow experts and audiences alike. Elegant and graceful and with superb movement, the mare has conquered the very top. The number one spot in the FEI and the WBFSH ranking proves: "Jessi and Dalera" are super stars and currently well unbeatable.
Dalera's Genes at Auction
A breeding in close relation to the number one in the world is offered for sale in the Trakehner Hengstmarkt hybrid auction and wows with a brilliant performance pedigree: The donor mare, Dallenia by star sire Millennium, has won youngster dressage classes at S level with Kristine Moeller. Same as "Queen Dalera", she is out of Dark Magic by Handryk. Dark Magic's produce also includes Dallenio (by Millennium), qualified for the six-year-old national championship with Benjamin Werndl, which further confirms this damline's outstanding hereditary quality.
Imperio, the sire of the auction lot, used to be the top horse of master rider Hubertus Schmidt for years, with numerous international grand prix results as a member of the German championship team. As a sire he has left his mark while he is still alive with a great number of dressage offspring successful to grand prix level, including Heuberger TSF, successfully shown at Nations cup level by Anabel Balkenhol
With Dallenia continuing her competitive career, the embryo has been transferred to a proven recipient to carry the pregnancy to term. The foal is expected in April 2022.
Jessica at the Trakehner Hengstmarkt
The hybrid auction of the riding horses and foals kicks off on 15 October at 5.00pm, the auction of the licensed stallions, non-licensed colts and mares on Saturday, 16 October at 7.30pm. Because of the hybrid format, bids can be placed live on-site, on the telephone as well as online through the Trakehner Verband auction portal. Jessica von Bredow-Werndl is to join the Trakehner gala evening on 15 October for a training session with young Trakehner dressage talents.
Information on www.trakehner-verband.de.
+++ TICKETS +++ TICKETS +++ TICKETS
Book tickets directly through the Neumünster Holstenhall, phone +49 4321-9100 or email to: lisa.gerversmann@holstenhallen.com.
According to the entry requirements to the Trakehner Hengstmarkt 2021 visitors must be vaccinated, recovered or tested (adhere to the 3g rule).