2021 Swedish Young Horse Championships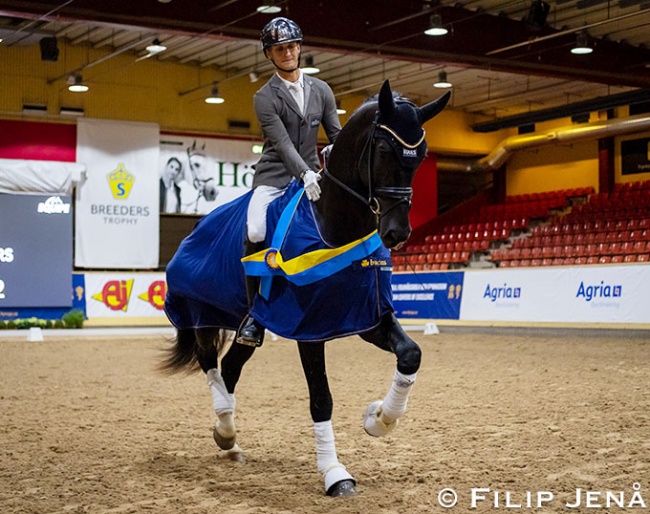 The 3-year old Skyline To B, the 4-year old For Rose TS, the 5-year old Diploid, the 6-year old Benito SC, and the 7-year old Springbank II became the winners of the 2021 Swedish Warmblood Young Horse Championships held in Flyinge on 29 September - 3 October 2021.
These Swedish Championships are exclusively for Swedish warmblood registered and licensed horses. 
3-YO: Skyline To B
A massive group of 54 horses competed in the 3-year old division and the division was won by Skyline To B, a Swedish stallion by Blue Hors St. Schufro x Ampere), bred by Maria Rasmusson and owned by Eques Management. Presented by Carl Hedin, the dark bay stallion scored 8.3 for walk, 9 for trot, 9.5 for canter, 9 for balance and suppleness and 9.3 for general impression. His total was 90.200 points. 
The silver went to Pernilla André Hokfelt on Elisabeth Ostberg Roos' mare Ohara for U (by Hesselhoj Donkey Boy x Prestige VDL). Bred at Ugglarps Gard, the bay mare got 9 for walk, 8 for trot, 8.8 for canter, 8.5 for suppleness and 8.8 for general impression. Her 86.20 total score placed her second. 
Danish based Spaniard Eric Guarda Martinez and Vastra Hoby's Rosebank VH (by Revolution x Dalwhinnie), which breeder Tobias Hansson owns in partnership with Helgstrand, placed third with 86.20 points. The stallion got 7.5 for walk, 9 for trot, canter and suppleness and 8.6 for general impression. 
4-YO: For Rose TS
The 4-year old finals are traditionally the highlight of the Swedish Breeders' Trophy as a guest judge rider test rides the finalists and gives public commentary. In the past Charlotte Dujardin graced the billboard for these test finals, this year it was Danish star Cathrine Dufour's turn. 
In the end Matilda Aldrin and Tommy Svensson's mare For Rose TS (by For Romance II x Rosevelt) took highest honours and got the gold with a total of 92.900 points The mare won the first part of the finals with 87.800 points, and got the second highest score from Dufour, 98 points with 9.8 for rideability and potential. 
The reserve champion's title went to Jeanna Hogberg on BE Allex (by Ampere x Dalwhinnie), bred by Eva and Bo Petterson and owned by the syndicate Vastra Hoby, Hogberg and Hennix Horses. The gelding was second in the first part of 86.200 points and got the highest score from Dufour (99 points with 10 for rideability and 9.8 for potential). His total of 92.600 points placed BE Allex second.
The bronze went to Linnea Holmgren aboard her own and breeder Buskhaga stable's Buskhagas Ramayana (by Revolution x Del Piero). The gelding was third in the first round with 83.600 points and scored the fourth highest mark under Dufour (96.500 points with 9.6 for rideability and 9.7 for potential).
5-YO: Diploïd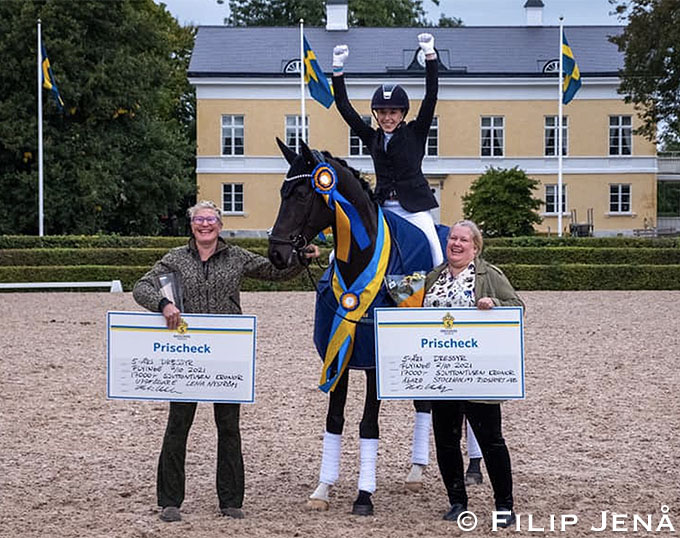 The 5-year old finals were judged by Jan-Ove Olsson, Mats Eriksson, and Christoph Hess and they favoured eventing rider Vendela Eriksdotter Rubin on Swedish gelding Diploid (by Hesselhöj Donkey Boy x Topaasch), bred by Lena Nystrom. The dark bay was the high scorer in the finals with a total of 89.00 points and left all competition far behind him. He got 8.5 for walk, 8.8 for trot and canter, and 9.2 for submission and perspective. 
The silver medal went to Ida Küchenmeistern Nordenberg aboard Charlotte Haid-Bondergaard and Dan Nordenberg's Swedish bred Moretti Weltino (by Dante Weltino x Master). Bred by Kerstin and Lars Svenstrup, this gelding scored a total of 83.20 points and got 8.5 for walk, 9 for trot, 7.9 for canter ,7.8 for submission and 8.4 for perspective. 
The bronze went to professional Johan Svensson aboard Per Gronkvist's mare St. Paulia (by Blue Hors St. Schufro x Topaasch). The mare totalled 80.10 points with 7.2 for walk, 9 for trot, 8.3 for canter, 7.5 for submission and 8.3 for general impression. 
6-YO: Benito SC
In the 6-year old finals no less than 3 finalists were sired by the Swedish owned Hanoverian Benetton Dream, including the winner of the class, Benito SC (by Benetton Dream x Troll). Bred by Carina Edin and Stiven Wiklund and ridden and owned by Maria Eriksson, the Swedish gelding scored a winning total of 84.20 points after receiving 8 for walk, 8.7 for trot, 8.9 for canter 7.9 for submission and 8.6 for perspective from judges Olsson, Hess and Bo Jena.
Breeder Lena Nystrom celebrated more success in Flyinge as her foal Fontanell (by Furstenball x Ampere) has matured into a silver medal winning 6-year old. Under owner Anita Roslund the mare scored 83.20 for second place and got 8 for walk, 8.1 for trot, and 8.5 for canter, submission and perspective.
Third place went to Ebba von Essen aboard the Swedish gelding Ztorm (by Zuidenwind x Briar), bred by Jeanette Joelsson and Per Jansson. The gelding scored a total of 80.10 points and got 7.8 for walk, 7.7 for trot, 8.5 for canter, 8.3 for submission and 8 for prospective.
7-YO: Springbank II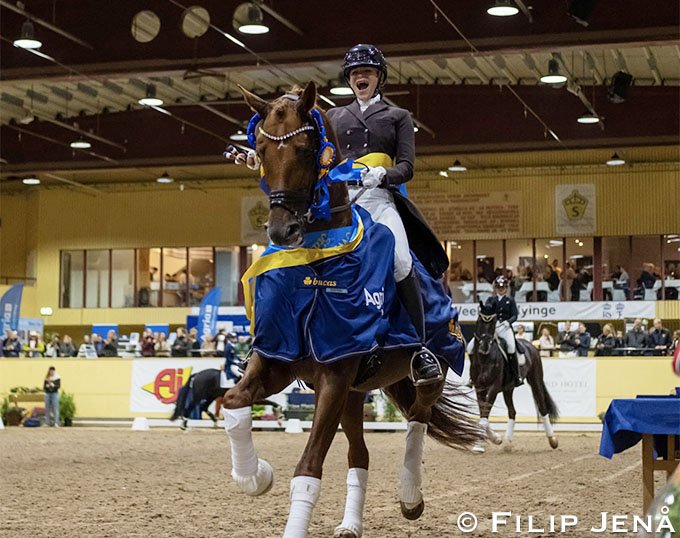 Only 8 combinations competed in the 7-year old finals which was won by German Yara Reichert aboard the Danish based Swedish stallion Springbank II (by Skovens Rafael x De Niro).
Bred at Vastra Hoby stud, the liver chestnut licensed stallion got 88.800% and 76.286% for the technical aspect of the 7-year old developing Prix St Georges horse test and earned 8.3 for walk, 9.3 for trot, 9 for canter, 8.5 for submission and 9.3 for perspective. Reichert totalled 82.543 points for the victory and Springbank II won his fourth, consecutive Swedish Young Horse Champion's title under three different riders (in 2017 and 2018 with Severo Jurado Lopez, in 2020 with Betina Jaeger). In 2016 the 3-year old Florence VH won.
Mia Runesson and Per Runesson's Swedish gelding Zenit (by Zuidenwind x Don Schufro), bred at Gransbo stuteri, got the silver with 79.700 points. The gelding received 7.4 for walk, 8.7 for trot and canter, 8.9 for submission and 8.5 for general impression. His technical scores were 84.40% and 75.00%.
Filippa Norrman and Kattis Ridcenter's gelding Buskhagas Dasras (by Desperado x Zack) landed third place in the finals with 75.357 points. He posted 8.2 for walk, 8.8 for trot, 7.6 for canter, 7.5 for submission and 7.9 for perspective. He got 80.00% and 70.714% for his technical mark.
Photos © Filip Jenå
Results - 2021 Swedish Young Horse Championships
3-year olds
1. Carl Hedin - Skyline To B (by Blue Hors St. Schufro x Ampere) - 9    8.3    9.5    9    9.3 --- 90.200
2. Pernilla André Hokfelt - Ohara for U (by Hesselhöj Donkey Boy x Prestige VDL) - 8    9    8.8    8.5    8.8 --- 86.200
2. Eric Guardia Martinez - Rosebank VH (by Revolution x Dalwhinnie) - 9    7.5    9    9    8.6 --- 86.200
4. Pernilla Jennesäter -  Fantasy af Ekeby LVST (by Van Vivaldi x Blue Hors Don Romantic) - 8.5    8.7    8.7    8.6    8.5 --- 86.000
5. Eric Guardia Martinez - Vive la Reinne II VH (by  Revolution x De Niro) - 8.8    8.5    8.5    7.9    8.5 --- 84.400
6.   Camilla Axelsson -  Futura la Belle (by Fürstenball x De Noir) - 8    8.5    8    8.4    8.5 --- 82.800
6. Camilla Axelsson - Time of Sand (by Total Hope x Bellagio) - 7.8    8.3    8.5    8.3    8.5 --- 82.800
8. Yvonne Österholm - Oneofakind OM (by Total Hope x Blue Hors Zack) - 7.4    8.5    8.2    8.8    8.2 --- 82.200
9. Camilla Axelsson -  Nirvana JAZ (by Hesselhöj Donkey Boy x Don Schufro) - 7.7    9.3    7.6    8    8 --- 81.200
9. Pernilla André Hokfelt - Winnietou (by Total Hope x Wladimir O.A.) - 7.5    8.7    8.3    8    8.1 --- 81.200
11. Linn Larsson -  Capriolo (by Springbank II VH (SWB) x Bocelli) - 7.8    8.6    7.8    8    8 --- 80.400
12. Camilla Axelsson - Ferano (by Firenze x Homburg) - 8    7.4    8.5    8    8.2 --- 80.200
13. Camilla Axelsson - Stallerhult Celsius (by Sibelius  x Bellagio) - 7.7    8    8.3    7.8    8 --- 79.600
13. Ebba von Essen  - Daphne (by Ibiza x Don Primero) - 7.8    7.1    9    8    7.9 --- 79.600
4-year olds
1. Matilda Aldrin -  For Rose TS (by For Romance II x Rosevelt) - 87.800 - 98.000 ----- 92.900  
2. Jeanna Högberg - BE Allex (by mpere x Dalwhinnie) - 86.200 - 99.000 ----- 92.600
3. Linnéa Holmgren - Buskhagas Ramayana (by Revolution x Del Piero) - 83.600 - 96.500 ----- 90.050
4. Mia Runesson - Glasgow(by Grand Galaxy Win x Figaro R) - 81.400 - 97.500 ----- 89.450
5. Carl Hedin - Supreme V(by Sibelius   x Danone I) - 82.400 - 92.000 ----- 87.200
6. Carl Hedin- Reticulum (by Revolution x Lauries Crusador xx) - 82.000 - 91.000 ----- 86.500
7. Josefine Ekdahl - Royal Wing (by Skovens Rafael x Wolkenstein ll) - 79.200 - 87.500 ----- 83.350
7. Camilla Lindh - Delilah (by Van Vivaldi x Fidertanz) - 82.200 - 84.500 ----- 83.350
9. Denise Ljungkvist - Bergsjöholms Barletta (by For Romance II x Epson) - 79.600 - 85.000 ----- 82.300
10. Lovisa Hasselblad - Sarow's Frank (by Dream Boy x Friendship) -  79.600 - 79.500 ----- 79.550
5-year olds
Rider - Horse - Trot Walk Canter Submission Perspective --- total
1. Vendela Eriksdotter Rubin - Diploid (by Hesselhöj Donkey Boy x Topaasch) -  8.8    8.5    8.8    9.2    9.2 ---- 89.000
2. Ida Küchenmeistern Nordenberg - Moretti Weltino (by Dante Weltino x Master) -  9    8.5    7.9    7.8    8.4 ---- 83.200
3. Johan Svensson - St. Paulia (by St. Schufro x Topaasch) -  9    7.2    8.3    7.5    8.3        0.5 ---- 80.100
4. Malin Axelsson Hagfors - Maleficent (by For Romance I x Royal Olymp) -  7.5    8.5    7.8    8    8.2 ---- 80.000
5. Mattias Jansson - Prince of Hope (by Total Hope x Bellagio) -  8.8    6.9    8.1    7.9    8.1 ---- 79.600
6. Julia Persson  - Vancouver (by Veneziano x Zuidenwind) -  8.8    8.2    7.8    6.8    7.9 ---- 79.000
6. Matilda Aldrin  - Allanzo TH (by Zack x Donnerhall) -  8.1    7.8    7.9    7.8    7.9 ---- 79.000
8. Anna Österberg - Maracanã (by Van Vivaldi x Calino) -  9    8.5    7.9    5.9    7.8 ---- 78.200
8. Jennifer Svensson  - Stradivariuz (by Sibelius (SWB) x De Niro) -  7.8    8    7.9    7.5    7.9 ---- 78.200
10. Yvonne Österholm - Saint Louis (by St. Schufro x Blue Hors Zac) -  7.3    8.2    7.5    7.4    7.6 ---- 76.000
11. Sandra Dahlin - Borichi (by Van Vivaldi 1286 x Bocelli) -  7.3    7.4    8    7.4    7.5 ---- 75.200
Elisabeth Östberg Roos - Zplendid (by Total Hope x Saigon) -  RET
6-year olds
1. Maria Eriksson - Benito SC (by Benetton Dream FRH x Troll) - 8.7    8    8.9    7.9    8.6 --- 84.200
2. Anita Roslund - Fontanell (by Fürstenball x Ampere) - 8.1    8    8.5    8.5    8.5 --- 83.200
3. Ebba von Essen - Ztorm (by Zuidenwind x Briar) - 7.7    7.8    8.5    8.3    8        0.5 --- 80.100
4. Jacob Nörby Sörensen -  First Lady VH (by Fürstenball x Cashmir) - 8.9    8.2    7.8    7.5    7.7        0.5 --- 79.700
5. Moa Stenman - King Edward ELiTH (by Fürsten-Look x Rosevelt) - 7.8    7.9    7.5    7.7    7.8 --- 77.400
6. Ebba von Essen - Zanté (by Blue Hors Zack x Don Primero) - 8.6    6.8    8.2    6.9    7.9 --- 76.800
7. Maria Vikingsson - Du Coeur (by Dimaggio x Rubin Royal) - 7    8.1    7.7    7.5    7.6 --- 75.800
7. Ida Küchenmeistern Nordenberg -  Feinen Schatz (by Feingold x Samarant) - 7.3    7.8    7.7    7.5    7.6 --- 75.800
9. Isabelle Serrander - Bella J (by Benetton Dream FRH x Londonderry) - 7.9    7.7    7.4    7    7.5 --- 75.000
10. Sandra Sterntorp - Donna Karan (by Zuidenwind x Guinness) -  7.4    7.5    7.2    7.3    7.4 --- 73.600
11. Charlotte Esping - Boomerang (by Benetton Dream FRH x Eighty Eight Keys xx) -  7    7    7    6.5    6.9 --- 68.800
12. Minna Telde - Dantes Vincero GJ (by Dante Weltino x Chapman) -  7.3    6.2    7    5.5    6        0.5 --- 63.500
7-year olds
Rider - Horse - trot walk canter submission perspective -- technical score 1 -- technical score 2 ----- total
1. Yara Reichert - Springbank II (by Skovens Rafael x de Niro) - 9.3    8.3    9    8.5    9.3 -- 88.800 -- 76.286 ----- 82.543
2. Mia Runesson - Zenit (by Zuidenwind x Don Schufro) - 8.7    7.4    8.7    8.9    8.5 -- 84.400 -- 75.000 ----- 79.700
3. Filippa Norrman - Buskhagas Dasras (by Desperado x Blue Hors Zack) - 8.8    8.2    7.6    7.5    7.9 -- 80.000 -- 70.714 ----- 75.357
4. Lotta Andersson - Lucara VV (by Fürstenball x Bocelli) - 7.9    8.4    7.8    7.7    7.9 -- 79.400 -- 66.000 ----- 72.700
5. Sandra Sterntorp - Bowmore VH (by Skovens Rafael x Akribori) - 7.7    7.1    7.5    7.4    7.6 -- 74.600 -- 69.714 ----- 72.157
6. Rebecka Knutsson - Golden Eye (by Everdale x Chirlon) - 8.3    7.5    8.2    6.9    7.7 -- 77.200  -- 64.286 ----- 70.743
7. Linda Abrahamsson - Dairine of Tara (by Dalwhinnie  x Napoleon) - 7.1    7.8    6.8    7.4    7.5 -- 73.200 -- 66.857 ----- 70.029
8. Yvonne Österholm - Demand (by Ampere x Don Schufro) - 8.3    7.8    7    6.1    7.4 -- 73.200 -- 65.000 ----- 69.100 
Related Links
Bergsjoholms Barletta, Vancouver, Mr Grey VH, Springbank II, Shizeido GJ Win 2020 Swedish Warmblood Young Horse Championships
Vita, Mr Grey VH, Demand, HeideBlumen af JBP, Astoria Win 2019 Swedish Warmblood Young Horse Championships
Vesicula, Springbank II, Athena, Astoria, Simmebros Martell Win 2018 Swedish Warmblood Young Horse Championships
Springbank II, Skywalker, Astoria, Tiger G, Zidney Win 2017 Swedish Young Horse Championships
Florence VH, Dragon Welt, Macacho, Van Vivaldi, Quarton Win 2016 Swedish Warmblood Young Horse Championships
Dragon Welt, Final Countdown, Springbank VH, Quarton Win 2015 Swedish Young Horse Championships
Romeona, Frankie Boy, Scara Boena, Dan Brown Win the 2014 Swedish Young Horse Championships
Springbank, Revolution, Bilan, Rausing Win 2013 Swedish Young Horse Championships
Bonheur, Dunhill, Carlton Hill, JJ Rayban, Isac Win 2012 Swedish Young Horse Championships
Christo, Rausing, JJ Rayban, Isac and Hohenstaufen II Win 2011 Swedish Young Horse Championships
Sohn der Sonne, Bellagio, Isac, Jimmie Choo Win 2010 Swedish Young Horse Championships
Bellagio, Deja, Belamour and Paridon Magi Win 2009 Swedish Young Horse Championships
My Princess, Hohenstaufen II, Wladimir OA, and Yantuge win 2008 Swedish Young Horse Championships
First Wish, Excalibur of Avalon and Hermes, 2007 Swedish Young Horse Champions
Scores 2006 Swedish Young Horse Championships
Scores 2005 Swedish Young Horse Championships
Scores 2003 Swedish Young Horse Championships