KWPN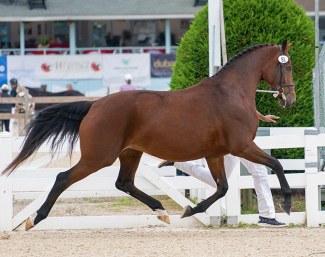 Iron Spring Farm's stallion Sir Sinclair, Keur won the Get of Sire class at prestigious 2021 Dressage at Devon for an incredible seventh time.
The KWPN stallion first won the class in 2006, with additional wins in 2007, 2008, 2009, 2015, 2018 and now 2021. Sir was represented this year in the Dixon Oval by Praise ISF, Opal ISF and Fienna, who each earned top ribbons individually.
"It's an honor to win the Get of Sire class at Dressage at Devon," said Mary Alice Malone, owner of  Iron Spring Farm. "For  Sir to win this class seven times is beyond wonderful." Sir Sinclair, now 22 years old, first competed at Dressage at Devon in 2004, winning the 4-Year-Old and Older Stallions Under Saddle and the FEI Five-Year-Old test with an 80.60%.
Sir Sinclair's daughter Fienna won the 4-Year-Old and Older Broodmares class with an 82.2 on her way to the mare championship and the mature horse reserve championship.  Fienna also claimed the USDF Breeders East Coast Final Mare Championship. Fienna is by Sir Sinclair, Keur, out of the Prestatie mare Vienna, by Paddox.  Fienna was bred by Belinda Nairn Wertman and is now owned by Iron Spring Farm.
The ISF-bred and owned weanling Rhythm ISF won the KWPN Breed class (83.2), as well as the Fillies class (84.325). She was also named Reserve Champion Foal and USDF Breeders East Coast Final Foal Champion. Rhythm ISF is by Top Gear, out of Love Dance, by Vitalis. 
Romeo ISF didn't let the ladies collect all the ribbons. The Friesian colt, by Ulbert 390, Sport, finished second in the  Colts of Current Year class.
For more photos and videos, visit Iron Spring Farm's Facebook and Instagram. 
Related Links
Iron Spring Farm Stallions Sire 21 GAIG/USDF Regional Champions and Reserve Champions
Sir Sinclair #1 USEF Dressage Sire for Sixth Year in a Row
Sir Sinclair #1 Dressage Sire for an Extraordinary Fifth Consecutive Year
Sir Sinclair Sold to Iron Spring Farm