Germany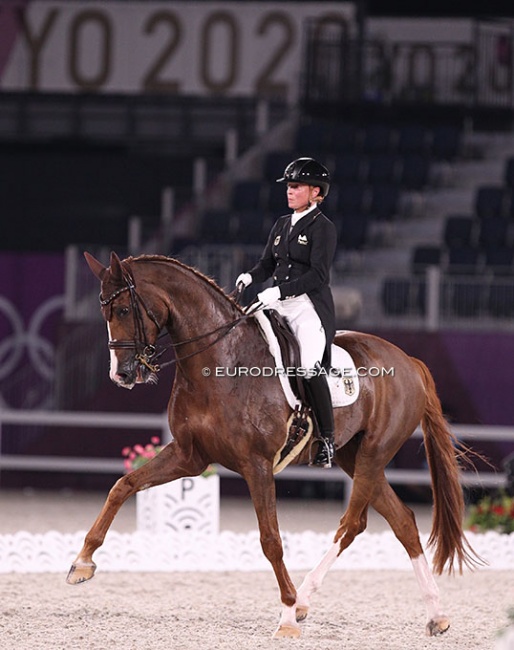 Isabell Werth's number one Grand Prix horse Bella Rose underwent colic surgery on Wednesday evening 8 September 2021. The mare is doing fine but her retirement performance at the CDIO Aachen next week, of course, has been cancelled. 
Colic Surgery
Werth was competing at the 2021 European Dressage Championships in Hagen, when her staff made the call from her home stable in Rheinberg, where the 17-year old Westfalian mare was colicky. 
The chestnut mare (by Belissimo M x Cacir AA) received immediate veterinary care and was transported to the equine clinic, where she underwent surgery in the evening. 
At the press conference for today's Grand Prix Special in Hagen, where Isabell won individual silver on Weihegold, she explained that the mare is doing "fine."
She's Doing Fine
She stated, "she has never colicked before so I was nervous. In the evening she was brought to the clinic where she was scoped. They had to operate her because her small intestine was in the wrong position (entrapment in the epiploic foramen). It's just bad luck. It's not the typical colic."
Isabell continued, "the vets waited and operated her on the right time. There was no need to cut a part of the colon. And there is only a small incision only. This morning she was already eating the first grass. She will stay in the clinic a few days and if everything stays normal she can come home in a few days."
Isabell Werth and Bella Rose won team gold at the 2014 World Equestrian Games, team and individual gold at the 2018 World Equestrian Games, triple gold at the 2019 European Dressage Championships, and team gold and individual silver at the 2021 Olympic Games.
Photo © Astrid Appels
Related Links
Bella Rose to Compete One Last Time at 2021 CDIO Aachen, Then Retired from Sport
Bella Rose Back on German A-Team, Werth Nominated with Four Horses
Smooth Return for Werth and Bella Rose, Win 2021 CDI Mannheim Grand Prix for Special
Bella Rose to Make Come Back at 2021 CDI Mannheim
Heike Strunk, Breeder of Bella Rose, Passed Away