2021 European Dressage Championships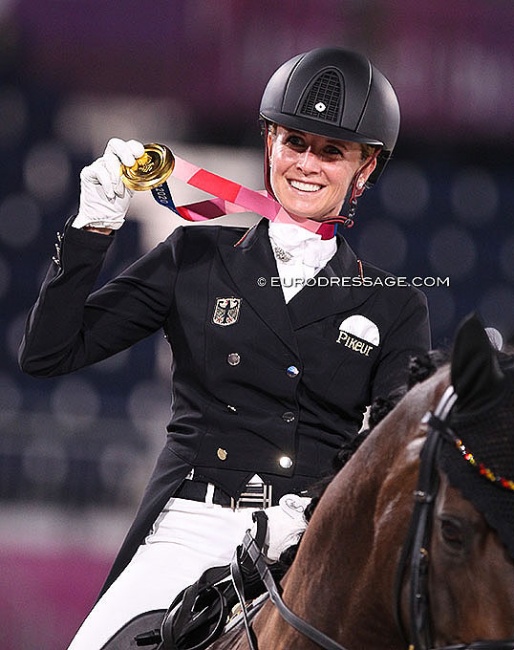 Only a few weeks after her Olympic double gold, brand new Olympic champion Jessica von Bredow-Werndl is going to compete at the 2021  European Dressage Championships in Hagen, Germany, on 6 - 12 September 2021. 
In the #RoadtoHagen interview series part 7, the show organizers in Hagen talk with Jessica about the rollercoaster months she has experienced. 
"I am Happy, Grateful and Exhausted"
We all still remember your incredible smile after the Olympic double gold. How are you feeling a few weeks after your total Olympic success in Tokyo?
Jessica von Bredow-Werndl: I am happy, grateful and exhausted. I think these three words describe it quite well. I still have to pinch myself regularly to realise that it wasn't a dream. Double Olympic champion! I am incredibly happy to have been able to experience this.
The time after Tokyo was — ironically — probably no less exhausting than Tokyo itself?
J.: At least as exhausting as Tokyo (laughs). Seriously, after Tokyo I was mentally and physically drained. I went on holiday with my family for a few days to recharge my batteries. Then I tried to fulfil as many press enquiries as I could, but it was simply not possible. There were a lot of enquiries from magazines, I appeared twice on television and I had press talks via Zoom meetings with Ukraine and China, for example. But in mid-August I pressed the stop button and didn't accept any more interviews. Now I want to concentrate fully on the FEI Dressage European Championships.
How did the gold mare TSF Dalera BB cope with the journey and the time in Tokyo?
J.: Dalera actually amazed me. Normally she needs three to five days after a show before she starts bucking again on trail rides. That is our routine, we ride out at a walk until she shows me that she is ready to go again. After Tokyo, I expected ten to eleven days. But when she got off the plane, she already looked super happy. Unfortunately, I couldn't meet her there myself, but I got a video. And at home, on day three, she was already doing her playful bucks in the field. I would say: She is definitely fit for the Euro again.
Double gold at the Olympics — that's as good as it gets. But now many people, maybe including you (?), expect that this run will continue at the Euro? Does that mean additional stress?
J.: I'd be lying if I said I wasn't planning to win the European Championships now. The competition will be very similar, almost the same strong combinations will be there. Of course I would like to deliver such a performance again. But I can't do more than 'give my best' and I know that Dalera will give her best. It can't get any more stressful than the Olympic Games and we have delivered there, so I am proud of us.
What helped you most to focus like that in Tokyo?
J.: Because we were in our own little bubble, there were not many distractions in Tokyo. Having rituals and very regular routines gave me and Dalera a sense of security. I also have many exercises that help me get the optimal activation level. The trick for me is to stay with myself and do what we like to do best: go dancing together and become one.
That might be more difficult at the European Championships in Hagen, the potential for distractions will certainly be greater. Your whole family will be there, there's more movement, as an Olympic champion you will be the centre of attention everywhere...
J.: That my family and people who are important to me can be there in Hagen is super! Although I also felt their support in Tokyo, over all the thousands of kilometres, it will be incredibly great to have them with me. But as to the preparation for the tests, I will do it the same way as in Tokyo. I'm going to create a set daily routine that exactly matches the start times. In Tokyo, the tests were always in the evening. So in the days before I have always been riding in the evening.
What else goes into this set daily routine?
J.: It starts with getting up at the same time every morning, continues with breakfast and then comes breathing exercises, yoga, meditation and a lot of time with Dalera. I spend time with her, I massage her, mobilise her — the same routine every day. And two and a half hours before I start, the direct preparation begins, then I plait Dalera and off I go.
There is an immense difference: Four riders are allowed to start in the European Championship team, not just three as in Tokyo. Does that help?
J.: It definitely makes things more relaxed. In Tokyo, of course, each of us was aware that there were only three of us in the team, but I tried to block that out. Besides, I thought it was really unfortunate for the fourth rider, i.e. for Helen (Langehanenberg), that she was there the whole time and couldn't compete at all. I really hope that at the European Championships it will remain the case that four riders belong to the team. In that case, only three are allowed to compete in the freestyle, which I think is okay.
The small town of Hagen a.T.W. has already experienced many super equestrian events, not least the 2005 Dressage European Championships. You have also competed in Hagen many times...
J.: There are many beautiful showgrounds, but I love Hagen! I like the venue, the atmosphere and I know that the Kasselmann family organises everything incredibly well because they put a lot of heart and soul and attention to detail into their events.
-- Hagen press release
Related Link
Eurodressage Coverage of the 2021 European Dressage Championships - U25/Seniors