Westfalian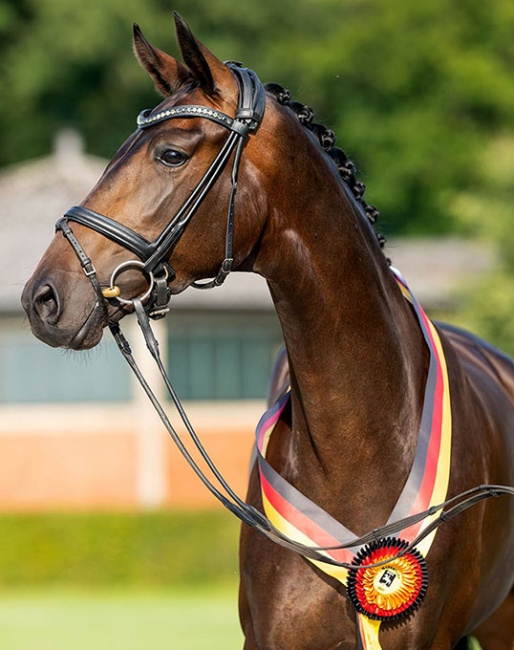 Isabell Werth describes Bella Rose as her horse of a lifetime!  The pair has won gold medals at World and European Championships with the team and in the individual competition. Most recently, the Belissimo M/Cacir AA daughter (breeder: ZG Strunk, Bochum) shone at the Olympic Games in Tokyo. The impressive result was the gold medal with the team and the silver medall in the individual competition. Now Isabell Werth will send the chestnut mare into her well-earned retirement at the World Equestrian Festival in Aachen this year.
But these valuable genes will remain in the dressage sport! Feine Bella is offered for sale in the 1st Westphalian Online Auction Special
Feine Bella in the Footsteps of Bella Rose
The current Bundeschampion of four-year old riding horses also descents from the direct dam line of Bella Rose. St.Pr.St. Franziska is not only the granddam of Bella Rose, she is also the fourth dam of St.Pr.St. Feine Bella NRW. The Fürstenball/Bordeaux daughter (breeder: ZG Atmeier, Becker, Delling, Wibbecke) is in no way inferior to her famous relative. Already at a young age she collects titles and ribbons. As a three-year-old, she was the champion mare at the Elite Show in Münster-Handorf. One year later, she was the celebrated Westphalian champion in her age group at the same venue. Her greatest triumph to date came a few weeks ago when she won the Bundeschampionat for four-year-old riding horses in Warendorf with outstanding marks.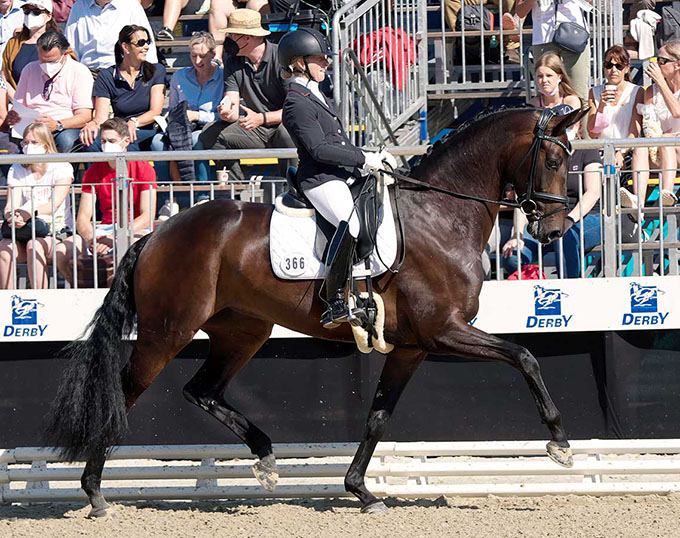 And this was certainly not the end of the road to success for Feine Bella NRW. An exceptional horse with an exceptional future ahead of her!
Feine Bella For Sale in the 1st Westphalian Online Auction Special
In the 1st Westphalian Online Auction Special, the mare is now for sale. Under onlineauction.westfalenpferde.de the complete pedigree information as well as significant photo and video material can be viewed.
Bids can be submitted until Sunday evening. The final BidUp will start on August 29 at 7.30 pm. The chance to secure a future championship horse should not be missed by anyone!
Related Link
1st Westphalian Online Auction Special: Bundeschampion Feine Bella NRW for sale