Interview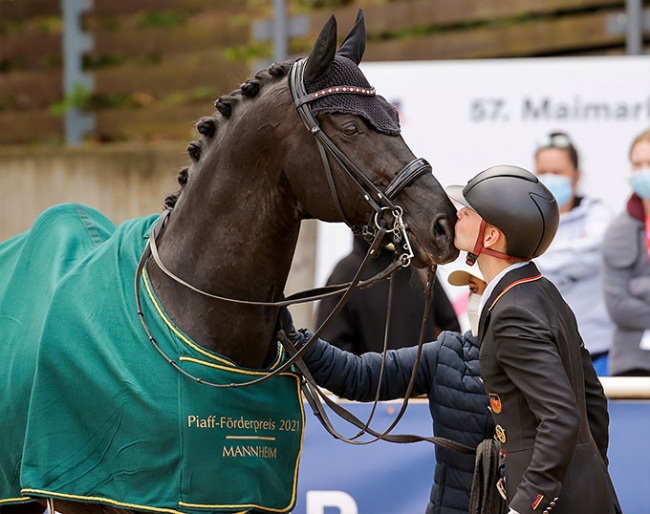 #RoadtoHagen - The 6th part of the interview series posted by the organising committee of the 2021 European Under25/Senior Dressage Championships is with the 'man in the house' of the U25 European Championship team, Raphael Netz. He has already experienced 'Olympic feelings' in Hagen and will arrive with his boss and Olympic champion Jessica von Bredow-Werndl in Hagen. He is looking forward to his special third European Championships.
Hagen will be your third European Championship in the U25 riders. The '3' seems to be your number this year...
RN: That's right, my third U25 European and the third time I am part of the team together with Anna (Ann-Kathrin Lindner). In 2019 Anna and I were the rookies at the Euro, now we are the old hands. In the past three years, Anna and I have become really good friends, we communicate a lot and have become very close. Hagen will be a special championship for us, also because it will be — at least for the time being — our last championship together. For me it is the first year in the U25 age group, I was still in the Young Rider age group before, but for Anna it is the last U25 year. Then we'll have to see if we can manage to be in the team together again in the seniors (laughs). That would be great, of course. And another '3' — this year I am competing with three horses in the Piaff Prize for Germany's best U25 riders. I am a bit proud of this '3'. Besides my team horses Lacoste and Elastico, Exclusive BB is also competing in the Piaff Prize.
You saddled Lacoste for the European Championships in Italy in 2019 and Hungary in 2020, now you will be part of the team with Elastico. Two completely different types?
RN: They really couldn't be more different. I have trained Lacoste for five years, we are like a married couple and know each other's strengths and weaknesses. I have only been riding Elastico for a little more than a year. He's like a rockstar with a leather jacket and sunglasses, sitting on his Harley. He looks tough on the outside, but he has a very soft heart. It is so much fun to ride him. He has such charisma and willingness for the sport. He always makes you want more. We have developed well together and have already competed in some major events and even won a medal at the German U25 Championships.
You have previous championship experience and you also have very special Hagen experience...
RN: Oh yes, we were allowed to play 'Olympia in Hagen' before. I was at the test event in 2019 when the new Olympic format was tried in Hagen, with the group set-up, just like it was done in Tokyo now. We also had seven judges then, just like at the Olympics. That was a very cool experience. I also competed at Future Champions many times as a pony rider and young rider. Those were always super shows.
Talking about the Olympics - you will travel to Hagen with the Olympic Champion...
RN: That is still unbelievable: We watched the Olympic dressage at our stable in Aubenhausen with public viewing, the whole team was at the big screen and tears flowed when Jessi (Jessica von Bredow-Werndl) won gold — lots of tears. It was incredibly emotional. I am really happy for Jessi and I am also proud that she is my boss and that I am coached by her and Benni (Benjamin Werndl). Of course, that's an extra incentive.
The U25 riders have a special incentive waiting for them in Hagen this year. For the first time the European Championships for you and the seniors will be held together.
RN: Personally, I think it is brilliant. We can experience how the big guns do a championships. We all want to go there one day. That is of great value to me. I am really looking forward to the European Championships in my own country, it will be very special. In addition, I now have another partner under the saddle with Elastico. To reach championship level with two horses, first with Lacoste and now with Elastico, that is a personal success for me that I am really happy about. Lacoste will also be coming to training camp with me as a reserve horse. All this is just great!
And the European Championships in Hagen will almost be like a family trip for the Netz family...
RN: Yes, I am really looking forward to it, my whole family is coming: my parents Janet and Oliver, my older brother Nico and my younger sister Feliza and the whole Werndl family will also be there. Everyone is meeting up in Hagen.
One lady in your family will be particularly nervous, won't she?
RN: Definitely my mother (laughs). My mother went to every show with me when I was riding ponies and she was always so excited back then. She still comes to almost every show and sometimes, if it was really good, I get the thumbs up from her. But my mother doesn't see me through rose-coloured glasses. I think she is my biggest critic and biggest fan in one person. I'm mega grateful to her for that! It is incredibly important for me that my mother is there when I ride at the European Championships. My mother and Fabienne are the two most important people at that moment...
Fabienne?
RN: Fabienne Stein is my groom, she was already with me at the European Championships in Hungary last year. She looks after the horses with so much love and understanding and we have become a really good team. Without her, nothing works at the show.
Fabienne and your family are there, your trainers Jessi and Benni are on site and you have three strong ladies with you in the team — nothing can really go wrong?
RN: (laughs) I definitely think we will be a very cool team. But the next few weeks are very important. I observe my horses very closely and listen to them carefully: when do they need rest, when do they need more training, is the equipment, the feed, the shoeing all in order etc.? The weeks before the Championships I am usually more tense than at the event itself. The night before I retire early, meditate, go to bed early, I am very strict with myself, and turn my tension into a positive thing — then we are ready to go.
2021 European Championships 
In 2021, the European Dressage Championship for the U25 age group will be held together with the Senior Championship for the first time. The decision is greatly welcomed by the athletes and federations of all nations. On Tuesday, 7 September, the programme will start with the first team decisions of both age groups.