2021 European Dressage Championships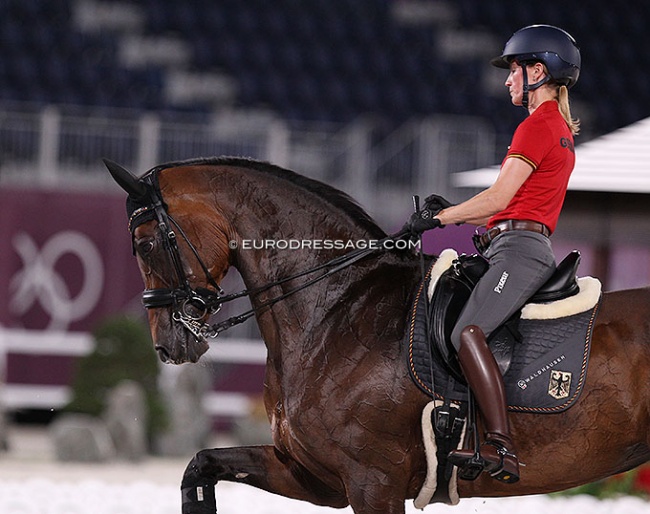 #RoadtoHagen - The 5th part of the interview series posted by the organizing committee of the 2021 European Under25/Senior Dressage Championships is an interview with Helen Langehanenberg.
Helen, Hagen, the European Championships, and Mausi
She has ridden in three European Championships, including her personal highlight in Herning and then two other very special moments in Hagen. With 'Mausi' she will be part of the team for Hagen — the first team member already determined before the Olympics. #RoadtoHagen Part 5 with Helen Langehanenberg.
You were the reserve rider in Tokyo with Annabelle, so you were guaranteed a place in the European Championship team right from the start. Was that a consolation when you could 'only' watch the competition in Tokyo?
HL: Yes, of course. I am very happy to be competing with Mausi (stable name Annabelle) at the European Championships. She felt so great in training in Tokyo, she is absolutely in championship form. Of course I would have loved to ride her in the Olympic arena, but now I am just really looking forward to riding in Hagen.
Did you use the time in Tokyo as a pre-European Championship training camp?
HL: Yes, exactly, or more accurately: a training camp with a wellness retreat. For Mausi, the time in Tokyo was an absolute holiday (laughs). Ann-Christin pampered her all day long. Mausi's favourite part was the water obstacle for the eventers. She always wanted to go in there and splash around. I think if we had let her, she would have rolled in it too. At the end of our Tokyo stay, I was really worried whether she would even get on the truck home — that's how happy she felt there. She just likes it warm and it was definitely much warmer there than at home.
How did you experience your time in Tokyo?
HL: Of course it was very different from all the other championships I've been to. In Tokyo we were locked in, you couldn't do anything. Even though we made the best of it, I think (grins). At other championships we were always competitors in the arena for half an hour a day and the rest of the time we had a lot of fun together. That was great, but with Corona it was different in Tokyo.
You have already competed in three European Championships, 2011 in Rotterdam, 2013 in Herning and 2017 in Gothenburg, twice with Damon Hill and once with Damsey. Those who were there can imagine which was your most memorable moment...
HL: Yes, there is no question about it, that was the Grand Prix in Herning. The team competition, where we made the impossible possible. Dami (Damon Hill) and I were last to go and we had to score close to 84 percent to secure team gold ahead of the Dutch, we got 84.377 percent. Wow, that was just brilliant!
There are three competitions in Hagen: Grand Prix, Special and Freestyle — which of the three are you looking forward to the most?
HL: First of all I have to get to the Freestyle (laughs). Only three per team are allowed to ride in the Freestyle. If it works out, I would look forward to both the Special and the Freestyle, both are equally good for Mausi, I think. Personally, I prefer the Special to the Grand Prix, it somehow rides better. And in the Freestyle I have some favourite parts with Mausi —- the extended trot into the fan piaffe, for example, or the whole piaffe pirouette at the end, the passage half pass or the extended canter. The Freestyle simply suits Mausi perfectly.
It would be the same Freestyle that you have already ridden a few times with Annabelle, or have you changed anything for the European Championships?
HL: No, no, the Freestyle is perfect and the classical music suits Annabelle so well, I haven't changed anything, especially as I haven't ridden it that often: twice in Salzburg and twice in Balve.
We have already talked about your special European Championship moment, what has been your favourite Hagen moment so far?
HL: There are two. I haven't ridden the Grand Prix tour in Hagen that often, because I only had one Grand Prix horse most years, and I often competed in the World Cup Tour. Hagen always came quite soon after the World Cup Final, so I often chose one of the other tours. However, I have already placed first and second twice in Hagen in the Nürnberger Burg-Pokal qualifiers — in 2019 with Vayron and Frank Sinatra and this year with Schöne Scarlett and Straight Horse Ascenzione. That's really something special, also because Hagen is always so competitive.
A few words about Annabelle — her journey to the championship team was quite interesting...
HL: Yes, it was. I definitely had horses that were easier in temperament (laughs). Annabelle's breeder and owner, Günther Fielmann, entrusted me with 'Mausi' when she was six, she hadn't done much until then. At first she didn't like to be touched at all, for example not by my leg for the driving aid — and without that it goes badly (laughs again). But with time she realised that my leg is not an annoying fly that has to be fought off, but my way of communicating with her. She came around, but she is still a mare. Nowadays I usually warm her up with a whip, but I'm only allowed to use it on her shoulder, she doesn't like it at all on the back. She is already a diva! She has all the potential, a great attitude, is a real fighter with a lot of power and she knows how she wants it.
Rotterdam, Herning, Gothenburg, you had to cover some distances so far. Hagen is about 65 kilometres away from your home — an advantage or a disadvantage?
HL: I really thought about that, but I came to the conclusion: It doesn't matter. In the end, it depends on whether I ride well or not. I will watch a few more rides on video where I had a really good feeling. That is the best preparation for me. And then I'm looking forward to finally riding in front of spectators again. I hope the horses still remember what it's like with people on the sidelines (and once again the typical Helen laugh). Hagen, the European Championships and Mausi — that could be really good. I am really looking forward to it!
In less than 30 days the FEI Dressage European Championships will start in Hagen a.T.W. - Be there when the stars from Tokyo reunite in the main stadium at Hof Kasselmann.
Tickets are now on sale for all days.
Photos © Astrid Appels
Related Link
Eurodressage Coverage of the European Dressage Championships - U25/Seniors