KWPN Foal Auctions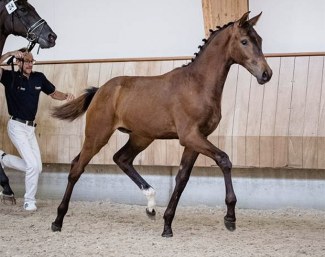 This well balanced auction collection offers something for everyone. During the second KWPN Online Foal Auction there are amongst proven sires also young and upcoming talents whose offspring will get a chance.
From Friday 30th of July it is possible to bid on a combined collection of 38 auction lots. Which expire on Monday, August the 2nd from 8.00 PM.
Big amount of colts
Among the seventeen dressage foals on offer are eleven colts. In many cases closely related to family members who perform in sports. Or are approved as stallions.
Out of the full sister to PSG and fourth level dressage horse
Rebellion (by Blue Horse Zackerey) attracts attention not only with his looks. His dam is the full sister of the PSG dressage horse Four Motion. And from Zione who will be competed at fourth level.
WBFSH-ranking captain Johnson
The number 1 of the WBFSH-ranking and the HorseTelex ranking Johnson signifies the fatherhood of Romerio (mf. Krack C). Whose dam Beyond Beauty herself was released at Small Tour level. Besides that, she is also the half-sister to the Z1 classified Winston (by Relevant).
Dam line of KWPN Grand Prix stallion Valeron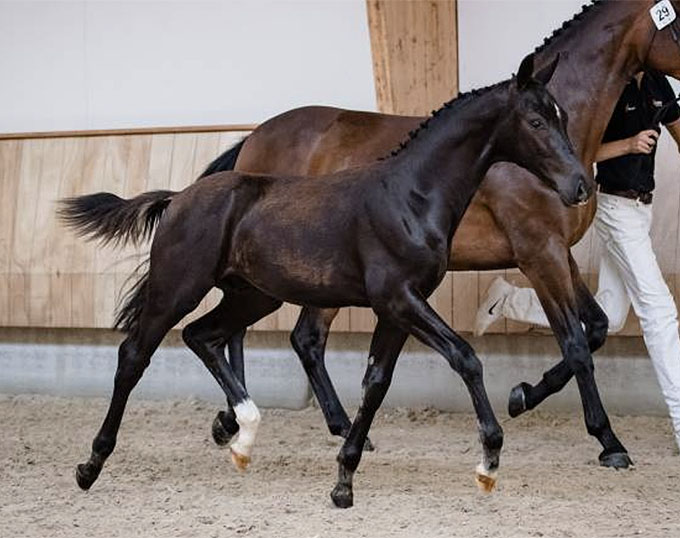 The dam line of Rovinj (by Jameson RS2) is full of sporting achievements. Among others, the PSG classified Bolivi (by Olivi) and Dancer (by Jazz) originated here. And the same goes for the KWPN Grand Prix stallion Valeron. Who can call himself family of this auction lot. Which is a direct son of upcoming top talent Jameson RS2.
Free bloodline
Racoon B (mf. Bojengel) can count on a free bloodline with the sire Fontaine TN. Something that is very desirable in dressage breeding. He comes from a Dutch dressage line that produced several Z1 and Z2 horses. Besides the PSG classified Tamora (by Olivi) and the third level dressage horse Scaramouche (by Metall).
Mother Izzy no less then 90 points for trot
Rizzy (by Lennox U.S.) is a direct son of the highly tested mare Izzy. This daughter of Olympiad stallion Glock's Dream Boy scored 90 points for her trot at the studbook inspection. And the parts of movement and canter were rewarded with 85 points. An interesting pairing with the KWPN reserve champion of 2019 Lennox U.S.
Aroused interest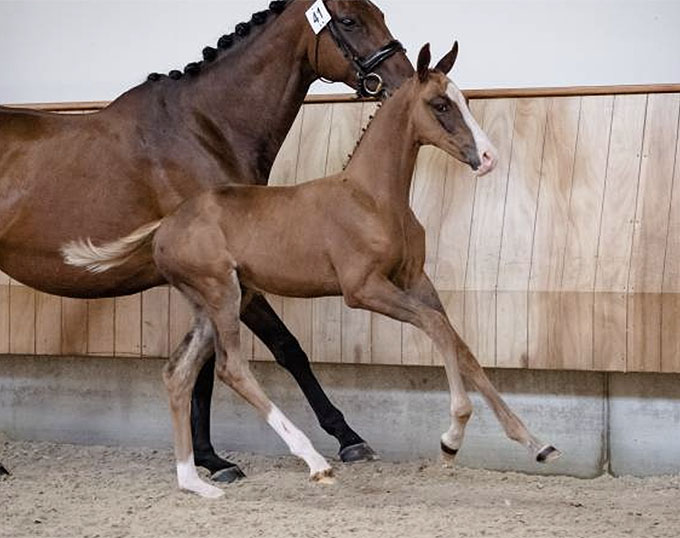 All information about the foals is included with each auction lot. Including the veterinary reports which were made during the photo and video day can be found there. If you still have questions about the auction or one of the foals. Then a KWPN inspector is always available to answer these questions.
For this you can contact Mairin van der Tol via salespromotion@kwpn.nl or +31(0)341-255 511 or with KWPN inspector Wim Versteeg +31(0)6 54 20 18 00.
The bids run from July 30th to August 2nd 8.00 PM on www.kwpn.auction.