Chile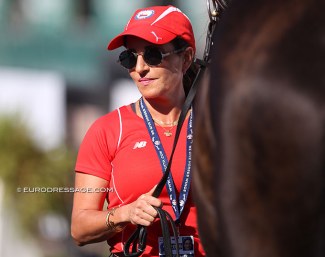 Virginia Yarur has secured an Olympic individual slot to represent her country Chile at the 2021 Olympic Games in Tokyo on 23 - 28 July 2021. 
Final Tokyo MER Show
The 2021 CDI Le Mans in France on 17 - 18 June 2021 was the final competition where riders could achieve their MER scores or "Confirmation result". 
Spanish based Annabelle Collins was chasing her last score to re-confirm the Olympic slot for Bermuda, but unfortunately she and Rob van Puijenbroek's Chuppy Checker CL (by Osmium x Balzflug) stayed short of the 66% with their 65.609% Grand Prix score.
After representing Bermuda on the PRE Joyero at the 2018 World Equestrian Games, Collins obtained the ride on Chuppy Checker in December 2020 to earn her Olympic ticket.
Venezuela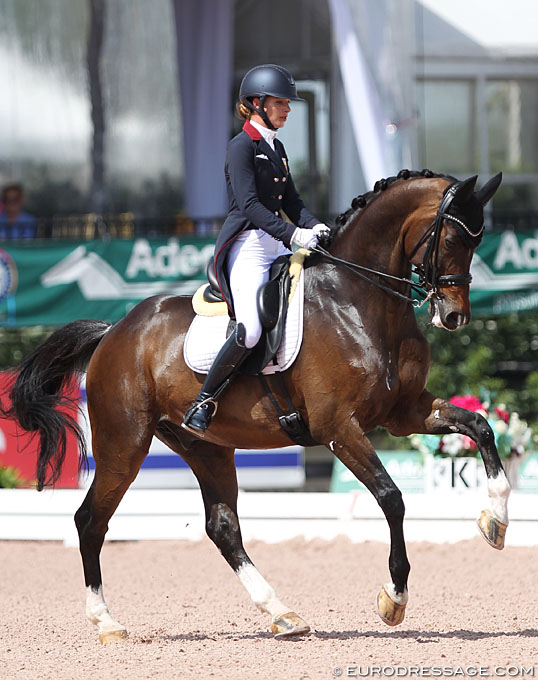 This meant that the slot for Bermuda would be transferred to the next country in line for Group D&E (North, Central and South America), i.e. Venezuela.
Unfortunately also Venezuela's sole international Grand Prix rider and candidate for the spot, Patricia Ferrando, did not achieve her MER in time despite an active competition campaign on Elvis (by Rousseau x Osmium) at the 2020 and 2021 Wellington show season. 
Ferrando even travelled to Europe chasing the Olympic dream, but starts at the CDI Abrantes (POR) and Le Mans (FRA) did not bring her closer to her goal.
Chile
The next county in line for the Group D&E individual slot is Chile. 
The Chilean contestant for the Olympic entry ticket is Virginia Yarur on Ronaldo (by Romanov x Don Schufro), a horse previously campaigned by American Christopher Hickey. 
Yarur achieved her two MER scores during the 2020 Wellington show circuit, scoring 68.370% on 6 February 2020 and 66.761% a month later in March. The latter show was Yarur's last time she competed the horse internationally before heading to Le Mans, where she got 63.717% in the Grand Prix.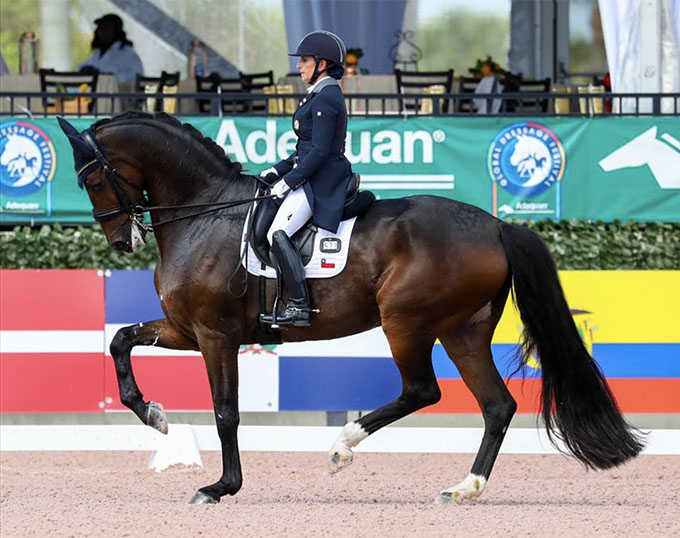 "It's a big emotion I still need to cope with," Yarur told the Chilean equestrian federation. In pursuit of the Olympic dream, Yarur cited that, "the most difficult thing was the distance between my children and the most exciting thing was achieving the two scores required by the FEI for my qualification for the Olympics. The truth is that my goal is to represent my country as best as possible by giving my best. Ronaldo was a time out of competition. At this moment he is returning to his level. I'm hoping to have him in the best physical and mental condition for the Games."
Chile was first represented in dressage at the 1968 Olympic Games in Mexico by Antonio Piraino. 
Both Yarur (55) and Ferrando (35) are trained by Yvonne Losos de Muniz, who rides for the Dominican Republic and will be heading to her second Olympics in Tokyo herself with Aquamarijn.  Yarur is currently based in Spain with Losos de Muniz preparing for Tokyo.
Photo © Astrid Appels - Sue Stickle
Related Links
The End of the Long Chase for Tokyo Places: Team and Individual Spots Known
Eurodressage Coverage of the 2021 Olympic Games