Singapore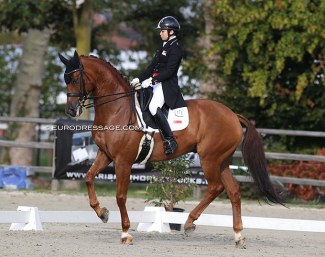 Not Malaysia but Singapore has achieved a ticket the 2021 Olympic Games in Tokyo after a final ride off between Qabil Ambak and Carolien Chew at the 2021 CDI Le Mans in France on 18 June 2021.
The 2021 CDI Le Mans drew out a big field of competitors as it was the last competition, where riders could achieve their MER score and Confirmation result to be fully eligible to compete at the 2021 Olympic Games in Tokyo in a month. 
New Zealand Pulls Out 
On 3 June, the Malaysian equestrian federation received the news that an Olympic slot had suddenly opened up 
"Both our main contenders , Melissa Galloway and John Thompson (based in AUS), have had their campaigns compromised by the Covid situation, unfortunately, and so the national federation has released the NZL place," Wendy Hamerton, dressage director of the New Zealand equestrian federation told Eurodressage. "Disappointing for everyone certainly but we can now hopefully focus on WEG 2022."
The vacant slot was then given to the country next in line of Group G (South East Asia, Oceania) and that was Malaysia. 
Ambak Back in a Dressage Saddle after 1.5 Years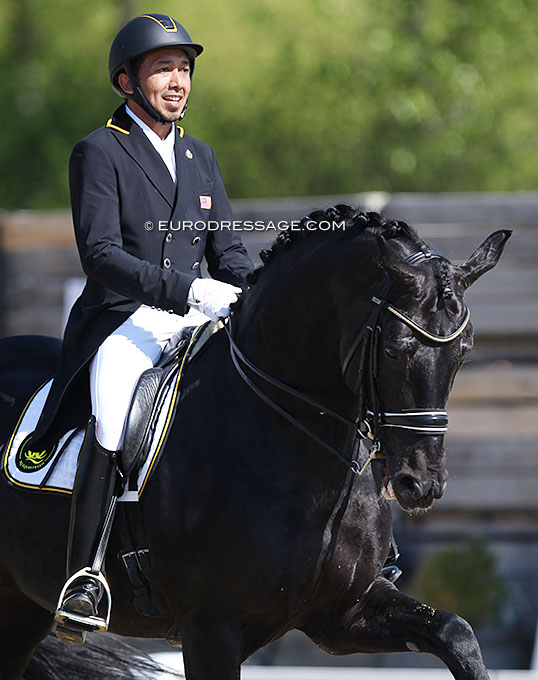 Malaysia's Qabil Ambak achieved his MER scores in 2019 on his now 17-year old Hanoverian stallion Delatio (by De Niro x Rubinstein).
Between February and December 2019 he competed the horse in no less than 12 CDI's all over Europe: Lillestrom (NOR), Zakrzow (POL), Sint-Truiden (BEL), Kristiansand (NOR), Leudelange (LUX), Falsterbo (SWE), Cappeln (GER), Verden (GER), Kharkiv (UKR), Minsk (BLR), Salzburg (AUT), and Frankfurt (GER).
Over Christman 2019 Ambak returned home to Malaysia with his MER in his pocket, and left the horse with his trainer Dennis Fisker in Denmark. He has not ridden Delatio since then.
At the beginning of June he was notified of his starting place, but needed the confirmation result. There was only one option for him: the CDI Le Mans, so Ambak had to dust off his boots and tails and fly to France to earn another 66%.  Unfortunately in Le Mans, the score got stuck at 64.000% and Malaysia lost the hope of having its first ever Olympic athlete in dressage.
"I will like to thank all that put in so much effort and given their very best to try to make it happen in a short period of time although we know it's almost a mission impossible when all odds are not in favour but the important part is the spirit of not giving up easily we have to try till the very last moment," said Ambak. "I'm honoured to be given a chance to carry my country's flag and will continue to keep our flag flying."
Singapore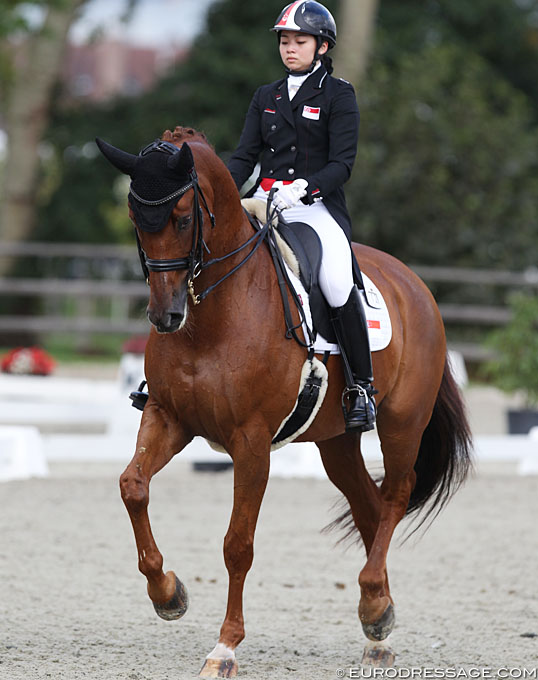 With Malaysia failing to confirm their Olympic entry, the slot opened up for Singapore
The 29-year old British based Caroline Chew, who is a lawyer by profession, had not competed in 15 months either, her last show being the CDI Keysoe in March 2020. 
Chew also had to shake the moths out of her competition outfit and head to Le Mans as a final chance to achieve her confirmation result. Her last counting 66% + score dated back to October 2019 when she got 67.065% at the CDI Keysoe.
Caroline succeeded in her mission and even rode a personal best score in the Le Mans Grand Prix. Aboard the 17-year old Norwegian warmblood gelding Tribiani (by Solos Landtinus x Landadel), she scored 69.674% to place 11th. She trains with Matt Frost.
"So proud and relieved it all came together for my team and me," Chew told Eurodressage. "Special credit to Tribiani of course!"
Photos © Astrid Appels
Related Links
Scores: 2021 CDI Le Mans
Olympic Slots Reshuffled after Wave of Withdrawals, Riders Declining to Go to Tokyo
Malaysia and Qabil Ambak Receive Individual Olympic Slot after Withdrawal Dressage Rider