F.O.C.U.S.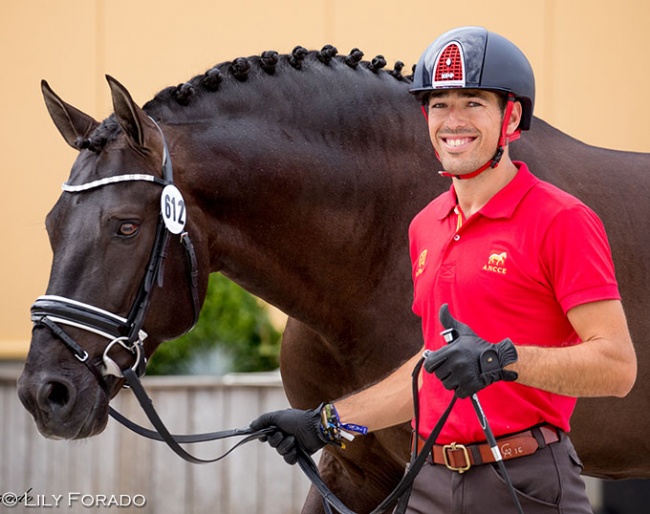 Guillermo Garcia Ayala, rider for Yeguada De Susaeta, has spent many years producing young horses through to the Grand Prix and is currently one of Spain's most exciting names.
Based in Spain, his rising reputation and versatility, along with his recent run of results has confirmed him as one to watch, as he moves to takes on the big names of dressage.
Born to Ride
García started this journey by riding as soon as he could walk, influenced by his father's love of horses. He counts these early years as the foundation of the partnership he has now with his horses.
In 2005, when he was just 14 years old, he had the opportunity to be an assistant at Yeguada de Susaeta in Madrid; attending the stud every day, as soon as school was finished.
In 2007, Maria Jose Ruiz, the owner of the Stud, asked a young and enthusiastic García to ride a five-year-old mare called Editora, and if he would be interested in competing the special mare; a moment Ayala recalls fondly. This particular mare is the mother of the now infamous Poeta de Susaeta.
Hunger to Learn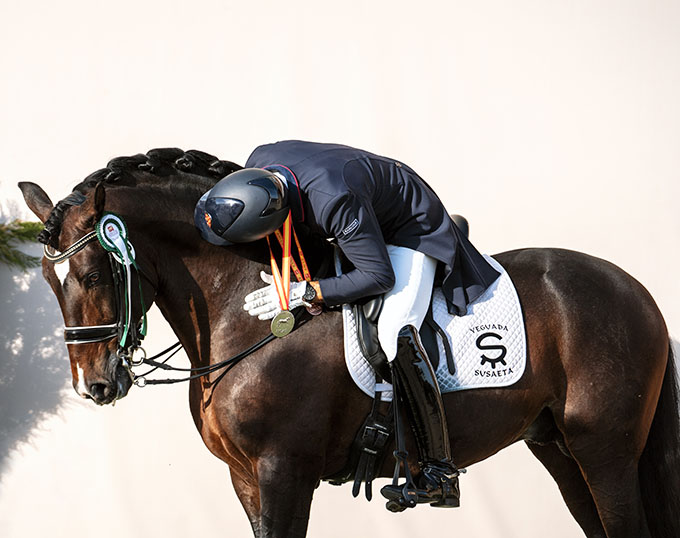 García had a hunger to learn and to ride as many horses as he could, competing against riders almost twice his age and with great success.
He always knew that the route to the top would be a long one, but his dedication and commitment to learning from others and training horses correctly is winning him praise and attention from fellow riders, including Charlotte Dujardin, who is said to be a fan of the rider and Poeta de Susaeta.
García continues to develop and ride many horses from young horses through to the higher levels, with horses such as Nadal de Susaeta; who is currently competing at National level at Grand Prix with scores up to 71%.
Poeta de Susaeta
It was in 2015, when he began working with the mesmerising Poeta de Susaeta and he knew immediately that there was something very special about the horse.
In 2016 and 2017 the pairing was unbeatable in the PRE World Championship (SICAB) with averages above 80%. They also achieved a Silver Medal in the Spanish Championships and have been to two Young Horse World Championships in Ermelo.
Garcia was scheduled for his third YH Championships with 7-year-old Qu de Susaeta but unfortunately Covid prevented the show taking place.
International Small Tour Debut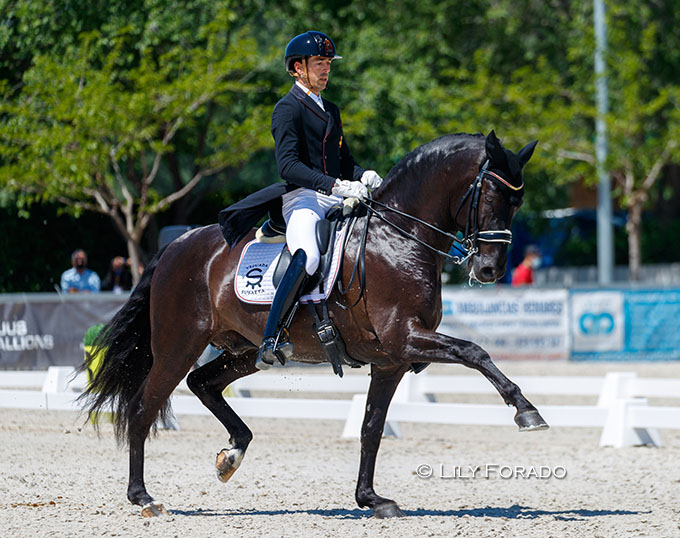 Two years away from competition allowed Garcia to focus on the horses training and it has been paying off. Twelve pairs rode down the center line in the Prix St. Georges at the recent CDI Camarma de Esteruelas, but it was García who was in a league of his own, finishing in the top spot with the much hyped 9-year old, Poeta de Susaeta with 73% and 72% in the Inter I against a field of warmbloods. One judge had them at 75%!
"Without doubt, Poeta is the horse of a lifetime for me. We know each other so well; I only have to look at him to know what he is thinking! He is sensitive and kind, yet comes to life in the arena. He's a complete showman and loves an audience. I am very privileged to have him in my life," said Ayala.
García largely trains the horses himself, something he has found challenging but says this encourages him to find solutions himself. He watches other riders as much as he can, while he searches for a trainer.
Dressage watchers are excited by the combination of Garcia and Poeta de Susaeta and feel the best is yet to come. One thing is for sure; García has the drive, patience and talent to succeed and continues to do everything he can to ensure his horses reach their full potential, with an Olympic Games as a goal for the future.
To see a full bio head to www.equestrianma.com
- Photos © Lily Forado
Related Links
Scores: 2021 CDI Camarma de Esteruelas
Beatriz Ferrer-Salat's Double at the 2021 CDI Las Cadenas, Dockx Impresses
Spanish Horses Selected for 2018 World Young Horse Championships
Spanish Horses Selected for 2017 World Young Horse Championships