Stallion at Stud
Name: Tjalbert 460
Breed: KFPS Friesian
approved for KFPS and FHANA
Year of Birth: 2006
Sire: Beart 411, Sport/Pref
Dam: Grevinne fan Lutke Peinjum, Star/Pref./Prest./Crown Jewel
Dam sire: Ulke 338, Sport
Height: 16.2 H
Stud fee:  $1,500 or $700 per dose
Tjalbert 460 is the sire of high-scoring dressage horses, several stallions selected for the KFPS Stallion Show and dozens of breed show and keuring champions. Like their sire, Tjalbert's offspring have wonderful, kind temperaments, trainability and expressive gaits.
Tjalbert 460—The Complete Package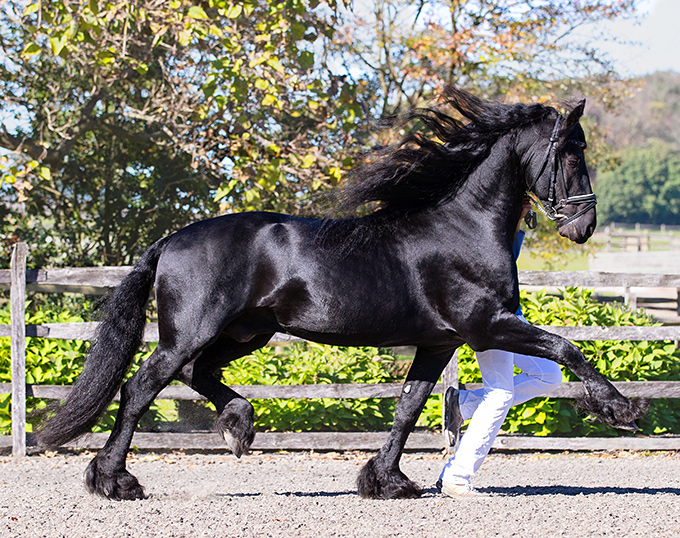 As a breeding stallion, Tjalbert 460 is the complete package. He has great conformation, outstanding movement and a sweet personality. He earned good scores and dressage championships in the Netherlands while demonstrating an incredible work ethic and love for his job. His victories included a championship at the Friesian Indoor Dressage Championships.
Tjalbert has a powerful walk with nice reach, a balanced and supple trot, and an uphill canter. His elastic gaits, sound mind and superb conformation make him an ideal stallion. He also has good legs and large hooves—qualities he passes on to his offspring.
Proven Sport Bloodlines
Tjalbert descends from Beart 411, Sport /Pref and Jasper 366, Sport/Pref, a line known for exceptional movement and jet black coats. Tjalbert's dam, Grevinne fan Lutke Peinjum, Star/Pref./Prest./Crown Jewel, is from stam line 50. This line features many Star and Preferent mares. Tjalbert is free from Wessel bloodlines and therefore is a valuable asset to many breeding programs.
Champion Offspring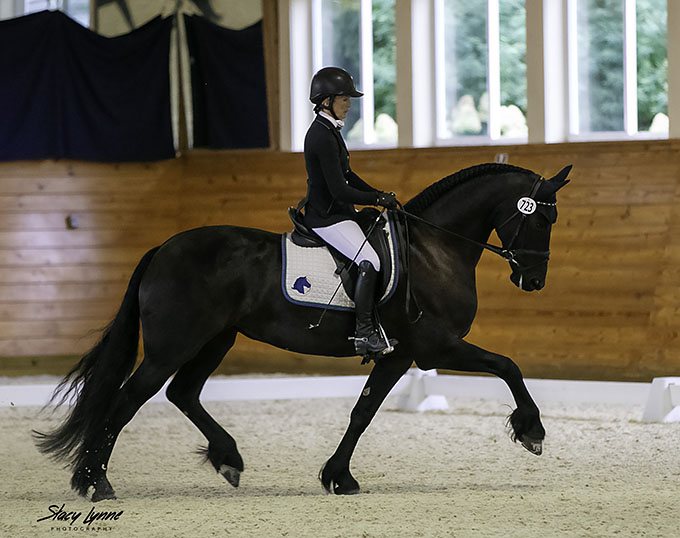 Tjalbert's offspring excel under saddle, as well as at breed shows and keurings. His son Klasse van de Terpen was selected for the 2014 KFPS Stallion Show. He followed up this early honor as successful dressage horse, competing in the 2019 European Championships for Friesian Dressage Horses.
More offspring highlights:
Redbad fan Egypte was selected for the 2015 KFPS Stallion Show and is a winning dressage horse in the USA with scores to 79%.
Zane fan Signature Friesians has won 8 World Championships and Reserve World Championships at the IFSHA World Championships.
Karsten van de Oostwal competed in the paradressage program in Europe.
Tjalbert is the sire of the Dressage at Devon winners Gypsy ISF and Zabrina ISF, Star.
Numerous sons and daughter have been named champion or reserve champion at FHANA keurings. A few recent honorees: Grand Amour ISF, Grace Z, Jonas MFR, Jonathon ISF, Journey BDF, Kairos, Lincoln PMF, Hinke Kua, Helena O., Helena Z and Yonder D, Star.
Tjalbert is also producing great mares like Jaaikje, Model, Wikolia KO, Star and Zabrina ISF, Star.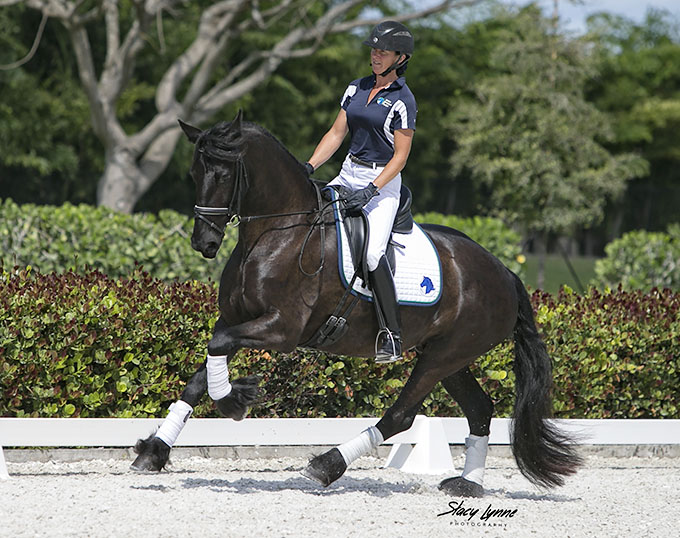 Check out Tjalbert if you're looking for beautiful Friesian types with great gaits and kind dispositions.
Stud Contact Info