Horses & Dreams Online Auction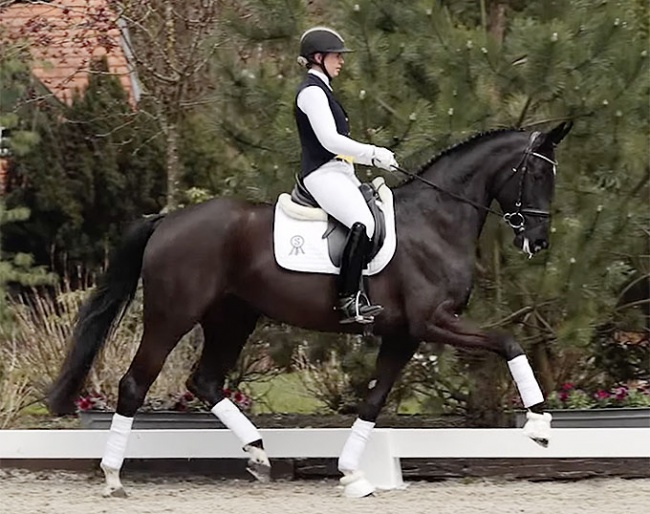 The second Horses & Dreams Online Auction was concluded successfully this afternoon 15 Mat 2021. The 11 young dressage horses from Hof Kasselmann's own breeding and training program, captured the interest of an international audience and changed hands for an average price of 68,500 €.
Two horses cracked the 100,000 Euro mark.
Fleur de Cherie
There was also a lot of interest in catalogue number 1, the Fürst Jazz x Sandro Hit daughter, Fleur de Cherie. Bidders from Germany, Japan and the USA were already engaged in an exciting duel, when new customers from Denmark, Australia and the Netherlands joined in the action and quickly drove the price up.
After a bid-up lasting more than 30 minutes, customers from Australia had the most staying power: they won the bid at 157,000 euro.
Tasino
Catalogue number 4, Tasino by Total Hope x Fürst Heinrich was sold for the premium price of 153,000 euro to customers from Germany.
The smart black stallion received a lot of attention after his sire Total Hope OLD, under his trainer Isabel Freese, had won the lead-in test for the Louisdor Prize qualifier at 'Pferd International' in Munich. As early as one hour before the end of the auction, the highest bid for the five-year-old Oldenburg gelding was in the six-figure range.
Frank Jacques
The four-year old Hanoverian Frank Jacques (by Franklin x Don Schufro) is moving into his new stable in the USA for 90,000 euro. Emerging Grand Prix star Ben Ebeling will present the gelding under saddle in the future and can look forward to a new young dressage star.
Fingerprint
Catalogue number 12, the four-year-old Hanoverian gelding Fingerprint by Floriscount x Don Frederico was able to raise 27,000 euuro through his sale in aid of 'Riding Against Hunger'.
Fingerprint had already been purchased as a foal by Gudrun Bauer and Ullrich Kasselmann with the aim of supporting this unique charity initiative of Welthungerhilfe. Ullrich Kasselmann's great commitment to 'Riding against Hunger' is well known. It was very important to him that, especially in these special times, 'Riding against Hunger' continues to attract much-needed support and is kept in the light of the (equestrian) public.
Global Interest
"The result confirms that online auctions continue to be an integral part of the market. Our horses are at home in all price segments, but our online collections also have a special quality. In addition, we offer our customers the usual high standard of service both before and after the auction. I would like to thank my team and all our customers for their confidence in us," concluded Auction Manager and Hof Kasselmann Managing Director Francois Kasselmann afterwards.
Related Links
Buy Your Next Young Horse Champion in the 2021 Horses & Dreams Online Auction
The Bidding Begins for the 2021 Horses & Dreams Online Auction
Black Beauties by Delatio and Total Hope in 2021 Horses & Dreams Online Auction
Horses & Dreams Online Auction: 12 Professionally Trained Dressage Youngsters
2021 Horses & Dreams Online Auction with Special Charity Lot