Oldenburg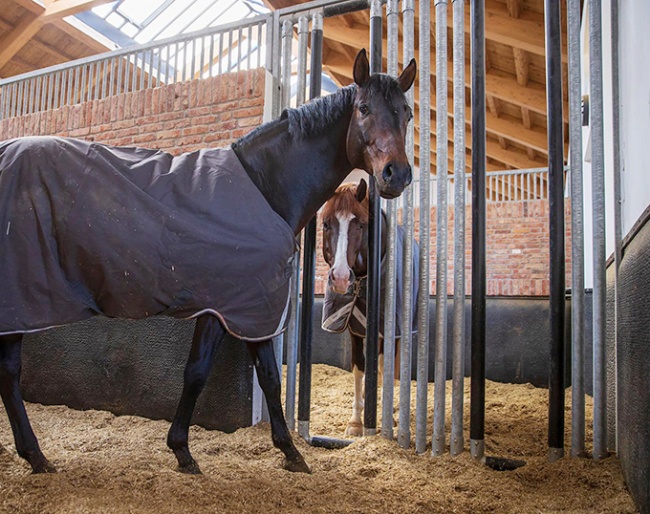 In 2016 Swiss researchers experimented with "social boxes" for breeding stallions to give individually housed stallions the opportunity for more social interaction. The research was a major success and the Swiss owned German stallion station, Gut Schönweide, is now following suit. 
The Research
Five Swiss researchers investigated the social behaviour of stallions in a stabling that allows for social contact and interaction. They presented their findings at the 2016 International Equitation Science Conference in Saumur, France, on 23 - 25 June 2016.
The researchers concluded that the 'social box' offers stallions the opportunity to experience increased physical contact with another horse. In the social boxes, the stallions spent about 50 min a day interacting with their neighbour without expressing dangerous aggressive behaviours. No grievous injuries were recorded.
Eurodressage published an abstract of this research in March 2017. 
Gut Schönweide, the Proof of the Pudding is in the Eating
Swiss Adrian Gasser, who owns Gut Schönweide in Schleswig Holstein, Germany, has decided to put this wonderful concept into practice in his brand new German stallion station, which is partly renovated and partly newly built.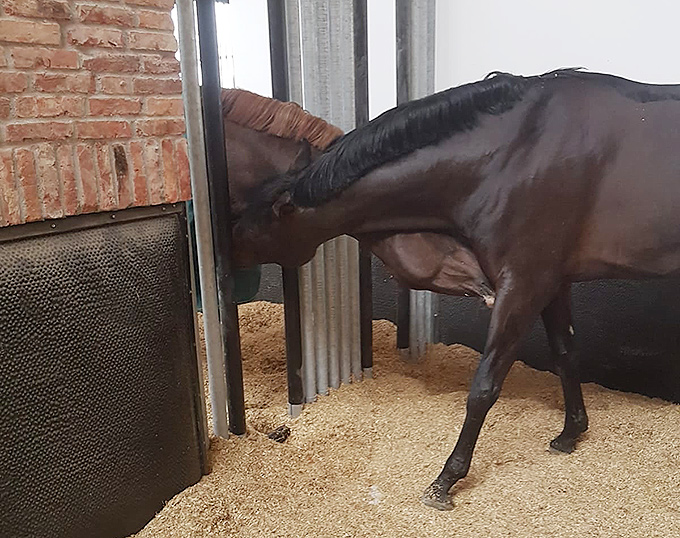 The social boxes have been a major success at Gut Schönweide and fit in the stable's philosophy of good horsekeeping. 
"The behaviour between the stallions is fair and consistent, the gentlemen have to behave," said a spokesperson of Gut Schönweide. "Of course in the first hours the stallions reared a bit and there was some banter to impress, kicking against the bars with the frontlegs. There were a few pinch and bite wounds and a few blankets didn't survive, but there never really was any real aggression, also not when breeding. After a few days the hierarchy was settled. For the first few days we bandaged the boys."
Gasser explained that "the manner, distance, size, production mode and installation of these "social bars" were tested in several projects with stallions at the national state stud in Avenches (SUI) and always improved and amended to minimise injury. You can't buy them off the shelf and need to have them produced. The bars are installed in between just two stallions, so that the boys have room to retreat and don't get harassed on two sides. Boxes need to be big enough so that the stallion can retreat and lie down without being interrupted. Our stalls are 5 x 5 m."
Trial and Error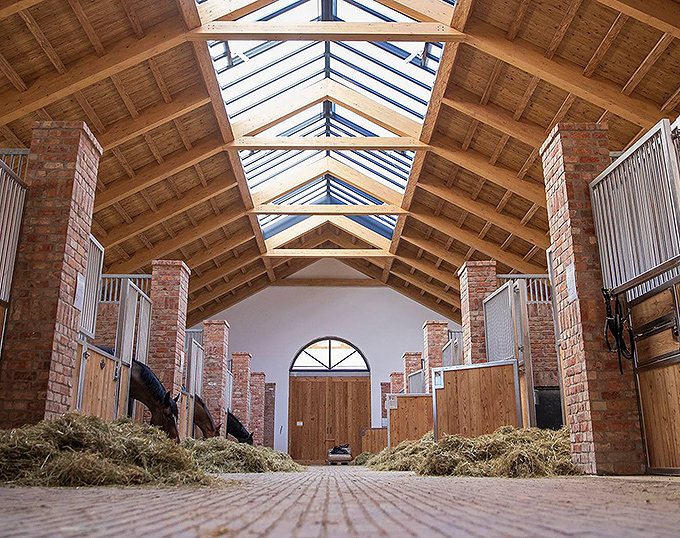 Gut Schönweide admits that not all stallions adapt well to the social boxes. 
"Not all stallions can handle another stallion. You have to observe and change the pairings," Schönweide explained. "Our horsekeeping concept is a holistic one. We also have feeding bars into the stable corridors. The stallions have access to hay 24 hours and can communicate through these feeding bars with their neighbour across the hallway, which is 5 meters wide. Each stallion has an outdoor window to have a good look outside."
Gasser stated that, "I am convinced of this way of horse keeping, also for breeding stallion, no matter what their value is the accounting books. They are primarily horses, which means herd animals with all their needs. I do advise against "home made social bars" and there certainly are stallions who are not well socialized or kept from others for too long and are not suitable for this type of horsekeeping."
Related Links
The Social Box Offers Stallions Possibility to Have Increased Social Interactions
Good House Keeping: Finding the Right Balance in the Management of Dressage Horses 
Sky is the Name of the Hanoverian Premium Colt by Sezuan x Sir Donnerhall
Sky Enthuses Breeders at 2020 Hanoverian Stallion Licensing
Follow Him's Schönweide Wins 2019 Oldenburg Main Premium Title