Germany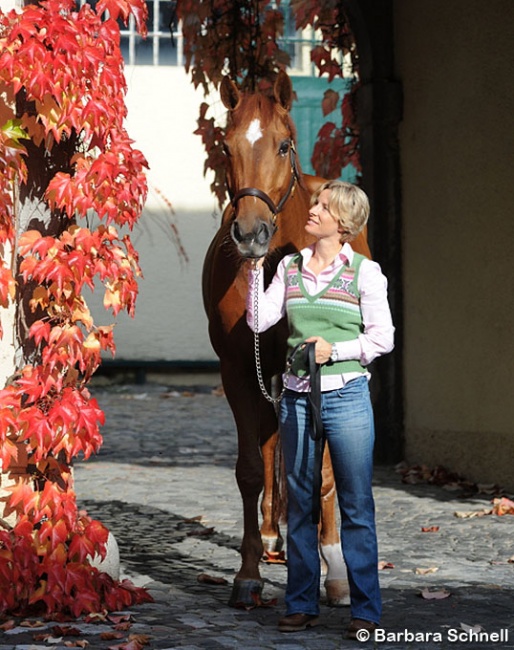 Nadine Capellmann's international medal winning team ride Elvis VA has died unexpectedly on 5 February 2021. He was 25 years old.
Elvis VA was a 1996 born Hanoverian by Espri out of Georgia (by Garibaldi II x Wolfsburg x Ferdinand). He was bred by Christian Pfeil in Bremerhaven, Germany. 
Verden Auction Horse
German Olympian Martin Schaudt discovered a young Elvis P at the 2000 Hanoverian Elite Auction in Verden and acquired him for 57,000 euro. This is how his name changed from Elvis P(feil) to VA (Verden Auction). 
He was first competed in a riding horse test by Andrea Schöler-Babic in 2000, while Schaudt competed him at L-level local shows in 2001
Heiner Schiergen
In 2002 Nadine Capellmann acquired the temperamental chestnut as a youngster from Martin Schaudt, but the same year she brought him to Heiner Schiergen because he had bucked her off twice.
"I remember well the goose bumps I got when I first saw him as a 5-year old," Nadine reminisced. "In his first wild years, he was able to buck three Olympic riders out of the saddle."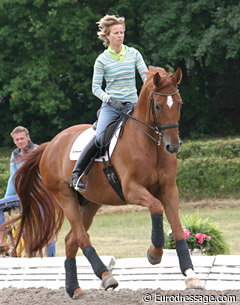 Schiergen and Elvis qualified for the 2002 Bundeschampionate but did not compete in Warendorf.
In 2003 the horse stayed home from competitions and in 2004 he made his S-level debut with Heiner.
Prix St Georges Special Record Score
In the spring of 2004 Capellmann took over the ride.
Their show debut was in Lingen, Germany, where they won both small tour classes.
In the winter they won the 2004 Nurnberger Burgpokal Finals with a long-standing record score of 81,17%.
Medal Winning Team Horse
Elvis made his debut at Grand Prix level in 2005 and one year later he enabled one of Capellmann's long-time dream, to ride at the 2006 World Equestrian Games in Nadine's home town Aachen. In May the combination already became the CDIO Aachen Grand Champions and at the WEG in the summer the pair won team gold with Germany and finished fourth in the Kur to Music Finals.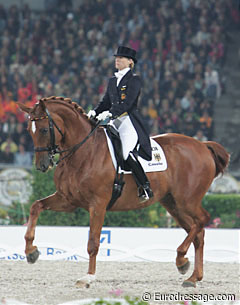 In 2007 the duo won team silver at the European Championships in Turin. In 2008 they were one of three riders to qualify on the German team at the Olympic Games in Hong Kong, where they won team gold.
Elvis regularly scored 10s for his fabulous trot extensions. Also his passage has an exceptional bounce, but the piaffe always stayed a difficult point for him. The pair had a signature freestyle based on Elvis Presley music.
After the coming of Totilas and dressage sport changing with rising combinations such as Valegro and Damon Hill, Capellmann and Elvis could no longer connect with the top and their scores dropped gradually. Their last show together was the 2012 CDI in Mechelen, Belgium.
Their last public appearance was a training demo with Klaus Balkenhol at the 2013 Equitana in Essen.
Retirement
Elvis VA was retired from competition sport at Capellmann's barn in Wurselen, near Aachen, where he remained the king of the stables. 
Despite numerous other Grand Prix horses in her barn, Elvis was Nadine's last German team ride.  Mare Girasol, which Nadine also bought from Martin Schaudt, could not conquer a team spot. 
Elvis was is in excellent health and his death was sudden and unexpected.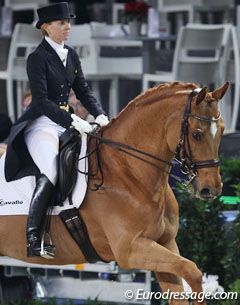 "At the start he struggled to accept his retirement, which he announced loudly by whinnying each time the lorry left the yard," Nadine remembered. "At that time he couldn't care less about the field and his Shetlander friend Barbie. He wanted to come along."
"I'm incredibly grateful for our time together. It was a pleasure to ride him every day, also when his time in sport had ended. He fulfilled many of my dreams and given me much pleasure in the saddle, also after these successes. 
On Friday 5 February Elvis died suddenly in his stall. 
"I fed him round five o' clock on Friday evening and Elvis was fresh. When I arrived at his box an hour later, he was dead," said Capellmann. "It's a silver lining for me to think that Elvis laid himself down for a sleep at the end. He wasn't ill and you barely noticed that he was 25. His death surprised me completely. I would have loved to have had him with me a little while longer."
Photos © Astrid Appels - Barbara Schnell
Related Links
Eurodressage Photo Database: Elvis VA
Nadine Capellmann Retires Elvis from Competition
Elvis and Nadine Capellmann Shake Up 2006 CDIO Aachen
Elvis VA Wins the 2005 Otto Lörke Prize