Van Olst Sales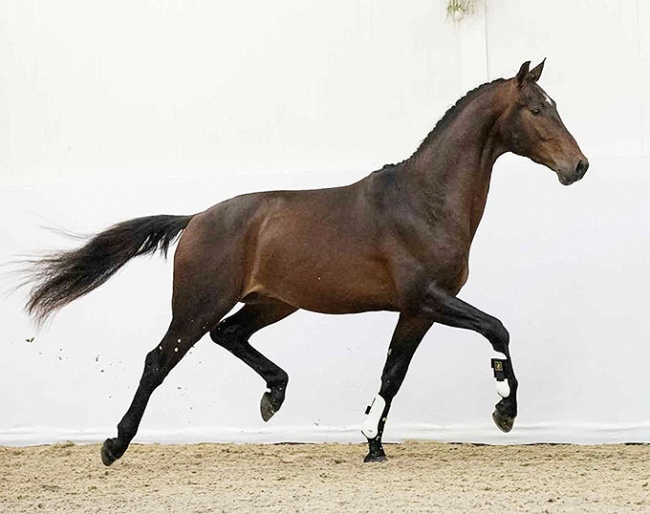 This is your last chance to bid on seven lovely 3-year old geldings with a pedigree, conformation and gaits destined for dressage in the 2021 Van Olst Sales Online auction which concludes today at 20h00.
 Van Olst kicked off the year 2021 with an online auction of seven promising 3-year old geldings. This is a unique opportunity to buy an affordable and talented 3-year old gelding with an excellent dressage pedigree. 
The collection of seven 3-year old dressage geldings consists of diamonds in the rough, who have not yet been saddle broken, but who are shod and fully vetted. 
Nike D
Nike D is a stunning appearance with an expressive front and a big, powerful way of moving. Sire Inclusive made his debut at Prix St Georges level with a wonderful victory. His offspring seems to have a good front, a good trot with lots of cadence and balance and an uphill canter in which there is a good ability to collect
Nic-Nac
Nic-Nac has a lot of expression in front and uphill gaits with much power. He is sired by Everdale, who is competing at the highest levels of international dressage sport. Everdale's eldest offspring is now successful at small tour level. 
Nielson
The well developed and strongly trotting Nielson is by Diëgo. His dam also produced the international small tour horse Captain Jack D&R (by Rubiquil). Nielson has a strong hing leg and expressive front leg. The dam line also produce international dressage horses Aladdin (by Royal Hit), Vinducath (by Sandro Hit), Ambassi AS (by Samba Hit II), Belissimo (by Samba Hit II) and Brooklyn (by Flemmingh). 
Nico
Nico is a well moving gelding with much suppleness, cadence and power. His hindleg is well engaged and his has a nice front. Nico is by Inclusive, who is successful in sport. At the home inspection Nico scored 80 points for his gaits. 
View the complete collection here
Easy Bidding, Register Now
The Van Olst Sales Online Colt Auction concludes on 1 February 2021 at 20h00. 
In order to bid, you need to register online. Your identity will not be revealed and the bidding is anonymous. Only the organizer has your contact information. 
All horses have been vetted and the information of this can be requested via info@vanolstsales.online. 
To book an appointment to view the horses, contact :